Flow Price Prediction 2023: Is Flow Going To Show A Price Uptick in 2023?
Flow has all the right reasons to be in the limelight these days. It has been showing some substantial gains when it comes to the crypto's price action. Moreover, with help of its utility-first approach, it can also find some space for itself in the call for better and more value-oriented cryptocurrencies.
Let us understand what Flow has in store for 2023, and whether is it worth it to invest in it. Plus, a little about another up-and-coming cryptocurrency that investors should look out for.
What is Flow?
Flow is a blockchain network that has been developed and designed to enable transactions that are fast and cost-efficient. On looking at the features, one realizes that FLOW is a direct competitor of Ethereum. It was developed by Dapper Labs back in 2018, which is also the team behind CryptoKitties.
Flow was launched along with NBA Top Shot, a blockchain-based basketball cards collection marketplace that primarily focuses on basketball. According to data by Flow, there have been more than 20 million NBA Top Shot transactions worth over $1 billion processed as of May 2022.
It was initially started off as a tool for Dapper Labs' game developers to meet their own needs and was later launched publicly to support other decentralized applications.
Things To Know About Flow
There are some interesting things about Flow that makes it stand out amongst the crypto projects out there. Firstly, the Flow blockchain was designed keeping in mind gamers and to support consumer applications. Its primary feature is that it can process millions of transactions for active users.
It uses a proof of stake consensus mechanism that requires validators to stake a certain number of FLOW tokens to take part in the network. However, this validation works in various ways and is unique among blockchains, as Flow tends to split validation tasks into four separate types of nodes: consensus, verification, execution, and collection. All four of these node types tend to participate in the validation of each transaction. Dividing these tasks makes it possible to make the transactions faster, and more efficient than rival blockchains.
Flow – Recent Developments
Just like many other metaverse-based cryptocurrencies, Flow recently has been able to stabilize after a dismal 2022. It has reported stabilizing transaction volume over the past month, which is an important indication for investors, as it is a non-fungible token (NFT)-focused blockchain project that's been declining for some time.
It is also among other projects of the metaverse sphere enjoying the bull run at the moment. At the time of writing, it has seen a massive 8.48% 24h change and is sitting above $1.
Flow's Price History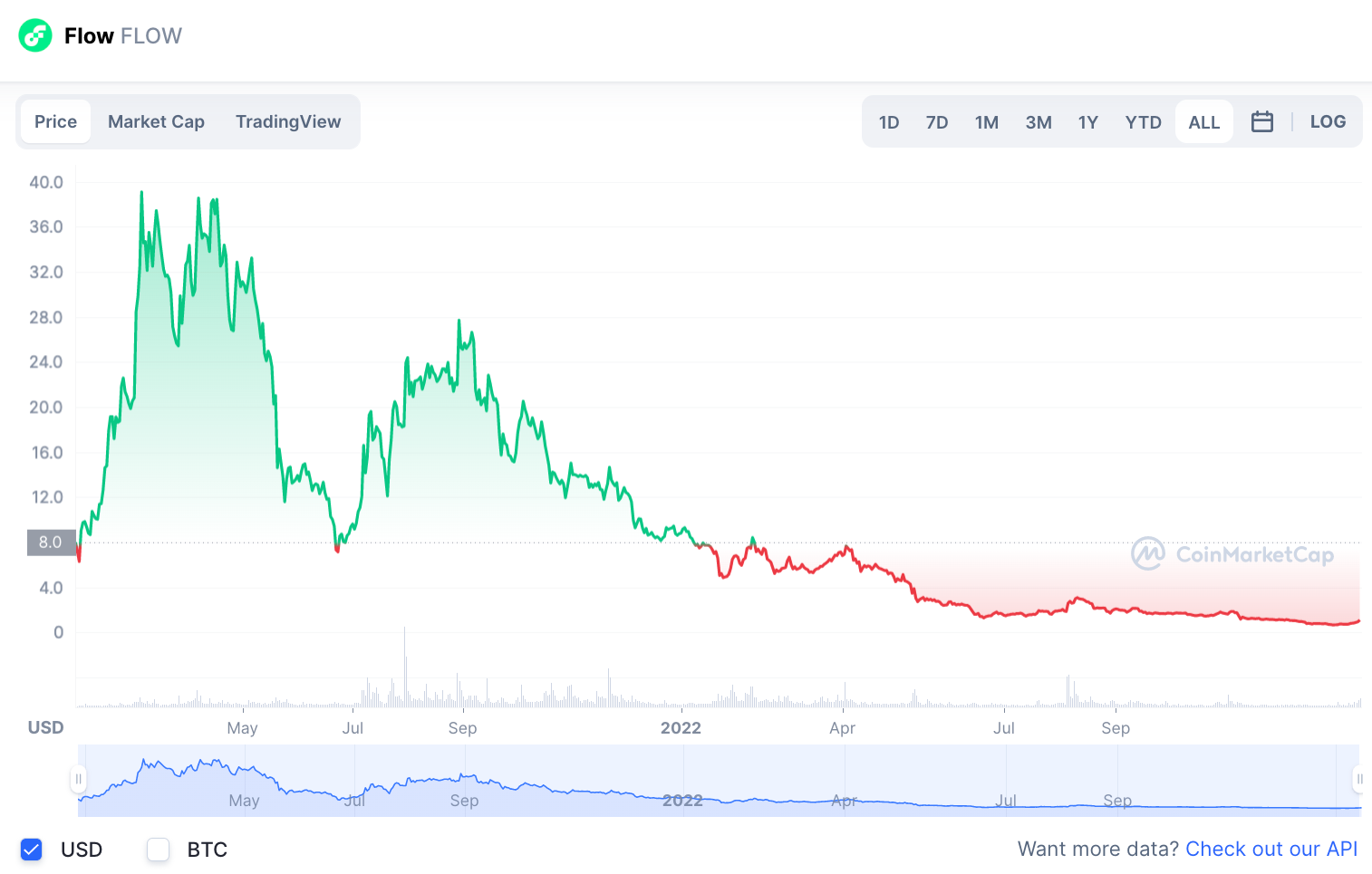 When we look at the price history of FLOW, the price can be seen to have a highly volatile movement. However, upon looking at the overall price history of FLOW, one can realize that it has the right potential to be one of the biggest crypto players.
The project was launched back in 2018, by Dapper Labs. It was listed and started its life in January 2021 at a price of $6.90. It soared to a new high of $46.16 in April 2021. This was one of the highest and fastest price movements in crypto history. Although, as with the rest of the cryptocurrencies, it fell to a low of $2.40 by June 2022.
Down the line, Flow raised funds to the tune of $8.5 million in form of a private token sale, plus by selling convertible notes to private investors in August 2019 and 2020. It is inflationary, however, the supply has been capped at 1.3 billion tokens.
Flow Price Prediction: 2023 & Beyond
When it comes to Flow's price prediction for 2023, things look positive for the cryptocurrency due to a variety of reasons. However, it is always essential to understand that price predictions for any cryptocurrency are based on a lot of underlying factors, such as the price of a cryptocurrency, the current crypto market conditions, and so on. Hence, this can be used only to take an idea, and not to rely upon it completely before investing.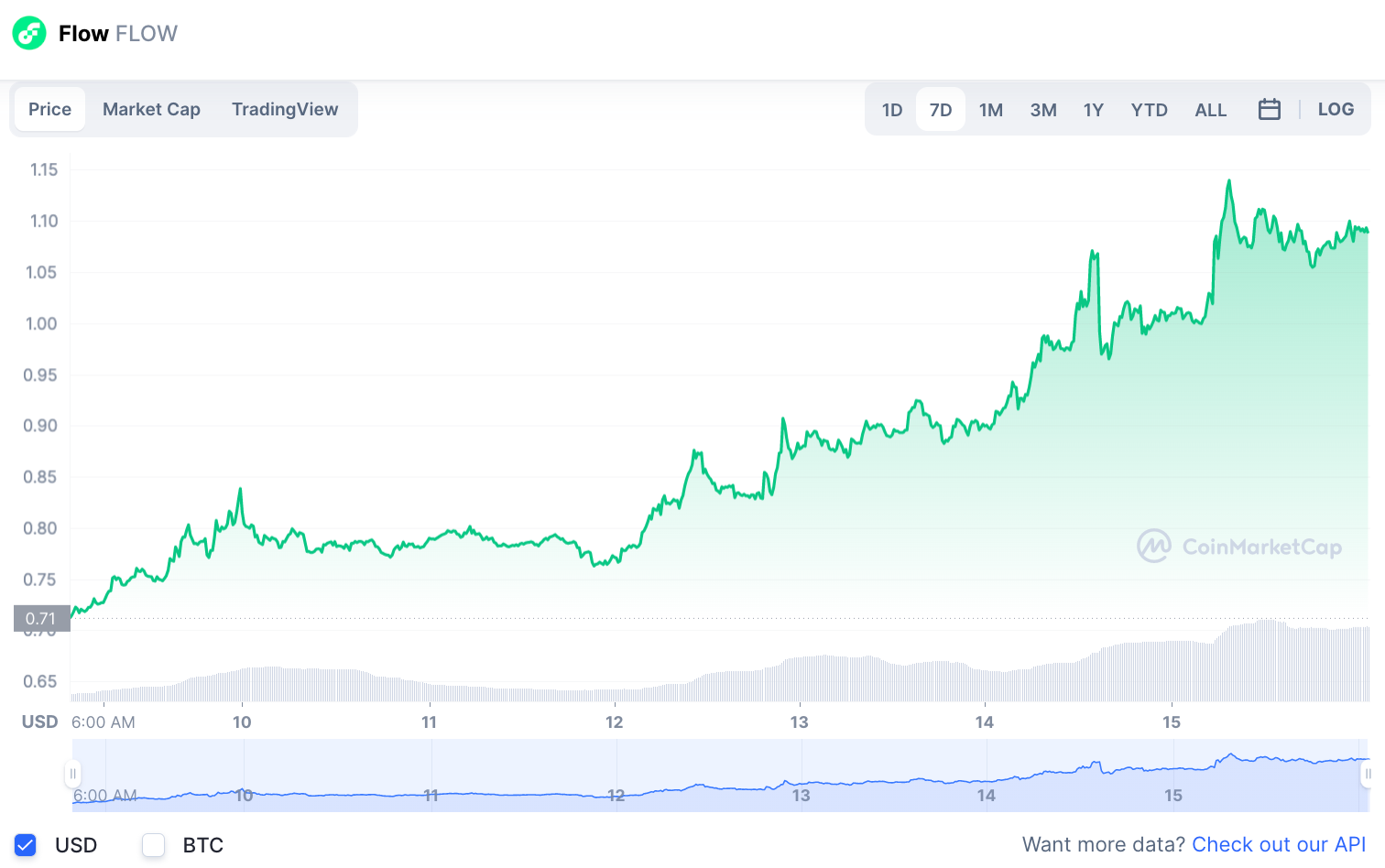 At the time of writing, Flow is ranked at #41 on CoinMarketCap in terms of its market cap. The cryptocurrency is trading at $1.07 and with a 24h trading volume of $186 million, aided by 1 billion plus coins in circulation. Many analysts are bullish about Flow's performance in 2023, saying that the crypto might rise significantly. It showcases a significant rise in the year's second half. According to Flow's 2023 prediction, the price for the crypto will be a minimum of $1.28, a maximum price of $1.61 and it will maintain an average price of $1.50.
Looking at some of Flow's indicators, things get a lot clearer. The Relative Volume of FLOW, which indicates the changes in the trading volume over a period of time, lies below the cutoff line. This shows strong participation in the current trend. Similarly, the Moving Average (MA) of FLOW lies below 50, so it is in a completely downward trend. While this showcases a bearish stage, there is a possibility of a reversal trend of FLOW at any point in time.
Meanwhile, another major indicator of a crypto's performance, the Relative Strength Index (RSI) is at a level of 38.49. This showcases that the FLOW is in an oversold state.
Further down the road, FLOW shows some real strength and scope for expansion. As a result of some potential announcements lined up for the cryptocurrency, we can anticipate the price of FLOW to reach somewhere around $2.68, with a minimum of $2.14
Is FightOut A Better Alternative To Flow?
Post the FTX crash, there has been a rising call by crypto investors and experts alike, for the crypto projects to be more than just a way to gain popularity and create hype. They should stand for some real-world utility and provide value to their users. This has led to the upcoming crypto projects becoming ready and evolving themselves for the new age of crypto investors.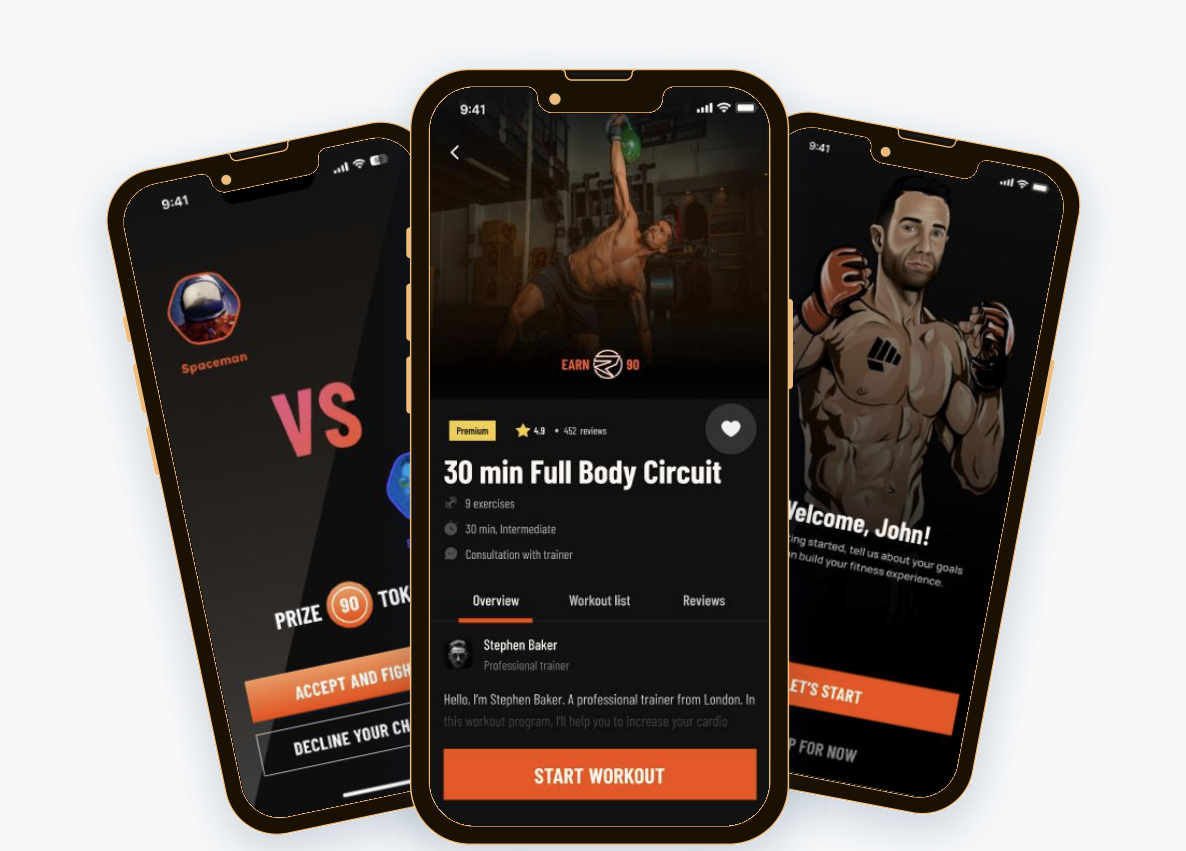 FightOut is a crypto project that is aiming to amalgamate the virtual world's fun with the real world's utility. It is based on the Move-To-Earn concept and consists of a fitness app and gym chain. The concept of FightOut is simple and focuses on making the overall fitness lifestyle even more interesting and exciting for fitness enthusiasts. It incentivizes users to work out, out, or move around.
FightOut is currently at its first stage of the presale which will be followed by an Initial Coin Offering (ICO). It is aiming to build a fitness app that has web3 components to decentralize it. Apart from virtual avatars, there will also be an added physical gym with Move-To-Earn progress tracking. The project is currently at its first presale stage, which is aiming to raise $5 million and has already crossed the $2 million mark in a few days.
Users get access to a state-of-the-art fitness app, and apart from it, they have a choice of training from the gym, home, or anywhere else. What makes it even better is the roadmap which is quite progressive and dynamic depending on the way it progresses further.
Conclusion
Flow comes from a reputable crypto project house. The Dapper Labs team is highly functional and adept in creating crypto projects that are utility-first and have the ability to explode. Moreover, apart from its origin, FLOW has also shown some tremendous potential in its initial days. Whether it was to join with the NBA Top Shot or increase the user base through its more efficient approach to conducting transactions.
Although, from an investment point of view, there are questions about Flow's future. But, with the rise in popularity of metaverse-first crypto projects it has placed itself well. The coming months of 2023 are crucial for Flow and the investors to determine whether it's a cryptocurrency that one should invest in and stay with.
Read More:
FightOut (FGHT) – Newest Move to Earn Project
CertiK audited & CoinSniper KYC Verified
Early Stage Presale Live Now
Earn Free Crypto & Meet Fitness Goals
LBank Labs Project
Partnered with Transak, Block Media
Staking Rewards & Bonuses