Cardano Price Prediction – Is Top Crypto Gainer the Best Coin for 2023?
Cardano price has followed that of major coins to shed a few gains in the past 24 hours. However, with the market still on a hot streak and macroeconomic factors favoring a rebound, what are the prospects for the crypto asset this year?
Analysis of ADA Price
Cardano's ADA token is currently trading at $0.3313, indicating a downtrend of 5.52% in the past 24 hours. The asset's price is moving in line with most major coins as well as the broader market, which is also down by 2.47% in the same period.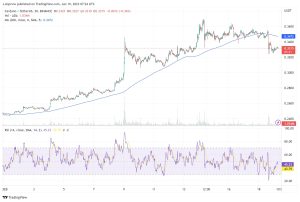 With market prices losing steam, it's no wonder ADA has slipped below all of its major moving average (MA) indicators. From the 10-day MA of $0.3316 to the 200-day MA of $0.3472, ADA appears to be stuck in a race against time to reclaim some lost ground. Of course, with its short-term MA indicators still close to its current price, a rally for ADA in the near term should see it reclaim some of those metrics in the near term.
An unsurprisingly negative moving average convergence divergence (MACD) shows that ADA gives off a sell signal. However, the asset's relative strength index (RSI) of 45.74 shows it is not overbought yet.
Cardano Ecosystem Set for Expansion
Although the biggest driver of crypto prices remains the ever-shifting macroeconomic market, it is also worth noting that Cardano is experiencing some improved fundamentals of its own.
A week ago, Input Output Global, the engineering team that built the Cardano blockchain, confirmed that they would release a software toolkit later this month to enable developers to deploy custom-built sidechains on the main Cardano blockchain. The announcement included the official technical documentation for the sidechain toolkit. Input Output Global explained that they had already used it to construct a public testnet compatible with the Ethereum Virtual Machine as a proof of concept.
⛓️ The #Cardano sidechain toolkit was previewed at #IOScotFest, and we're happy to share the first iteration is out now.

Here's the lowdown on this exciting new project! https://t.co/Ny9tQuJh5K

— Input Output (@InputOutputHK) January 12, 2023
Once the audit for the proof of concept is complete, all developers will get the chance to deploy decentralized applications (dApps), create smart contracts, and move assets between different testing chains.
The toolkit will also allow sidechain creators to choose their consensus mechanisms in addition to other bespoke features.
The move is expected to contribute significantly to the expansion of the Cardano ecosystem, which continues its fight to compete with larger blockchains like Ethereum. And with improved fundamentals, investors in ADA will be happy to see that the network continues to expand sustainably.
Time to Buy Promising Presales
Even as the market eagerly awaits the next direction of established assets, value-seeking investors have many options to choose from when looking for gains. Two great options to consider in this case are FGHT and MEMAG.
Meta Masters Guild (MEMAG)
The self-described world's first Web3 gaming collective, the Meta Masters Guild, is looking to create an environment where players can access a universe of games and play them seamlessly.
According to the Guild, all games within its ecosystem will be able to operate autonomously. However, they will remain linked as they will use the Guild's MEMAG token as their native assets. The games will also include in-game incentives that can be exchanged for MEMAG and used to encourage both players and contributors.
With one game already in the works and two others earmarked to follow, the Guild is already populated. Each of these games is expected to integrate MEMAG in its way, thus creating multiple use cases for the coin. And as more players enter the ecosystem, the asset's value is expected to surge even higher.
🚀 The #MEMAGFAM is growing fast, and so is the value of our tokens! 🚀

💰 We have raised over $650K!! 🤯

Let's keep making $MEMAG a success! 💪 Get in on the action now before the price increases! 💰https://t.co/SBqVjX5mWn#mmg #memag #memagpresale pic.twitter.com/H0QvV27yQy

— Meta Masters Guild (@MEMAGgames) January 19, 2023
MEMAG is currently available on presale. With the presale's second stage already underway, the token has raised over $657,000.
Fight Out (FGHT)
FGHT powers Fight Out – a move-to-earn platform looking to revolutionize the fitness and health industry. Fight Out takes fitness to another level, incentivizing users to stay fit and pursue their exercise goals.
The platform keeps users accountable by allowing them to select their fitness objectives and parts of their body that they would like to work on. From there, players can track their progress with the app, which uses smart technology to keep tabs on users' vitals. As a user makes progress, they are rewarded with tokens.
Huge milestone #FightOutCrew! 👊

We have just raised over $3M in our stage 1 presale! 🔥

⏰ Only 5 days left until the stage 2 price starts increasing! ⏰

Don't miss out – Get up to a 50% bonus with $FGHT! https://t.co/uoCKFB3X3n pic.twitter.com/b44ZDKaHXt

— Fight Out (@FightOut_) January 18, 2023
FGHT enables users to pay for this service's subscriptions and stake it for discounts and other benefits. The token is currently available on presale, with over $3 million raised and counting.
Related News
Meta Masters Guild – Play and Earn Crypto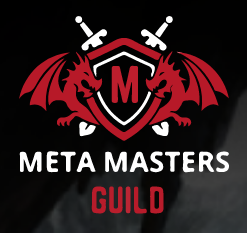 Innovative P2E NFT Games Library Launching in 2023
Free to Play – No Barrier to Entry
Putting the Fun Back Into Blockchain Games
Rewards, Staking, In-Game NFTs
Real-World Community of Gamers & Traders
Round One of Token Sale Live Now – memag.io