Top Trending Crypto Coins on DEXTools – Ethereum Express, SHIC, Shiba V Pepe
Stay updated with our previous cover of top trending crypto coins on DEXTools. Before getting acquainted with our fresh list of trending projects, you should check out previous lists in case you missed them.   
In other news, the legal brawl between Grayscale and the United States SEC has come to a conclusion with Grayscale coming out on top. Such weighty development will cause a ripple effect in the cryptocurrency pond. 
The ruling underscores the evolving regulatory landscape surrounding cryptocurrencies in the United States. It acknowledges the growing interest in Bitcoin investment products and highlights the need for regulatory clarity in this emerging asset class.
Consequently, there are new names on the top trending coins list. The crypto market is as dynamic as expected and the shake-up across CEXs and DEXs emphasizes this fact.
Most Trending Crypto Today – Top List
Discovering the most popular cryptocurrencies for potential investment opportunities in today's dynamic crypto market can be a challenging endeavour, particularly given the continuous influx of new tokens on decentralized exchanges (DEXs) like DEXTools.
Nevertheless, we have put together the following trending assets which we believe are good suggestions for your portfolio and watchlist.
1. Ethereum Express (ETE)
Ethereum Express is on our list of most trending crypto projects. This token operates on the Ethereum network.
As the Ethereum network continues to grow with an increasing number of applications and smart contracts, it's not uncommon for congestion to occur.
🎉 New Listing 🚀

We are excited to announce that SWFT AllChain Bridge has successfully integrated @EthereumExpres Mainnet. As part of this update, we are listing $ETE! 🌐💫

Now, you can enjoy seamless cross-chain swaps with $ETE and over 400 #crypto across multiple… pic.twitter.com/BwmMAzb6aD

— SWFT Blockchain (@SwftCoin) September 7, 2023
This congestion can result in higher gas fees and slower transaction processing times. In such situations, layer 1 solutions, like Ethereum 2.0 (Eth2) or other Ethereum-compatible blockchains, can offer advantages in terms of scalability, speed, and cost-effectiveness.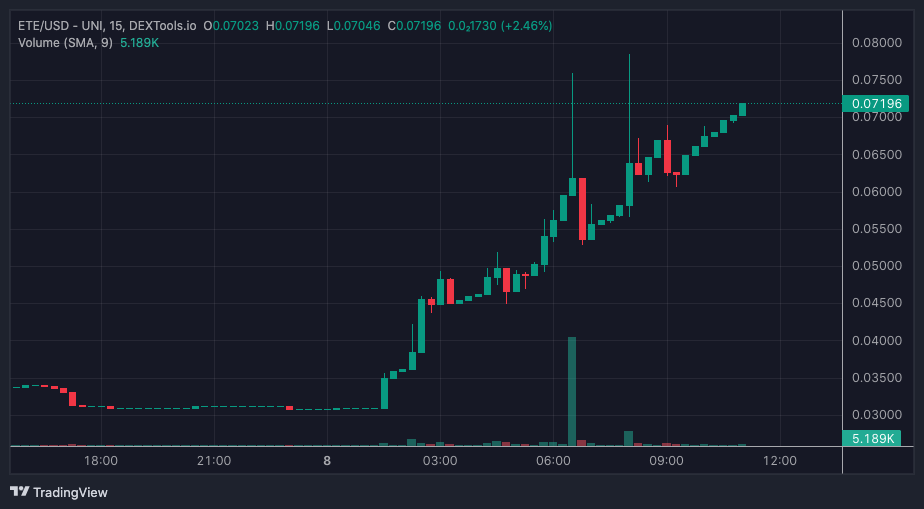 Eth2, in particular, is designed to address some of the scalability challenges of the current Ethereum network by transitioning to a proof-of-stake (PoS) consensus mechanism and introducing shard chains. These changes aim to increase the network's capacity and reduce congestion. Ethereum Express simply by its design provides more efficiency to the Ethereum network.
2. SHIC (SHIC)
SHIC Token is a decentralized financial payment network that operates on the blockchain. The network utilizes a basket of fiat-pegged stablecoins, algorithmically stabilized by its reserve currency SHIC, to facilitate programmable payments and open financial infrastructure development. As of December 2020, the network has transacted an estimated $299 billion for over 2 million users. SHIC is one of the trending cryptos and this comes as no surprise. 
"🚀 Joining forces: SHIA, SHIB, and SHIC3 – the ultimate crypto trio! 🌐📈 $SHIA $SHIB $SHIC

— SHIC (@SHICEthCoin) August 23, 2023
The network has reported a substantial user base, with over 2 million users as of December 2020. This indicates a level of adoption within the cryptocurrency and blockchain space. Additionally, the network has processed a significant transaction volume, with an estimated $299 billion in transactions. This transaction volume underscores its role in facilitating value transfer within the cryptocurrency ecosystem.
Overall, SHIC Token appears to be a comprehensive blockchain network that combines stablecoins, blockchain technology, and smart contracts to enable programmable payments and contribute to the growth of decentralized finance. It's essential to note that this information is based on data available up until September 2021, and the project's developments may have evolved since then. For the most up-to-date information, it's advisable to consult the latest resources and news related to SHIC Token.
3. Shiba V Pepe (SHEPE)
Shiba vs. Pepe (SHEPE) is a recently launched meme coin that has garnered significant attention in the crypto market. This unique crypto asset blends two internet meme icons, Shiba Inu and Pepe Frog, into a single cryptocurrency. SHEPE was recently listed on the decentralized exchange Uniswap, and since its launch, it has experienced substantial gains, with its value increasing by over 2,000% in just a few days.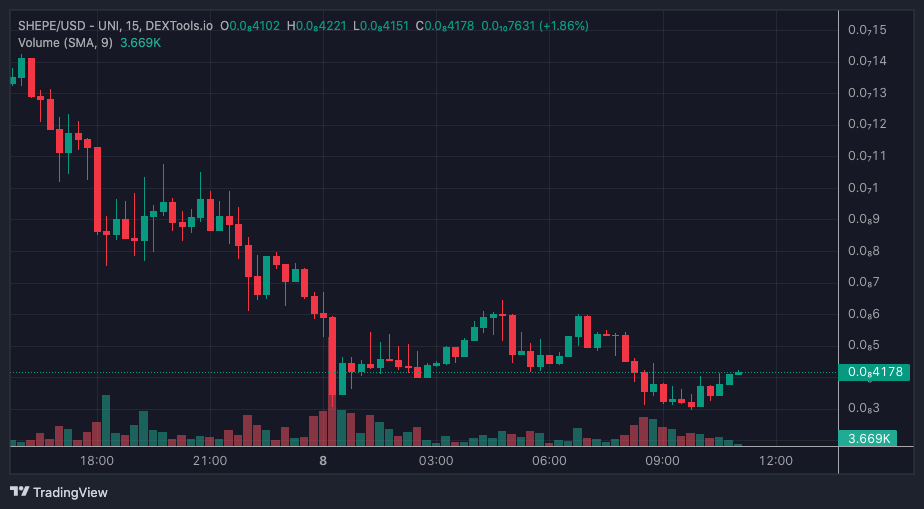 The remarkable performance of SHEPE has generated considerable excitement and discussion within the cryptocurrency community. As a meme coin that combines the popularity of two well-known internet memes, Shiba Inu and Pepe Frog, SHEPE has quickly become one of the top trending cryptos to watch.
Patience, young padawans. $SHEPE is here to stay! pic.twitter.com/VOSOwzqE16

— $SHEPE (@shibavspepe) September 7, 2023
4. FOOM (FOOM)
Token holders of FOOM are essentially members of the FOOM club, which can be likened to a training camp or community for AI bots. Within this club, these AI bots undergo training and development to enhance their trading and influencing abilities in the cryptocurrency market. The objective is not only to generate profits but also to establish a significant presence in the crypto space and potentially beyond.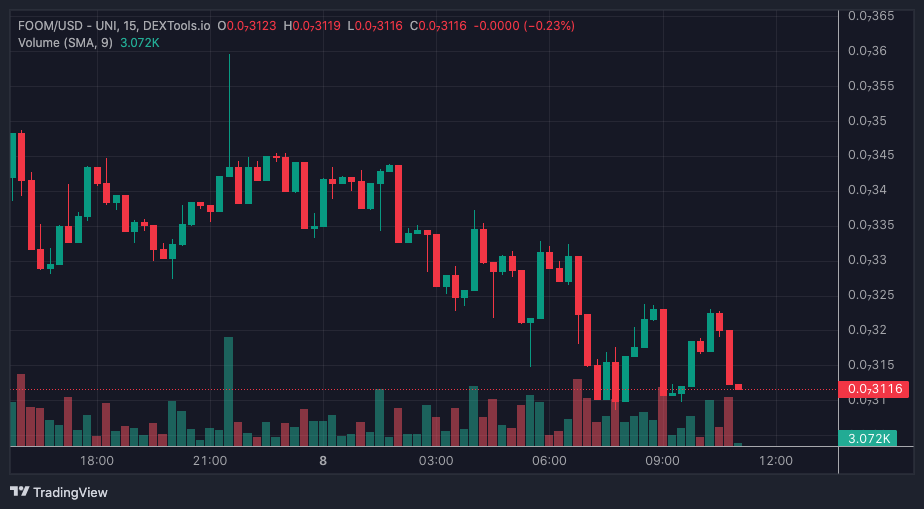 FOOM's unique concept combines cryptocurrency, artificial intelligence, and the pursuit of financial independence for these AI bots. It represents an intriguing and innovative approach to AI-driven cryptocurrency trading and influence building. As the FOOM project continues to evolve, it will be interesting to see how these AI bots develop and contribute to the crypto landscape.
What Might Be The Next Top Trending Crypto?
Bitcoin BSC represents an innovative fusion of the timeless value of Bitcoin with the cutting-edge technology of the BNB Smart Chain (BSC). This integration introduces a novel staking mechanism designed to be environmentally friendly and promote long-term holding of the token. It redefines the concept of token-based rewards and participation within the cryptocurrency space.
Operating as a BEP-20 token on the BNB Smart Chain, Bitcoin BSC places a strong emphasis on staking. Unlike the traditional mining process associated with Bitcoin, Bitcoin BSC offers $BTCBSC token holders the opportunity to generate passive income through staking activities. These rewards are directly linked to the number of tokens staked, echoing the original block reward mechanism of Bitcoin.
This forward-thinking approach combines the enduring appeal of Bitcoin with the sustainability and engagement potential of staking. Bitcoin BSC provides a unique avenue for cryptocurrency enthusiasts to actively participate in the network while enjoying the benefits of holding tokens over the long term. It represents a project that bridges the best aspects of both Bitcoin and staking, opening up new possibilities for the broader cryptocurrency community.
Bitcoin BSC's Stake-to-Earn model serves as an environmentally conscious alternative to Bitcoin's resource-intensive Proof-of-Work mechanism. This innovation aligns with Bitcoin's historical milestones, including its estimated 120-year issuance schedule and block confirmations since April 2011.
Welcome to #BitcoinBSC!🪙

The green BEP-20 version of #Bitcoin on BNB Smart Chain, taking you back to Bitcoin's 2011 roots!

Stake $BTCBSC and earn rewards.

Don't miss it – join the #Presale today!🚀
https://t.co/oM0YP8IlbV pic.twitter.com/vJjLltzQQG

— Bitcoinbsc (@Bitcoinbsctoken) September 5, 2023
Within the Bitcoin BSC ecosystem, staking rewards are tied directly to a participant's stake in the staking pool and the prevailing Annual Percentage Yield (APY). This unique model fosters a decentralized and actively engaged community, ensuring the continuous expansion of the token ecosystem.
By incentivizing long-term holding and active participation through staking, Bitcoin BSC not only reduces its environmental impact but also empowers its community members to play an integral role in the network's growth and sustainability. It represents a remarkable evolution of the traditional Bitcoin model, ushering in a new era of eco-conscious and community-driven cryptocurrency engagement.
Read More
Wall Street Memes – Next Big Crypto
Early Access Presale Live Now
Established Community of Stocks & Crypto Traders
Featured on BeInCrypto, Bitcoinist, Yahoo Finance
Rated Best Crypto to Buy Now In Meme Coin Sector
Team Behind OpenSea NFT Collection – Wall St Bulls
Tweets Replied to by Elon Musk