Aave (AAVE) Price Forecast – Lending Powerhouse Targets a 30% Jump in AAVE Value
Aave is worth $56.15 and had about $56.20 million in trading activity over the past day. Trading increased by about 12%, and AAVE's price increased by more than 1.50%.
AAVE's price increased by about 3% in the last week, but it decreased by more than 14% over the past month.
Traders and investors are curious if this is because of speculation or if there's something significant happening behind the scenes. It's a good idea to keep an eye on the AAVE market. This article will examine what might happen with AAVE in the next few weeks.
Aave (AAVE) Statistics:
Today's Price – $56.15
Market cap – $816.10 Million
Circulating supply –   14,534,451 AAVE
Total supply –    16,000,000 AAVE
CoinMarketCap ranking – 43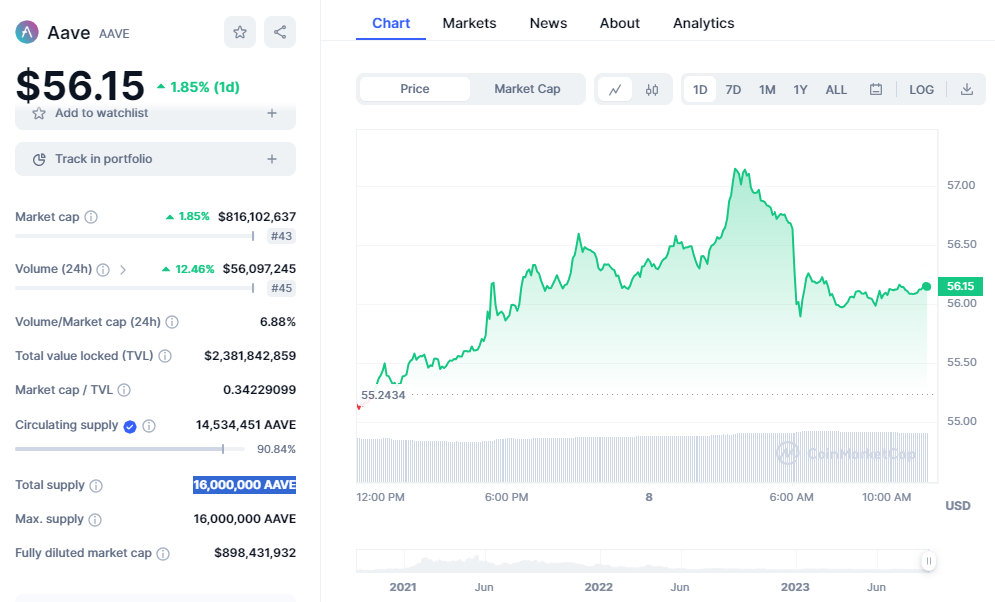 AAVE Daily Chart Analysis: Zones of Resistance and Support
Take a look at the daily chart for important information. AAVE's price might encounter a challenge at $60.10. If it breaks through, the price could rise. But if it can't go beyond that point, it might drop to about $53.51, a support zone.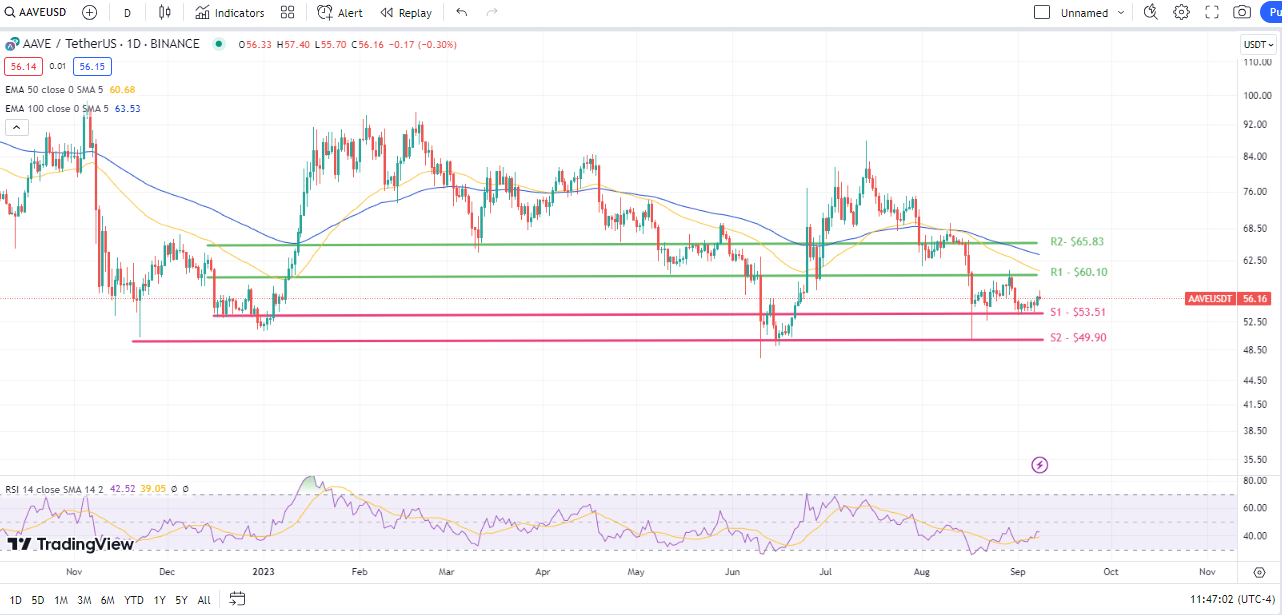 Remember these important points when checking the chart: there might be challenges around $60.10 and $65.83, and the price could find support at $53.51 and $49.90.
If the price stays above the moving averages for 50 and 100 days, it might keep going up and reach $61.20 or more soon.
The RSI for AAVE is above 40, which means the price could go down in the short term in the next few sessions. Looking at the moving averages for 50 and 100 days and the RSI around 40, it suggests AAVE's price might decrease. If you're thinking long-term, watch out for the resistance levels R1 at $60.10 and the RSI-14. The price might increase if it breaks the first resistance level and the RSI-14 exceeds 50. Stop-loss orders are a smart way to protect your investment from big losses.
Promising Alternative to Aave (AAVE)
Introducing Bitcoin BSC ($BTCBSC): Unlock Exciting Rewards in a Unique Presale. This project draws inspiration from the early days of Bitcoin back in April 2011, when it was valued at just $1 with only 6 million coins in circulation. A golden opportunity awaits early investors.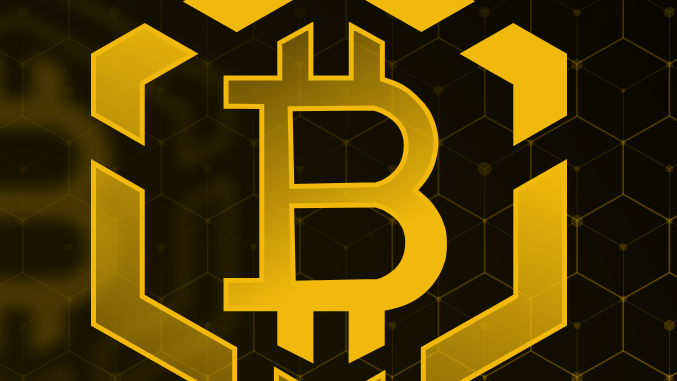 Bitcoin BSC: Faster Staking for Smart Earnings
The BTCBSC token is on the Binance Smart Chain, and you can stake it to make easy passive income.
Bitcoin, the first cryptocurrency, is the largest, but it's not very flexible. Most people use it for investing, not for regular purchases.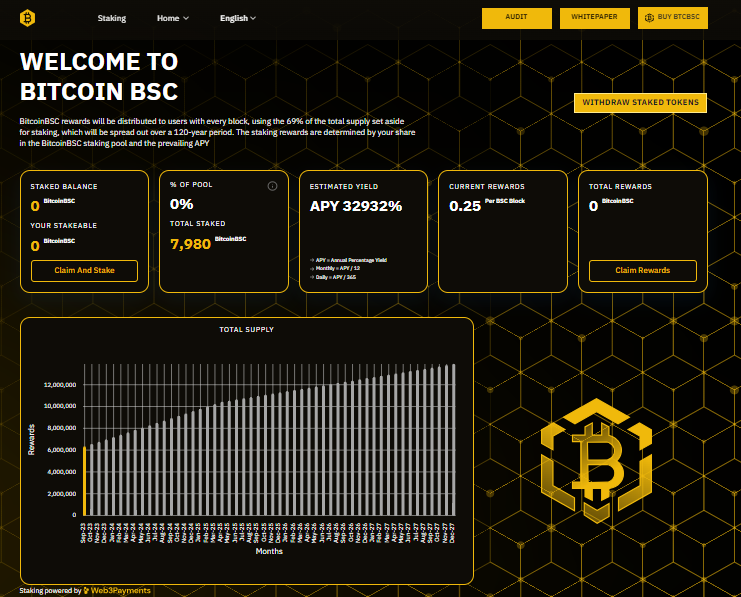 Bitcoin BSC is much like regular Bitcoin but has some cool advantages. Unlike Bitcoin, which uses a complex and expensive transaction method, Bitcoin BSC uses a faster and better system called proof-of-stake. Plus, it's a BEP-20 token, so it doesn't have those high fees like tokens on Ethereum.
With proof-of-stake, if you have Bitcoin BSC tokens, you can stake them and get rewards.
Currently, the staking pool gives people 0.25 BTCBSC for every block on bitcoinbsc.io. While this might give you a lot every year now, it might decrease slightly when more people join. Still, it's likely better than many other staking pools that usually offer between 5% and 10%. A big part of the total 21 million BTCBSC tokens will go to the staking pool.
Both BTCBSC tokens and regular Bitcoin are meant to stick around for a long time—up to 120 years. This long-term plan suggests the project could do well and encourages people to hold onto their tokens, which can help keep their value.
BTCBSC Presale Soars to a Strong Start
It was on September 5 that the Bitcoin BSC presale began and quickly gained traction on the Web3 platform. It raised about $280,000 in just three days. Bitcoin BSC has 6.15 million tokens; the rest will come out later.
Welcome to #BitcoinBSC!🪙

The green BEP-20 version of #Bitcoin on BNB Smart Chain, taking you back to Bitcoin's 2011 roots!

Stake $BTCBSC and earn rewards.

Don't miss it – join the #Presale today!🚀
https://t.co/oM0YP8IlbV pic.twitter.com/vJjLltzQQG

— Bitcoinbsc (@Bitcoinbsctoken) September 5, 2023
In the presale, they began with 4 million tokens, each costing $0.99. If the presale does well and sells out fast, they have an extra 2.125 million tokens that they can use, which could make the total $6.125 million.
The presale makes up 29% of all the tokens available. It will take 120 years for the other 69% to be staked out. For decentralized exchanges, 420,000 tokens (2%) have also been reserved by BTCBSC.
If you're an investor or trader, you can find more details in the project's whitepaper or by joining their Telegram group. To buy BTCBSC tokens, you can use USDT, BNB, or ETH on the Bitcoin BSC website.
Related:
Wall Street Memes – Next Big Crypto
Early Access Presale Live Now
Established Community of Stocks & Crypto Traders
Featured on BeInCrypto, Bitcoinist, Yahoo Finance
Rated Best Crypto to Buy Now In Meme Coin Sector
Team Behind OpenSea NFT Collection – Wall St Bulls
Tweets Replied to by Elon Musk