Pond Coin (PNDC) Price Prediction
Pond Coin (PNDC) is the native cryptocurrency of a decentralized exchange called Pond DEX. The token recently saw a sharp increase in performance, signaling that it decoupled from the rest of the market. Over the last week, the PNDC price dropped from $0.000002174 on September 4 to $0.0000016 on September 10.
The coin saw plenty of minor fluctuations between these dates, although its general trend was bearish. As the price continued to drop, it encountered several supports, allowing it to bounce back. The recoveries were only successful for a short time, and usually, a small resistance was enough to turn things around for PNDC. Each rejection caused the price to sink more profoundly, and each recovery reached a shorter height before dropping again.
However, as this was the general market behavior, it was not surprising, nor was PNDC considered to be performing particularly poorly. Things changed on September 10, however. Yesterday, still in the early hours, the PNDC price started seeing another recovery after dropping to $0.0000016, but this time, it started heading up, and it did not stop. It encountered several resistances, which became more troublesome, but it eventually managed to breach them. The one at $0.0000020 was the hardest to breach.
This level broke in the early hours of September 11. Eventually, the price climbed to $0.0000023, achieving a weekly high. But, such sharp growth soon became another correction.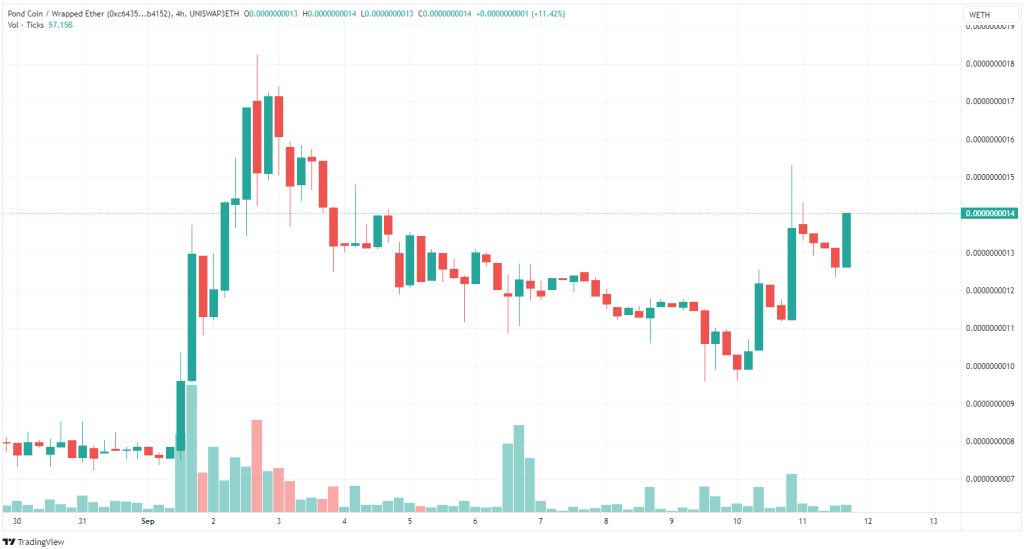 At the time of writing, PNDC dropped back to $0.000002075. The token is currently over 7% higher than 24 hours ago. The big question is whether the price will continue to drop alongside the rest of the market or bounce back.
Why did PNDC surge?
One reason why the PNDC price skyrocketed so rapidly may have come from three wallets that recently dumped $965k in PEPE to buy PNDC instead. Unknown traders bought 487 billion PNDC tokens, equal to around 600 ETH. The token's surge also may have followed due to its recent listing on Poloniex, which brought new exposure. Generally, it marked a positive development for the token and its project.
As mentioned above, the mysterious whales who bought PNDC seemingly also started a trend, which led to the surge in PNDC's volume. The volume increased to over $3 million earlier today, which is impressive for a cryptocurrency that ranks as 2183, even after the market cap increase.
Wall Street Memes presale is still not over: Join while there is still time
While PNDC is undoubtedly capturing the attention of opportunity seekers, the same is expected from Wall Street Memes (WSM) when it finally reaches the exchanges. The new meme coin held the most popular presale this summer, and the presale is still ongoing, currently in its final phase.
The token is currently available for $0.0337, although there is no telling which way it might go and by how much once it emerges on exchanges. Given its popularity, there is a chance that the token will surge post-launch. After all, it did raise over $25 million during the presale alone. But there is no guarantee that it won't drop, too.
Still, it is a good choice for opportunity seekers, assuming they are willing to take that risk. Anyone who wants to buy the token now can do so with ETH, BNB, USDT, or their credit card.
Related Stories:
Wall Street Memes – Next Big Crypto
Early Access Presale Live Now
Established Community of Stocks & Crypto Traders
Featured on BeInCrypto, Bitcoinist, Yahoo Finance
Rated Best Crypto to Buy Now In Meme Coin Sector
Team Behind OpenSea NFT Collection – Wall St Bulls
Tweets Replied to by Elon Musk