Will PEPE's Momentum Leapfrog Its Rivals?
After trading sideways for quite a long time, Pepe (PEPE) saw a substantial price drop this Sunday, which only continued on Monday.
Previously, throughout the last week, the price was going above and under the value of $0.0000008000. However, it is worth noting that this situation only started after another drop, which took place in late August.
Early September brought stability, but not for very long. PEPE price dropped under $0.0000008 on September 9, and for the rest of the day, it was almost entirely still at $0.00000078.
Then, on September 10, it suddenly saw a price crash that took it down to $0.0000007261. After that, it continued to spiral down for the rest of the day, reaching $0.00000070.
The drop has continued until now, and at the time of writing, the PEPE price sits at $0.0000006766. It dropped by over 15% in the last week, with a 6% drop in the previous 24 hours alone.
The token's volume in the last 24 hours is up by nearly 12%, as traders seem to be dumping the token across the industry.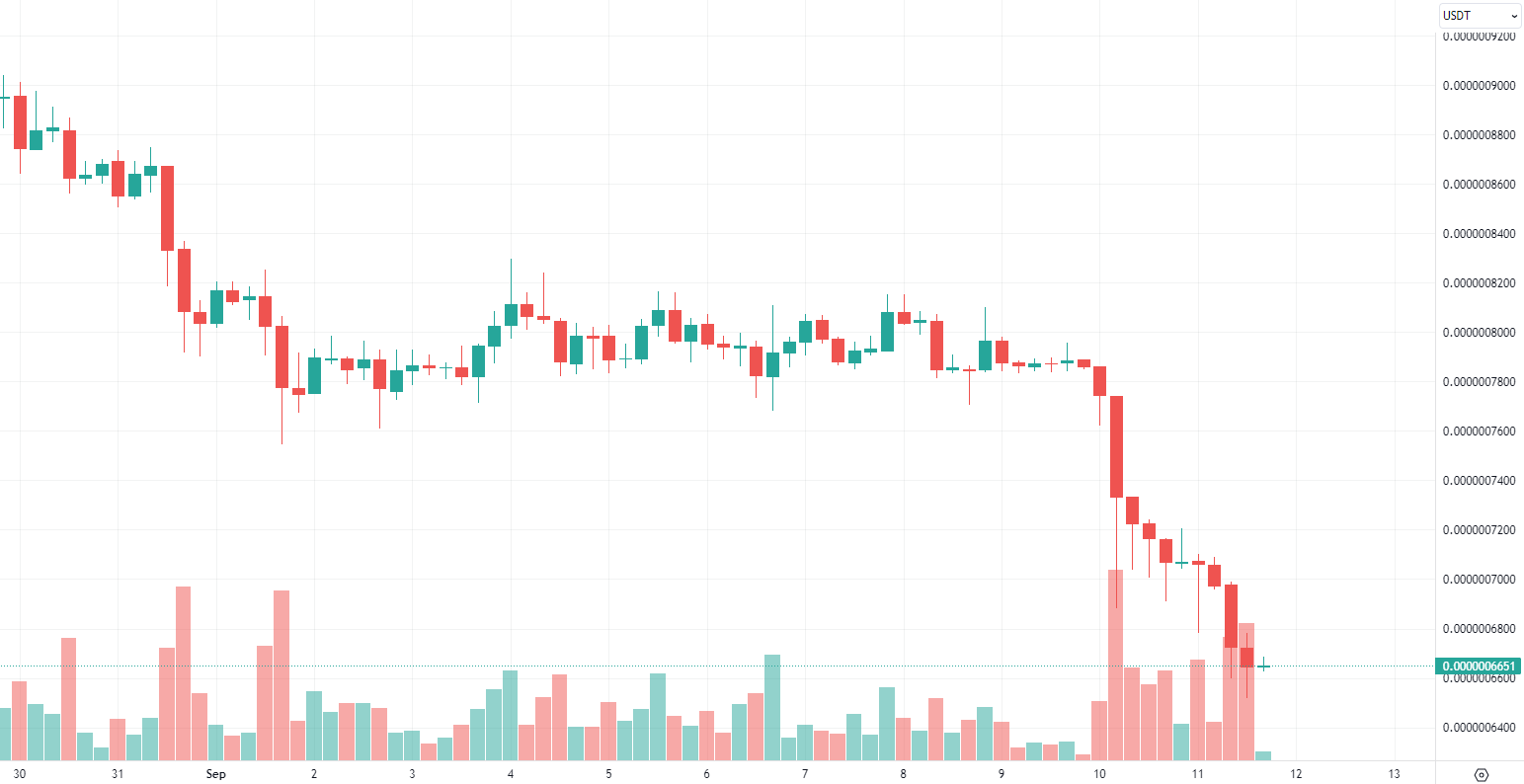 Some of the most recent predictions suggest that the bears are weak now and that the bulls are about to take over the price and lead it to the new ATH. However, this scenario certainly seems quite optimistic.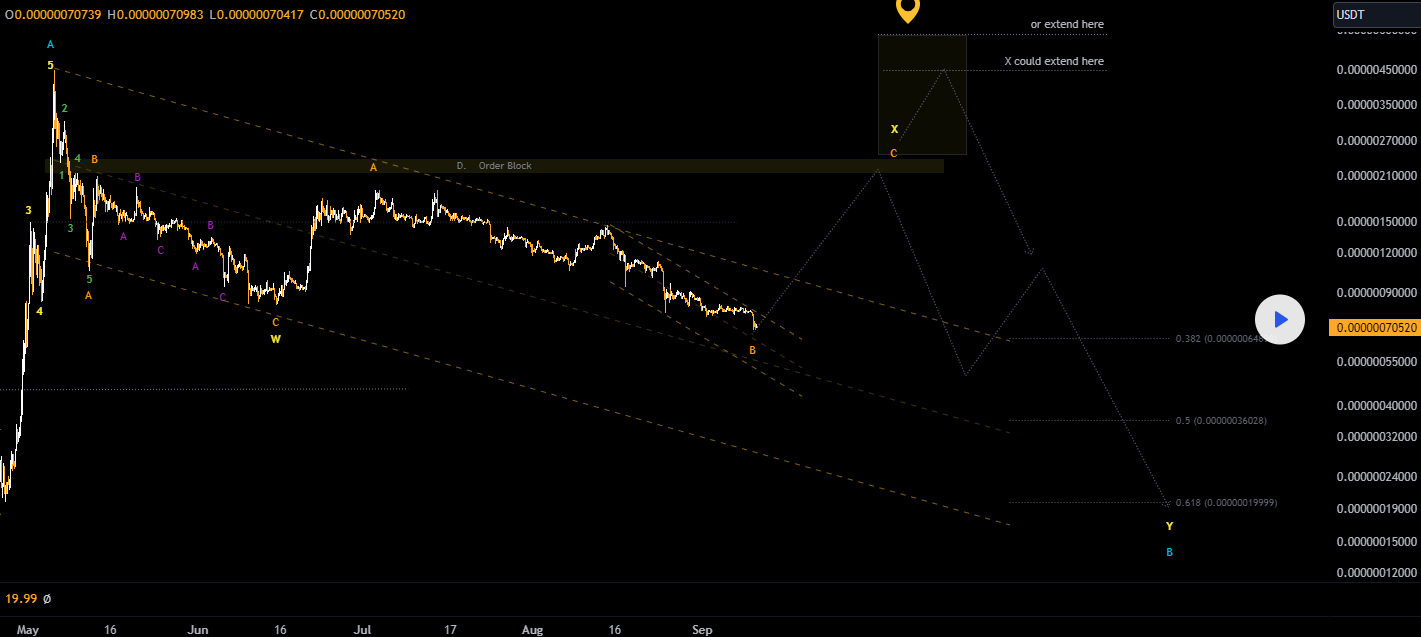 Whales convert PEPE to PNDC
According to recent data provided by LookOnChain, three crypto wallets recently transferred their holdings from PEPE to Pond Coin (PNDC), the native token of Pond DEX. They bought 487 billion PNDC for approximately $965,000.
🚨 Crypto alert:
[#XRP–#USDT] RSI Bullish Divergence (1h) pic.twitter.com/Sly21NNMR3

— 100eyes Crypto Scanner 🌐 (@100eyesCrypto) September 11, 2023
The reports note that transactions highlight contrasting fortunes for PEPE and PNFC, which is starting to see more traction on the market, while PEPE is losing both the holders and its value. In other words, investors are jumping ship on PEPE.
This could result from back-to-back security breaches seen in the last several weeks, the whales' decision to abandon the token, or the descending triangle, which was noticed on the token's 4-hour price chart, formed over the last three weeks.
❌❌ $PEPE Announcement❌❌

The old telegram for $PEPE is hacked and no longer in our control. The "lordkeklol" account has been compromised. Whoever has gained access to this account is using it to push scams and deceive people and launch other coins. This person is lying and… pic.twitter.com/jxlYwoSP1Q

— Pepe (@pepecoineth) September 9, 2023
Can PEPE recover?
Pepe has been in a general downward trend since mid-July; in August, it lost 35% of its value. This kind of performance cannot even be pinned on Bitcoin's dominance.
While BTC did bring the bearish sentiment back to the industry, the coin managed to defend its lower range, while PEPE did not.
Instead, the token is seeing a constant decline. Some analysts suggest that the token could see a bomb in mid-October if Ethereum ETFs get approved.
Bitcoin ETFs might cause a bull run that would allow PEPE to recover if the ETFs finally get approval. For now, however, people can only say with certainty whether PEPE has what it takes to achieve a recovery on its own.
Wall Street Memes to be more successful meme coin?
While PEPE is deep in the bearish territory, the same cannot be said for Wall Street Memes. This is a new meme coin that saw its presale this summer, and in fact, it is still going, currently in its final stage, offering WSM tokens for $0.0337.
The token has already raised over $25 million and will reach exchanges in around 16 days. For now, its price is still defined by the presale, not by volatility, so WSM could push through the bear market and start surging once it enters circulation. Anyone interested can buy it now with ETH, USDT, BNB, or credit/debit card.
Related
Wall Street Memes – Next Big Crypto
Early Access Presale Live Now
Established Community of Stocks & Crypto Traders
Featured on BeInCrypto, Bitcoinist, Yahoo Finance
Rated Best Crypto to Buy Now In Meme Coin Sector
Team Behind OpenSea NFT Collection – Wall St Bulls
Tweets Replied to by Elon Musk