Milady NFT Prices Tumble After Rogue Developer Stole $1M From Treasury
Hacks, scams, and rug pulls have become rampant in the nascent crypto sector, with scammers and other people with ill motives now appearing to be on a stealing spree. In yet another heist, a rogue developer from the non-fungible token collection Milady Makers has just disappeared with $1 million in fees from the treasury.
Milady NFT Exploited – $1M Stolen From Treasury
In a September 11 blog post, Charlotte Fang, the co-founder of the Milady Maker NFT collection, confirmed that a rogue developer in the Milady ecosystem had breached the security system, diverting about $1 million in generated fees from the Remilia Corporation treasury.
Good morning. A developer who worked on Bonkler took steps that allowed him to divert ~$1MM USD in Remilia's generated fees.

The Bonkler reserves, main contract and NFTs are safe; only Remilia's revenue from Bonkler was compromised.

We've temporarily paused Bonkler's daily mint… pic.twitter.com/1QOQDiXka3

— ♡ Charlotte Fang 🐉 Crown Prince (@CharlotteFang77) September 11, 2023
Established in 2021, Remilia is the decentralized autonomous organization (DAO) behind the Milady Maker, an NFT collection featuring a limited set of 10,000 generative neochibi-style profile pictures digital collectibles.
According to Fang, the digital asset firm has seen its Bonkler revenue compromised, with the rogue dev stealing about $1 million. In his X account, formerly known as Twitter, Fang noted that "the Bonkler reserves, main contract, and NFTs are safe; only Remilia's revenue from Bonkler was compromised."
Furthermore, the rogue developer has also seized code bases and coordinated with other team members to seize control of Remilia's social media. The attacker managed to take over three X accounts, including Miladymaker and Remilionaire.
Before summarizing, Fang noted that the investigating team had successfully managed to identify the individuals involved in the exploit and expressed willingness to pursue them to the fullest extent of the law. Fang explained:
"We expect all our property to be returned. For such viciousness, I can give no quarter — the individuals involved have been terminated from Remilia Corporation, and will now be dealt with through the heavy hand of the law."
Milady NFT Floor Price Down 22%
Milady Maker NFT collection has seen its floor price plunging more than 22% following the recent heist. In the past 24 hours, Milady Maker NFT floor price has fallen from 3.06 ETH to around 2.30 ETH. Remilia's bearish news has also impacted Milady Makers' market cap. In the past 24 hours, Milady's market cap is down 22.8% to around $35 million.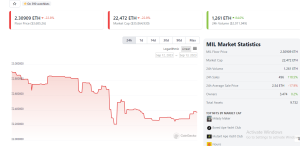 Source: CoinGecko.com, Milady NFT Trading Activity
In May 2023, Milady Maker NFTs were publicly endorsed by Tesla CEO Billionaire Elon Musk, who posted a meme using imagery from the Milady NFT collection. The endorsement triggered a rapid spike in Milady NFT's floor price, which surged to more than 3.8 ETH.
Related NFT News:
Wall Street Memes – Next Big Crypto
Early Access Presale Live Now
Established Community of Stocks & Crypto Traders
Featured on BeInCrypto, Bitcoinist, Yahoo Finance
Rated Best Crypto to Buy Now In Meme Coin Sector
Team Behind OpenSea NFT Collection – Wall St Bulls
Tweets Replied to by Elon Musk