TRX Set for $0.05 Hike by Month-End?
Tron's price surge aligns with the bullish look of the broader crypto market following Bitcoin's notable price upticks yesterday.
This price growth stemmed from investors' excitement over Franklin Templeton filing for a spot BTC ETF on September 12. This move is particularly significant as it raises the belief that a new bull market is still possible.
Given the positives surrounding the token, there is a possibility for an additional $0.05 hike to its value by month-end. However, this can only happen if the bulls sustain their market control.
Bulls Ride on Tron Market. How Long Will This Last?
Responding to the improved market sentiment, Tron recorded an increase of 3%, trading at $0.08 as of 05:43 AM EST on September 13. Beyond the price growth, Tron is also surging in transactions, as seen in its trading volume rise of over 63% in the last 24 hours. 
Considering Tron's daily price chart, more price growth could be imminent, having broken out from a support level yesterday. Meanwhile, some technical indicators provide additional details to this prediction.
Too Late to Open a Buy Position?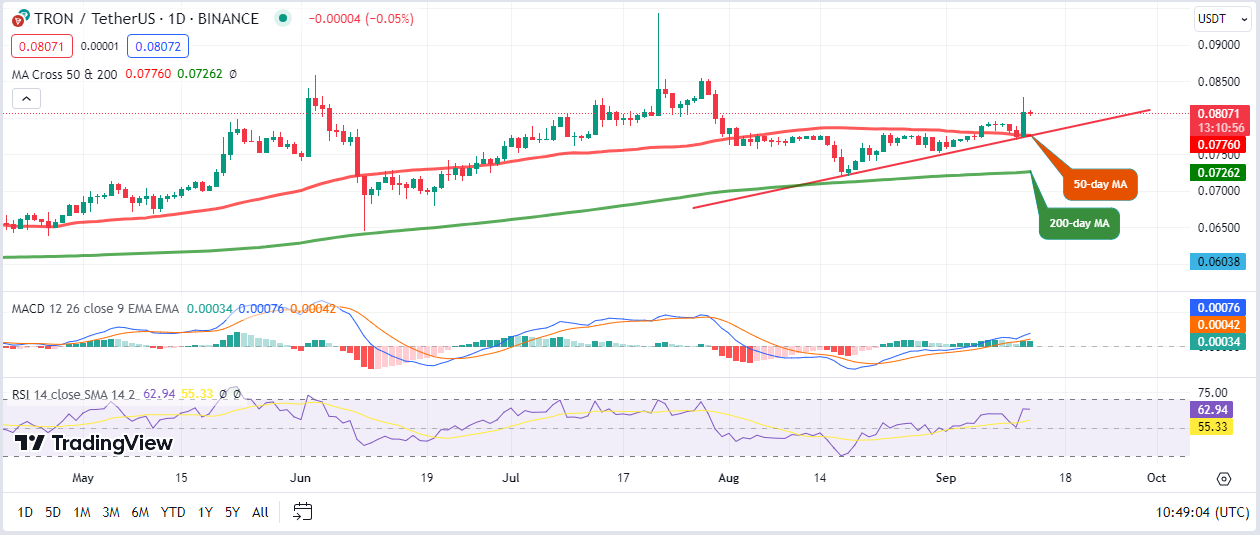 Tron's daily price chart reveals that it has been on an uptrend over the past few weeks, even though it dipped at some points.
This trend became vivid yesterday after a notable price surge, bringing TRX to the day's high of $0.082. But while some signals point to continuous upticks, Tron appears to be slowing down the bullish pace.
Notably, TRX sits significantly above the 50-day and 200-day Moving Averages, an effect of buyers' charge of the market since yesterday. The MACD line is moving above the signal line, which supports the continuous uptrend, while the histogram forms another green bar today.
Also, the Relative Strength Index (RSI) at 63 reflects the bulls' attempts to push Tron to the overbought zone. A significant price dip will remain farfetched if the token maintains the trendline and 50-day MA support levels.
Tron Support and Resistance Level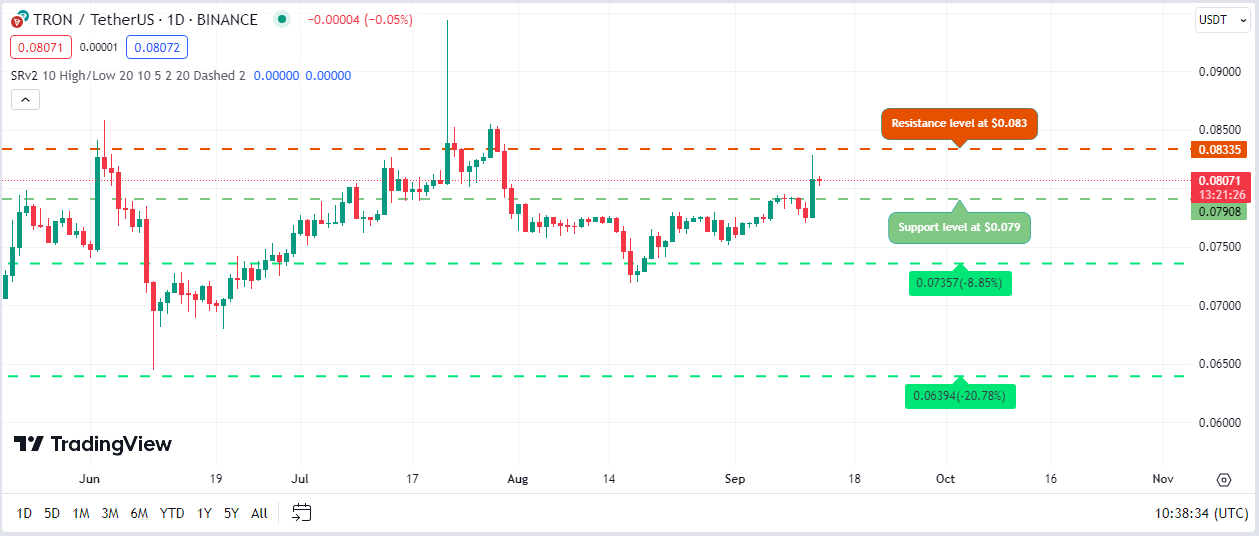 Tron could continue to rebound from the support level at $0.079 over the next few days. If this prediction holds, the token could record a significant stride to the resistance level at $0.083.
Therefore, Tron could maintain this ongoing uptrend given the support from the moving averages and base level at $0.079. However, traders and investors must pay attention to the chances of a price fluctuation that could shift the token's price from the expected direction.
Tron Burns Over 14 million TRX Tokens
Tron (TRX) has made a significant move in its ongoing efforts to enhance the value of its native cryptocurrency. This information surfaced in a September 12 tweet from TronixTrx, revealing the burn of a whopping 14,285,385 TRX tokens.
#TRON just burned 14,285,385 #TRX on September 12th 🔥 showcasing a commitment to deflation & value growth 🚀 With a net negative production ratio of -9,218,170 🤯 pic.twitter.com/5M5jNjZTVI

— TRON Community (@TronixTrx) September 13, 2023
This strategic token burn is expected to positively impact the overall supply and demand dynamics of TRX, potentially leading to increased value for investors.
Nevertheless, emerging tokens in presale phases, like Wall Street Memes, present themselves as the ultimate investment spot, given their immunity to market fluctuations.
Wall Street Memes ($WSM) – Community Token to Legitimize Loyal Meme Supporters
The Wall Street Memes project (WSM) has become one of the most talked about crypto initiatives that has attracted the attention of crypto enthusiasts. 
Wall Street Memes has recorded a series of presale milestones since the project team commenced the initial coin offering (ICO). This positive support from the online investment community strongly indicates a huge token adoption for the platform. 
The success of $WSM in the presale has created a buzz in the crypto community, with optimistic investors touting it as the next big gem.
The project's official website shows that the team set aside 50% of the total token supply of 2 billion $WSM for marketing, 30% for community rewards, and 10% each for centralized and decentralized exchange liquidity.
The King of Stonks' ($WSM) Impressive Presale
After recording impressive success across 29 presale stages, the $WSM presale has finally reached the last stage. The token has raised over $25 million, at $0.0337. Information from the presale website reveals that the token will end in less than two weeks and be listed on some of the tier-1 crypto exchanges.
$WSM is an ERC-20 meme token with a stake-to-earn feature that rewards investors who support the staking program. The staking pool will receive 75 $WSM for every 1 ETH block created, and investors will share in all rewards generated based on their percentages on the staking pool.
So, to be among the early investors, go to the presale website, connect your wallet, and use USDT, BNB, ETH, or fiat money (through bank cards) to acquire some $WSM.
Related News
Ends Soon – Wall Street Memes
Early Access Presale Live Now
Established Community of Stocks & Crypto Traders
Featured on Cointelegraph, CoinMarketCap, Yahoo Finance
Rated Best Crypto to Buy Now In Meme Coin Sector
Team Behind OpenSea NFT Collection – Wall St Bulls
Tier One Exchange Listings September 27
Tweets Replied to by Elon Musk