Global NFT Adoption Data – Will A New NFT Bull Run Kick Off In 2024?
The new blockchain technology continues rapidly, spreading its roots across various sectors. By massively reducing paperwork and errors, the new tech has significantly reduced transaction costs and reduces or eliminates the need for third parties or middlemen to verify transactions.
Blockchain tech has also revitalized the artistry, music sectors and more, helping creators and developers across the globe to leverage blockchain-based technologies like non-fungible tokens. NFT is a unique digital identifier recorded on a blockchain network and is used to certify ownership and authenticity. It cannot be copied or subdivided.
The massive shift of more traditional institutions and infrastructures to the new blockchain tech has attracted various crypto sectors, including the DeFi and NFT market, to continue expanding. In 2021, the global NFT market reached a record high of more than $4 billion and is anticipated to reach more than $13.6 billion by 2027.
Unfortunately, in recent weeks, the NFT market has suffered a bad reputation after the market led to massive success for some investors and a disastrous financial ruin for several others. The recent spike in scams, FUD and FOMO has attracted negative sentiments in the NFT market. But notably, the sentiment around NFTs is changing as the sector continues maturing.
NFT Adoption Across The Globe
The international perception and reception of non-fungible tokens are changing radically as the NFTs continue getting more use cases across various sectors. In its recent research, CashNetUSA has broken down the global NFT adoption, highlighting the top 10 countries that like and dislike NFTs.
To get more actual rankings, the digital asset survey firm used keyword search data and website audits. The firm collected the search for "NFTs" in every country, tallying the search volume and calculating the number of monthly NFT searches per million in populations.
The research group also collected some X feeds, "formerly known as Twitter," and ran sentiment analysis using research models developed by Cardiff University. To get more definitive results, the research team also got rid of the countries with fewer than 50 NFT-related tweets. The team also compared search volumes of the top 100 NFT projects of all time per country.
Top Most Nations Interested In NFTs
Based on data findings, Singapore turned out to be the interested nation in NFTs, amassing a monthly search volume of 18,717 per one million in population. Hong Kong, Canada and the United States followed the streak, taking the top five in the shortlist.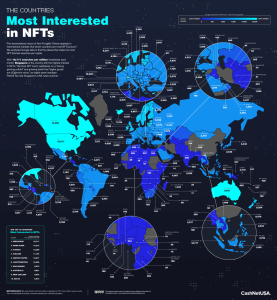 In terms of likes and dislikes, Montenegro emerged at the top of the list, recording a staggering 862 positive tweets per 1,000 NFT–related tweets. Colombia, France and Vietnam, followed in the top five lists. The countries leading with the negative posts per 1,000 NFT tweets were Poland, Nicaragua, Ireland, Jamaica, and Kosovo.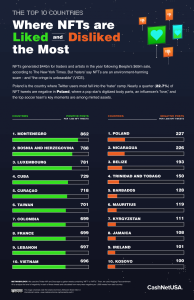 Before summarizing, the research team analyzed the top most-searched NFT projects in the world. Axie Infinity emerged as the top most searched project, with Decentraland, Sorare, and Bored Ape Yacht Club following in the top five lists. The research shows that gamified projects have done so well globally in the early days of Web3 when compared to projects focused purely on art.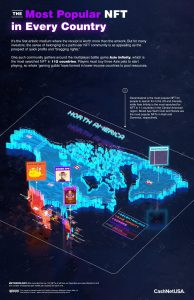 The NFT Market Prediction: Will NFTs Boom Again In 2024?
Despite receiving a warm reception in a number of countries, the NFT market is down in nearly all metrics. The NFT market downturn began sometime in mid-last year and has left many NFT projects in massive losses. Bored Ape Yacht Club is a perfect example, which has seen its NFT floor price down over 70%.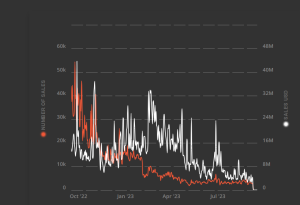 Source: NonFungible.com, NFT Trading Activity
The non-fungible token market has a huge potential to make a comeback in the coming weeks or months. As of 2023, there are roughly 13.95 million NFT users, but that's expected to hit 19.31 million users by 2027. In a recent interview, Jason Bailey, co-founder and CEO of NFT tool and self-custody solution ClubNFT, opined that he thinks "NFTs will come back and go mainstream" because crypto and NFTs rebound cyclically, just like previous tech crashes.
Nonetheless, the top executive believes the NFT market currently has some issues, most of which were amplified by rampant market speculation, that need to be solved before NFTs can go mainstream. Bailey noted that NFTs and the ecosystem around them are somewhat complex, and almost everyone is still vulnerable to many risks they may not even know about, calling for more awareness.
Related NFT News:
Ends Soon – Wall Street Memes
Early Access Presale Live Now
Established Community of Stocks & Crypto Traders
Featured on Cointelegraph, CoinMarketCap, Yahoo Finance
Rated Best Crypto to Buy Now In Meme Coin Sector
Team Behind OpenSea NFT Collection – Wall St Bulls
Tier One Exchange Listings September 27
Tweets Replied to by Elon Musk