5 Best Altcoins To Invest In Right Now – Theta Fuel, Wemix Token, Monero
Building on our previous discussion of top altcoins for investment, we are now introducing a fresh selection of assets that merit consideration for investment. Before delving into this list, let's take a moment to review some recent financial updates.
FTX has been given the green light to sell off its Bitcoin, Ether, and Solana holdings. The market reaction will be a price beat down, as expected from such an occurrence. Other altcoins may react. 
The derivates of cryptocurrency are reported to have experienced an explosive surge. A voluminous increase is expected from this development. At this rate, there is expected to be increased oversight of decentralized exchanges. However, the prices of cryptos will begin to look better.
5 Best Altcoins To Invest In Right Now
The more established and well-known cryptocurrencies often have a higher price tag and are experiencing a bearish trend. 
While this situation is expected to change, alternative tokens present attractive investment opportunities. Here are the top five alternative tokens to consider adding to your portfolio.
1. Theta Fuel (TFUEL)
Theta Fuel (TFUEL) is one of the two native tokens on the Theta blockchain. It's important to note that TFUEL should not be confused with Theta Token (THETA), the governance token of the Theta blockchain. Numerous community-run Guardian nodes and enterprise validators, including prominent names like Google, Binance, Blockchain Ventures, Gumi, and Samsung, support the Theta blockchain.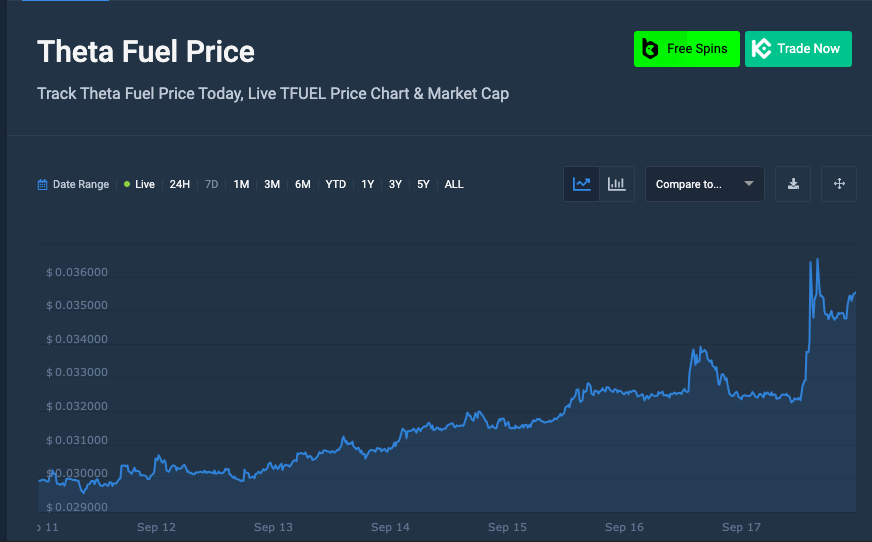 TFUEL, on the other hand, serves as the utility token within the Theta blockchain ecosystem, primarily focusing on decentralized video and data delivery. It plays a crucial role as a gas token, powering various operations on the Theta blockchain. 
TFUEL is the second token on the Theta blockchain that serves as the utility token in decentralized video and data delivery; it also acts as a gas token. This procedure means that it is used to power all operations on the Theta blockchain, like payments to relayers for sharing a video stream, for deploying and interacting with smart contracts, and as fees associated with transacting NTFs and DeFi applications.
Replay has officially launched their subchain on Theta and issued the RPLAY token! Congrats @ImagineReplay team on a successful launch and we're looking forward to seeing transaction volumes grow along with your userbase!https://t.co/2XnBgkrBj4 https://t.co/uc0u5q4cAU

— Theta Network (@Theta_Network) September 13, 2023
Theta Fuel (TFUEL) is vital to the Theta blockchain. It facilitates various transactions and activities while incentivizing network participants for their contributions to decentralized video and data delivery.
2. Wemix Token (WEMIX)
WEMIX3.0 mainnet is described as an "experience-based, platform-driven & service-oriented decentralized blockchain protocol" that is the foundation for a comprehensive web 3.0 ecosystem. This mainnet is designed to provide high performance and is fully compatible with the Ethereum Virtual Machine (EVM). It operates as an open-source protocol and utilizes the SPoA (Stake-based Proof of Authority) consensus mechanism.
One of the main features of the WEMIX3.0 mainnet is its focus on security and decentralization. It achieves security through decentralized on-chain governance, which involves a council of 40 Node Council Partners (NCP), also called 40 WONDERS. This governance structure aims to ensure robust security while maintaining a high transaction per second (TPS) rate.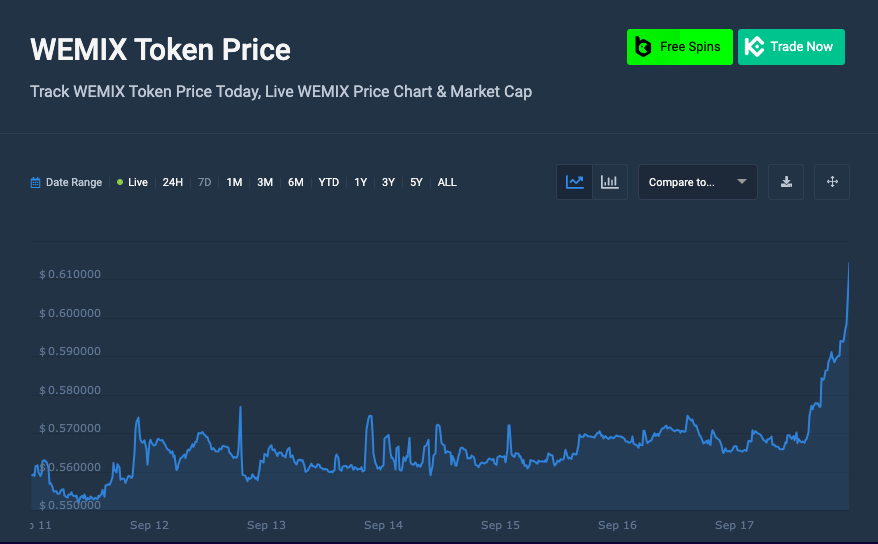 Additionally, the consensus mechanism of WEMIX3.0 is expected to evolve towards complete decentralization through a multi-phase democratized governance process. As the ecosystem matures, it will become more decentralized and community-driven.
Overall, the WEMIX3.0 mainnet is designed to provide a secure, high-performance blockchain infrastructure that supports a wide range of Web 3.0 platforms and services. Its governance model and consensus mechanism are structured to balance security and decentralization as the ecosystem grows.
3. Monero (XMR)
Monero (XMR) was introduced in 2014 with a straightforward objective: to enable private and anonymous transactions. While Bitcoin (BTC) is often thought of as providing some level of anonymity, tracing payments back to their source is possible because blockchain transactions are transparent. In contrast, Monero (XMR) is designed to obscure the sender and recipient through advanced cryptographic techniques.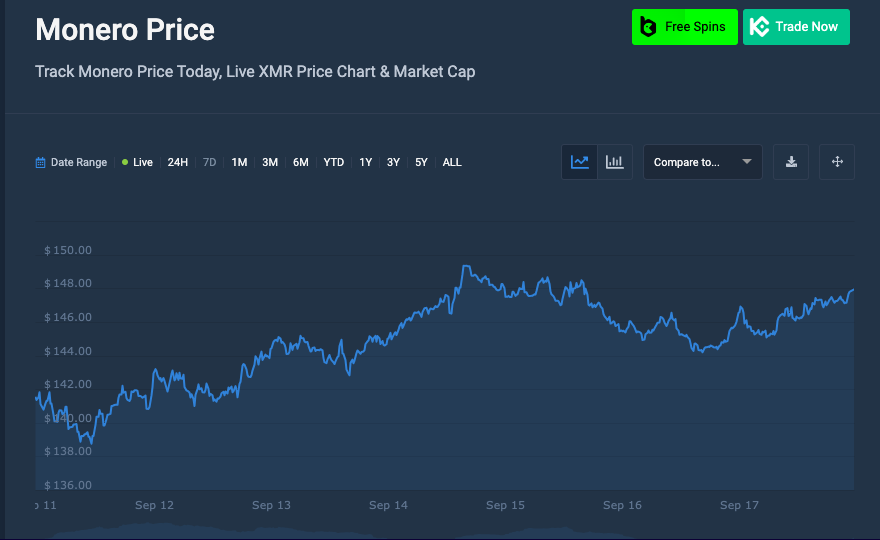 The Monero development team places privacy and security as their top priorities, with user-friendliness and efficiency closely behind. Their goal is to offer protection to all users, regardless of their level of technical expertise.
In summary, Monero (XMR) aims to facilitate quick and cost-effective payments while ensuring that transactions remain private and censorship-resistant. This development makes it an attractive option for those seeking enhanced financial privacy.
4. MX TOKEN (MX)
MX Token (MX) serves as the native cryptocurrency token for the centralized exchange MEXC, which was launched in 2019. MX plays a central role within the MEXC ecosystem and offers its holders various advantages and access to unique features on the platform. These benefits include the ability to participate in voting for business decisions, team elections, priority participation in platform activities, and more.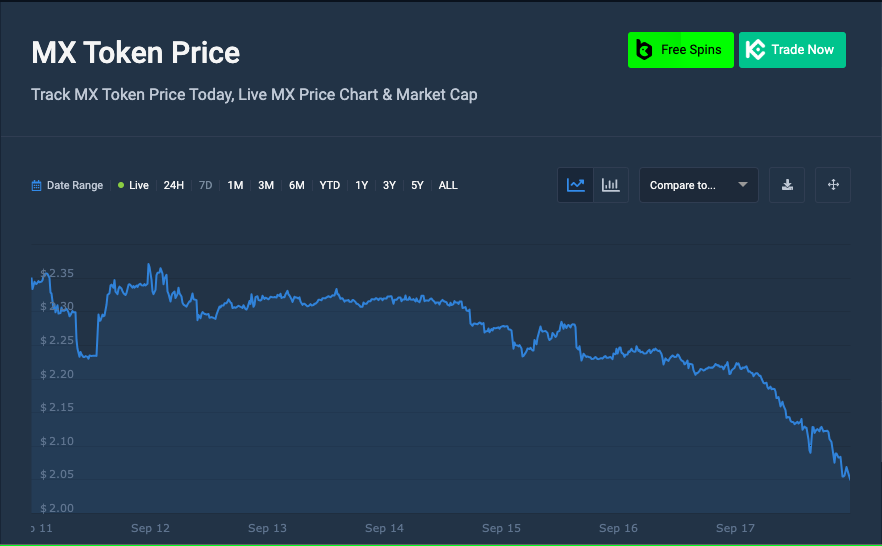 MEXC operates as a cryptocurrency exchange and peer-to-peer (P2P) platform, providing users access to spot, margin, and futures trading. The exchange offers diverse digital asset trading services, passive investment staking options, DeFi tools, and more. Additionally, MEXC facilitates cryptocurrency transactions using fiat currency through its P2P market.
29 Kickstarter sessions were completed last week with an APY of 49% 💰

To join the ongoing Kickstarters ⬇️https://t.co/eCsgxcl7AP pic.twitter.com/OKZ1wonWpw

— MX Token (@MX_MEXC) September 18, 2023
In essence, MX Token (MX) is an integral part of the MEXC platform, enhancing the experience and engagement of its users while also serving as a utility token within the ecosystem.
5. Bitcoin BSC (BTCBSC)
Bitcoin BSC is an innovative project that combines the enduring value of Bitcoin with the cutting-edge technology of the Binance Smart Chain (BSC). It introduces a unique staking mechanism designed to promote environmental sustainability and long-term token holding, reimagining the concept of token-based rewards and active participation in the cryptocurrency space.
Operated as a BEP-20 token on the Binance Smart Chain, Bitcoin BSC strongly emphasizes staking as an alternative to the traditional Bitcoin mining process. Token holders of $BTCBSC can earn passive income through staking activities, with rewards directly correlated to the number of tokens staked. This approach harks back to Bitcoin's original block reward mechanism.
A key feature of Bitcoin BSC is its environmentally conscious Stake-to-Earn model, which provides an eco-friendly alternative to Bitcoin's resource-intensive Proof-of-Work mechanism. This policy aligns with Bitcoin's historical milestones, including its estimated 120-year issuance schedule and block confirmations dating back to April 2011.
Within the Bitcoin BSC ecosystem, staking rewards are determined by a participant's stake in the staking pool and the prevailing Annual Percentage Yield (APY). This unique model fosters a decentralized and actively engaged community, ensuring the continuous growth of the token ecosystem.
Welcome to #BitcoinBSC!🪙

The green BEP-20 version of #Bitcoin on BNB Smart Chain, taking you back to Bitcoin's 2011 roots!

Stake $BTCBSC and earn rewards.

Don't miss it – join the #Presale today!🚀
https://t.co/oM0YP8IlbV pic.twitter.com/vJjLltzQQG

— Bitcoinbsc (@Bitcoinbsctoken) September 5, 2023
Bitcoin BSC stands out by incentivizing long-term holding and active community participation through staking. It empowers its members to contribute actively to the network's expansion and sustainability while minimizing its environmental impact. This project represents a significant evolution of the traditional Bitcoin model, ushering in a new era of eco-conscious and community-driven cryptocurrency engagement.
Read More
Ends Soon – Wall Street Memes
Early Access Presale Live Now
Established Community of Stocks & Crypto Traders
Featured on Cointelegraph, CoinMarketCap, Yahoo Finance
Rated Best Crypto to Buy Now In Meme Coin Sector
Team Behind OpenSea NFT Collection – Wall St Bulls
Tier One Exchange Listings September 27
Tweets Replied to by Elon Musk