Bitcoin Price Prediction As Investors Await Monday Range
Bitcoin's (BTC) price is bullish after collecting buy-side liquidity under the $25,357 support level. The ensuing demand pressure has sent BTC up 5% to breach a crucial roadblock. This is marked by the downtrend line at $26,640.
Overhead pressure continues to abound for Bitcoin, with the resistance confluence between the 200- and 50-day Exponential Moving Averages (EMAs) hanging above BTC at $26,987 and $27,401 levels, respectively. The 100-day EMA also adds to the headwinds for the king of crypto at $27,499.
However, the overall outlook points to an impending fall in Bitcoin price. This could potentially send BTC below the $25,357 support level. This base is critical for BTC as it is the mean threshold (midline) of the demand zone order block, where the flagship crypto found support.
If the demand zone fails to hold as support, it could flip into a bearish breaker, with the subsequent selling pressure sending the Bitcoin price to the $24,000 psychological level. This downside will be confirmed upon a break and close below the mean threshold.
Meanwhile, analysts have given the same macro outlook for Bitcoin price, predicting a drop below $25,000.
This is my macro play for #Bitcoin going into next year. Once we get that macro drop i will be loading into the #Altcoin capitulation pic.twitter.com/UeKzqF1Cdj

— Crypto Tony (@CryptoTony__) September 17, 2023
Analysts have also observed that  "Open Interest has kept relatively stable during the weekend.
#Bitcoin's Open Interest has kept relatively stable during the weekend.

In previous weekends we often saw a big ramp up only for price to wick towards both sides late Sunday or early Monday. Wouldn't expect too much craziness this time around.

It's good to note the big walls on… pic.twitter.com/AcIfWc8iST

— Daan Crypto Trades (@DaanCrypto) September 17, 2023
In previous weekends, we often saw a significant ramp up only for the price to wick towards both sides late Sunday or early Monday.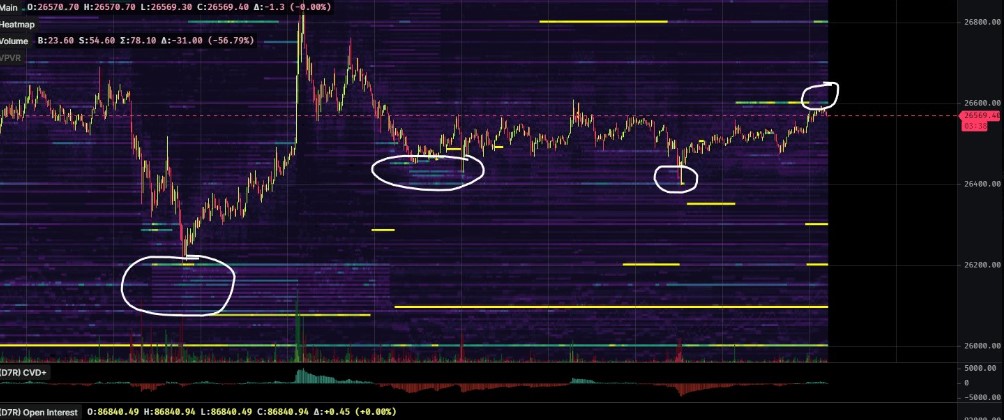 As such, not much craziness is expected this time around. Nevertheless, noting the big walls on Binance's BTC futures is good, which pushes prices wherever desired. During low volume/liquidity hours (like the weekend), these often mark good reversal areas, as indicated in the circled areas on the chart above.
Momentum indicators also suggest a drop, with the Relative Strength Index (RSI) tipping south to show reduced buyer activity. The position of the Awesome Oscillator is also negative, suggesting bears still have a say in the market.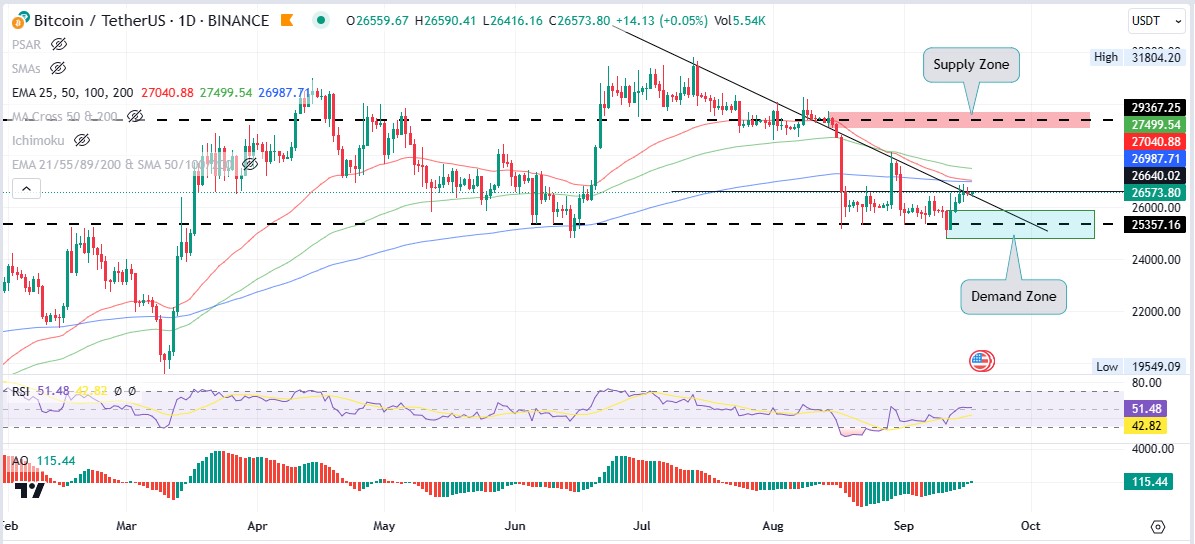 On-chain Metrics: IntoTheBlock
IntoTheBlock's signal indicates that the market is still "primarily bearish for Bitcoin, adding credence to the downside.
It is also worth mentioning that at the current price of $26,573, 60.34% of BTC addresses are sitting on unrealized profit (in the money). Relatively, 33.88% are sitting on unrealized losses (out of the money), while 5.78% are breaking even (at the money).
With more addresses in the money, profit-appetite remains a threat to Bitcoin price's upside potential, increasing the odds for a slump.
Converse Case
On the flipside, increased buying pressure could see Bitcoin price move north, breaching the resistance confluence between the 200- and 50-day EMAs at $26,987 and $27,401 levels, respectively. Further north, the people's crypto could move above the 100-day EMA at $27,499.
A decisive close above this level would open the skies for more gains, potentially going as far as the supply zone at the $29,000 psychological level. Confirmation of the uptrend would occur upon a decisive daily candlestick close above the order block's mean threshold at $29,367.
Notably, the histogram bars of the AO have maintained a steady green feel and are edging towards the positive side, suggesting bulls are gaining ground. A sustained accumulation pattern could bode well for Bitcoin investors to rake in profits.
However, while Bitcoin price remains in the woods, consider BTCBSC, retailing for the same price BTC auctioned for in 2011, $0.99. As such, it gives you a chance to relive history, this time with more information, to enjoy good turnover once the price takes off. Many people regret not buying Bitcoin when the price was still essentially affordable.
🚀Grab a piece of history with #BitcoinBSC!

The initial phase of the #Presale kicks off with 4M tokens at 99¢ like 2011 #Bitcoin.

Unsold tokens post-listing contribute to the #Staking contract for a fixed 21 million $BTCBSC supply.💰
https://t.co/oM0YP8IlbV
#Stake2Earn pic.twitter.com/NelsRkmHXS

— Bitcoinbsc (@Bitcoinbsctoken) September 12, 2023
Bitcoin Alternative
BTCBSC, abbreviated for Bitcoin on Binance Smart Chain, is the ticker for the Bitcoin BSC ecosystem. The token is in the early offering stage, with over $2.5 million collected in presale sales.
With prospects for more gains and the promise of increased value once the token is listed on exchanges, now is the time to buy BTCBSC.
Stake for a sustainable future with #BitcoinBSC!🌿

Earn incentives linked to your stake and current APY, mirroring Bitcoin's historical schedule from April 2011.

Don't miss out on the $BTCBSC #Presale and purchase your #Tokens today!🚀https://t.co/oM0YP8IlbV#Stake2Earn pic.twitter.com/Y9U7BIb3pD

— Bitcoinbsc (@Bitcoinbsctoken) September 16, 2023
The project has a staking function to increase income-earning opportunities for BTCBSC community members. According to the Bitcoin BSC website, over 1.25 million BTCBSC tokens have been staked, with stakers enjoying Annual Percentage Yields (APY) as high as 209%. This is against the same block rewards as Bitcoin, 0.25 per Binance Smart Chain block.

Besides presenting as an opportunity for passive income, staking also reduces selling pressure for BTCBSC, giving the token time to grow in value.
Discover the fusion of Bitcoin's legacy and Binance Smart Chain in #BitcoinBSC! 🚀

Our sustainable #Staking method fosters enduring dedication and community involvement.

Join the #Presale today and secure your $BTCBSC #Tokens!

🔗https://t.co/oM0YP8IlbV #CryptoCommunity #Web3 pic.twitter.com/kyZSmpOPRD

— Bitcoinbsc (@Bitcoinbsctoken) September 14, 2023
Another means for passive income earning on Bitcoin BSC is the referral program. Invite your friends and earn 5% from each purchase they make using your exclusive link
Don't miss out on the $BTCBSC Referral Program!🤝

Invite your friends and earn 5% from each purchase they make using your exclusive link.💸

Link up your wallet, grab your unique referral link, share it and bask in the benefits.

Get started right away!🔗https://t.co/oM0YP8IT1t pic.twitter.com/d9ff3t6B8T

— Bitcoinbsc (@Bitcoinbsctoken) September 15, 2023
Do not miss out on the next big thing. Visit BTCBSC here
Missed out on the #Bitcoin surge?

You're in good company! Most of us caught on a bit late.🙄

But here's your golden ticket with #BitcoinBSC – Grab it at only $0.99!💰

Let's transform letdowns into chances!

Join the #Presale right here 👉 https://t.co/oM0YP8IlbV pic.twitter.com/VR8R5Mim8V

— Bitcoinbsc (@Bitcoinbsctoken) September 16, 2023
Also Read:
Ends Soon – Wall Street Memes
Early Access Presale Live Now
Established Community of Stocks & Crypto Traders
Featured on Cointelegraph, CoinMarketCap, Yahoo Finance
Rated Best Crypto to Buy Now In Meme Coin Sector
Team Behind OpenSea NFT Collection – Wall St Bulls
Tier One Exchange Listings September 27
Tweets Replied to by Elon Musk