New Cryptocurrency Releases, Listings, and Presales Today – CHECK DM SER, CYBRIA, Merit Circle
New cryptocurrencies are instrumental in solving current problems and benefiting users and investors. Developers create these tokens with a clear purpose, enhancing their potential for adoption and increasing value. This concept reflects the dynamic nature of the crypto space, where innovation addresses evolving challenges.
New Cryptocurrency Releases, Listings, and Presales Today
Furthermore, Web3 has ushered in groundbreaking banking models that circumvent traditional financial institutions. The decentralized finance (DeFi) movement epitomizes this shift by leveraging blockchain technology to establish an open and permissionless financial ecosystem.
In DeFi, users gain direct control over their assets and engage in activities like lending, borrowing, trading, and earning interest, all while sidestepping the need for conventional banks or intermediaries.
The new tokens we introduce today contribute to the advancement of decentralized finance, each playing a unique role in this transformative landscape. Let's delve into the profiles of these coins.
1. CHECK DM SER (CHECKDM)
CHECK DM (SER) is a unique cryptocurrency token launched on the Ethereum Network, featuring a two percent tax fee on buy and sell transactions.
While this fee bolsters the team's marketing efforts and long-term project development, CHECK DM takes inspiration from the crypto community's ubiquitous phrase, "Check DM ser for proposal."
This coin aims to become a beloved and thriving project by adhering to market standards and surpassing established benchmarks.

The platform's mission is to offer an alternative investment opportunity within the crypto space while embracing transparency and community engagement. It's worth considering as part of a diversified portfolio, yet potential investors should conduct thorough research to evaluate its long-term sustainability.
CHECK DM SER (CHECK DM) is a meme cryptocurrency token launched in September 2023 in Ethereum Network. CHECK DM token has 2 percent tax fee on buy and sell transactions that helps to expand team's marketing campaigns and development of the project in long term. "Check dm ser for proposal" is a phrase that dominates most of crypto projects and people are using it in daily basis to offer marketing services to admins and project owners. That was the initial idea for the born of "CHECK DM" token that strives to become the most beloved and successful project by adhering to all market standards and surpassing all indicators.
Today's live CHECK DM SER price is $0.000396, with a 24-hour trading volume of $210,996. CHECK DM SER is down 51.48% in the last 24 hours. The current CoinMarketCap ranking is #2542, with a live market cap of unavailable. The circulating supply is unavailable, and a max supply of 654,068,381 CHECKDM coins.
2. CYBRIA (CYBA)
CYBRIA presents itself as a promising Layer 2 blockchain platform operating on Ethereum. Its mission is to tackle the Ethereum network's scalability issues while prioritizing cybersecurity and AI technologies for enhanced safety and performance.
This technology integration seeks a scalable, cost-effective, and efficient Layer 2 solution, addressing Ethereum's limitations and enhancing its overall capabilities.

While CYBRIA appears to be an innovative and secure option for Layer 2 scaling, its potential as an investment should be weighed carefully within the broader context of the blockchain and fintech ecosystem.
Investors should assess its long-term viability and performance within the competitive blockchain space before considering it as part of their portfolio.
Instant price data and movements; You can follow it on https://t.co/Ah4UvB7C04https://t.co/9wJLZA73G6#cybria #cyba #blockchain #layer2 #eth #bnb #binance

— CYBRIA (@cybriacoin) September 22, 2023
CYBRIA is designed to address the limitations of the Ethereum network by providing a scalable, secure, and efficient Layer 2 solution. By utilizing Layer 2 scaling techniques, CYBRIA aims to reduce transaction costs and increase the throughput of the Ethereum network. CYBRIA has been built with a modular architecture that combines an optimistic rollup protocol with a Cybersecurity and Artificial Intelligence (AI) technologies. This allows CYBRIA to inherit security from Ethereum and offer cheaper and more accessible data availability. CYBRIA strives to be an innovative, secure, and reliable Layer 2 Ethereum solution. By combining Layer 2 scalability, Cybersecurity, and AI technologies, CYBRIA aims to support various applications and use cases in the blockchain and fintech ecosystem.
Today's live CYBRIA price is $0.000287, with a 24-hour trading volume of $4,309.56. CYBRIA is up 14.32% in the last 24 hours. The current CoinMarketCap ranking is #4584, with a live market cap of unavailable. The circulating supply is not available, and a max supply of 887,000,000 CYBA coins.
3. Merit Circle (MC)
Merit Circle (MC) is a DAO project in the metaverse with a distinct mission: maximizing value accrual across various gaming platforms. Its approach places it at the crossroads of capital, expertise, and players.
What sets Merit Circle apart is the tangible value it offers to gamers through a scholarship program, which already has over 500 scholars actively participating in Axie Infinity.
Notably, the project has begun generating substantial revenues benefiting both the DAO and its participants, which is poised to grow further as it explores opportunities in the broader metaverse. Its roster of partners and community-centric allocation of tokens, including rewards and incentives, showcases a robust foundation.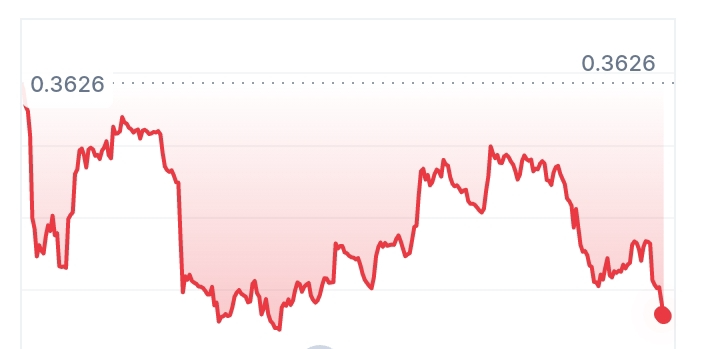 As an investment prospect, Merit Circle's innovative blend of DAO and gaming presents a promising proposition. Still, like any investment, its long-term sustainability should be scrutinized in the evolving landscape of blockchain gaming and decentralized finance.
Merit Circle is a decentralized autonomous organization (DAO) that focuses on developing the play-to-earn (P2E) economy. The project wishes to create a new era of gameplay where users would be able to earn money by playing games that they love, instead of treating them as a simple hobby. The project launched on 4th of November 2021, but it has been in development since July 2021. Despite its young age, it already has a massive community, with over 64,800 followers on Twitter. Merit Circle currently supports Axie Infinity — the most popular monster-battling play-to-earn game with the highest volume traded. Meanwhile, by playing-to-earn, its scholars are gaining new skills that will soon be in huge demand as employers are slowly but surely expanding into the crypto metaverse.
September 2023 DAO Progress update 🟠

We just sent a new edition of the Merit Circle DAO's newsletter available below!

❇️@BuildOnBeam mainnet
🔱@Edenhorde Eclipse
🧑‍💼 New marketing hires!

Plenty more! Dive in and find out what's happening 👇 pic.twitter.com/LDBEB54XOG

— Merit Circle (@MeritCircle_IO) September 15, 2023
Today's live Merit Circle price is $0.343849, with a 24-hour trading volume of $6,205,828. Merit Circle is down 4.11% in the last 24 hours. The current CoinMarketCap ranking is #158, with a live market cap of $148,199,866. It has a circulating supply of 431,002,968 MC coins and a max. Supply of 669,811,161 MC coins.
4. Wall Street Memes (WSM)
Wall Street Memes (WSM) emerge as an intriguing project to bridge the vibrant meme stocks movement with the crypto sphere.
Backed by a substantial social community of over one million financially savvy individuals, including interactions with Elon Musk, it can transform modest investments into significant gains.
Apple about to crash the entire stock market after China bans the use of Apple iPhones for government officials pic.twitter.com/Wcwzk1GHrk

— Wall Street Memes (@wallstmemes) September 8, 2023
As it gears up for its launch on tier 1 centralized exchanges, its market presence becomes all the more compelling. Its value proposition extends beyond its listing trajectory, with the promise of multiple tier 1 exchange listings and a continued focus on community involvement.
However, prospective investors must exercise caution and perform due diligence, recognizing the inherent volatility and uncertainty surrounding new projects in the crypto space.
The fusion of meme culture with cryptocurrencies offers a unique backdrop. While the potential for gains is undeniable, it should be weighed against the risks inherent in such emerging ventures.
Visit Wall Street Memes presale. 
5. MoveApp
MoveApp is an innovative wellness app that harnesses the power of Web3 technology to revolutionize fitness. Its groundbreaking approach incentivizes physical activity by converting every move into tangible rewards.
The app bridges the gap between health and technology and aims to create a holistic ecosystem where individual well-being contributes to the greater good. Features like "Home Workouts" and personalized diet plans underscore the commitment to promoting holistic health.
Hey folks, countdown to the launch at @DigiFinex

— MoveApp (@Move_app_) September 23, 2023
While still in development, MoveApp's dedication to transparency and user updates is commendable. The coin's mission is to unite health and technology, cultivating healthier lifestyles and collective well-being.
By prioritizing transparency, integrity, and innovation, MoveApp aspires to support users on their journeys to healthier, more rewarding lives and, in doing so, contribute to a positively transformed society. Investing in MoveApp aligns with the ethos of fostering individual and collective growth, driven by the pursuit of healthier and more fulfilling lives.

MoveApp bridges the gap between health and tech, motivating users with token rewards for in-app use or real profits. Our mission extends beyond personal health, aiming to create a holistic ecosystem where individual well-being contributes to the greater good. We're planning features like "Home Workouts," where AI guides users through exercises using device cameras, rewarding their efforts. Additionally, "Diet" offers personalized diet plans aided by AI, encouraging mindful consumption. Our algorithm continually improves, aided by health professionals and programmers. Please note that we're in the development phase, and some details may change. However, MoveApp is committed to transparency and timely user updates. Welcome to the digital fitness era with MoveApp!
Today's live MoveApp price is $0.014941, with a 24-hour trading volume of $246,047. MoveApp is up 39.04% in the last 24 hours. The current CoinMarketCap ranking is #2491, with a live market cap of unavailable. The circulating supply is not available, and a max supply of 1,000,000,000 MOVE coins.
Read More
Ends Soon – Wall Street Memes
Early Access Presale Live Now
Established Community of Stocks & Crypto Traders
Featured on Cointelegraph, CoinMarketCap, Yahoo Finance
Rated Best Crypto to Buy Now In Meme Coin Sector
Team Behind OpenSea NFT Collection – Wall St Bulls
Tier One Exchange Listings September 27
Tweets Replied to by Elon Musk