Klaytn Price Bulls Push For The Renewal Of The Uptrend 
Klaytn price experienced a bullish comeback on Tuesday as mid-cap altcoins pushed to close September in the green. KLAY soared 2% on Tuesday to trade at $0.116 before succumbing to a sudden surge in overhead pressure mainly due to short-term profit-booking activities.
Support at $0.1122 which serves as a key inflection point is needed to affirm the bullish grip and reverse the trend. The presence of an ascending channel support which coincides with a descending trendline greatly reduces the risk of declines burdening Klaytn.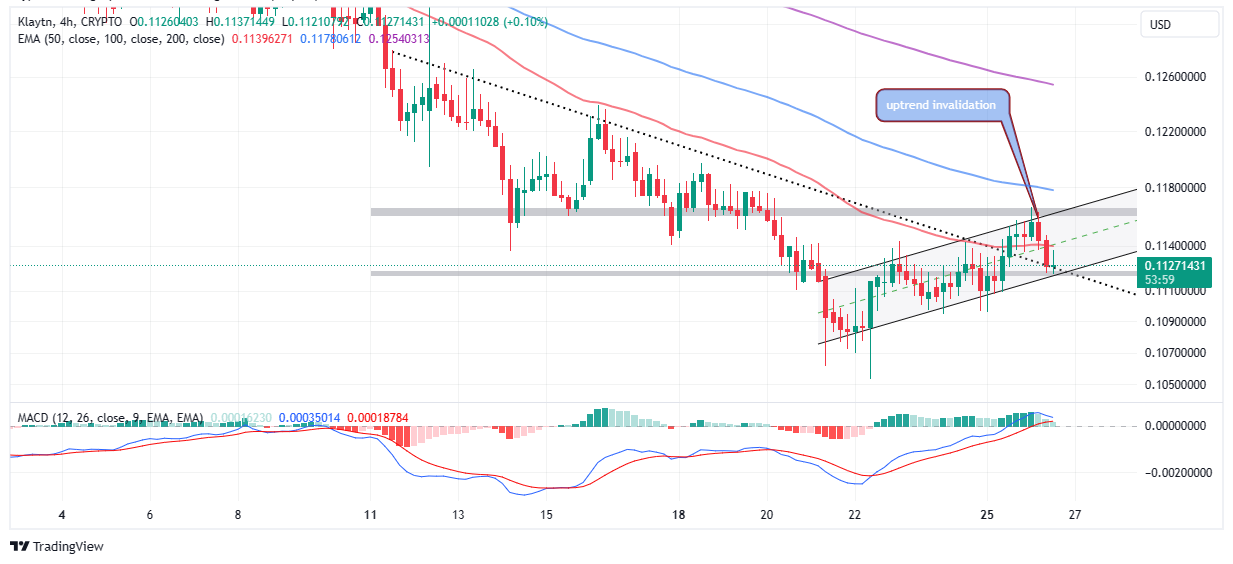 Certain key levels would determine the next direction KLAY would take, starting with the confluence resistance formed at $0.1139 by the 50-day Exponential Moving Average (EMA) (red) and the channel's middle boundary.
If more buyers embrace the call to buy KLAY from the Moving Average Convergence Divergence (MACD) indicator, momentum would build quickly steadying the run-up for a break out of the channel.
Trading the momentum indicator requires traders to confirm the blue MACD line holds above the red signal line before placing buy orders. It is prudent to ensure that the MACD is moving upward toward the mean line at 0.00 or above it into the positive region.
The potential breakout from the ascending channel should ideally be accompanied by increased trading volume. Otherwise, Klaytn risks invalidating the uptrend.
Klaytn Price Eyes Falling Wedge Pattern Breakout
A falling wedge pattern on the daily chart reveals the possibility of a significant trend reversal. This pattern forms during the downtrend, with two trendlines connecting a series of lower highs and lower lows – slopping downward on the chart from left to right.
The pattern would be validated when Klaytn price breaks above the wedge before the trendlines converge. A spike in trading volumes ensures that the uptrend is sustainable. Buy orders should be placed slightly above the wedge with the profit target equal to the height of the pattern extrapolated from the breakout point.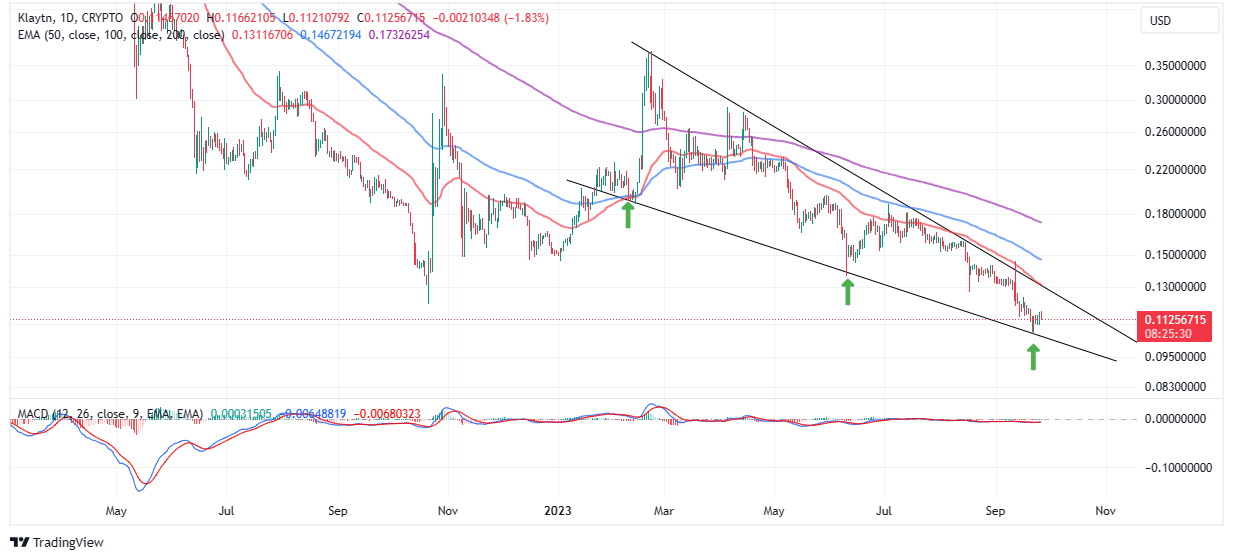 Resistance at the 50-day EMA could invalidate the wedge pattern breakout. Hence, the a need for bulls to collect as much liquidity as possible before launching the next offensive mission.
Profit-booking for short-term investors might start at the 100-day EMA (blue) at $0.1467, with some choosing to wait until KLAY touches the 200-day EMA (purple) at $0.1732. However, long-term investors and highly bullish traders may prefer Klaytn price exhaust the uptrend for gains above $0.2 to $0.35.
Crypto trader and analyst @CryptoBusy shared the same positive sentiment for KLAY, highlighting the falling wedge pattern, a bullish divergence formed by the MACD, not to mention an oversold Relative Strength Index (RSI).
Look at #Klaytn $KLAY on the 1D chart! 👀

• There's a falling wedge pattern.
• A bullish divergence.
• RSI is in oversold territory.

** This is not investment advice and is for educational purposes only. Crypto is risky, so always do your own research #DYOR, and study it… pic.twitter.com/j82y1Pnr1h

— CryptoBusy (@CryptoBusy) September 25, 2023
Meanwhile, the Klaytn Governance Council has announced a new strategy that will see enhanced community engagement and participation in the ecosystem. As a firm believer in verifiability and collectiveness, the council will start sharing monthly updates and summaries of the meetings with key elements such as highlights, agenda insights, and important discussions.
📣 Exciting News! 📣We are firm believers of verifiability and collectiveness. As such. we are introducing monthly summaries of our Governance Council (GC) meetings to keep you in the loop!
📆Each month, we'll share:
🔹Meeting highlights
🔹 Agenda insights
🔹 Key discussions
🧵 pic.twitter.com/e5aptvTJm0

— Klaytn (@klaytn_official) September 26, 2023
In other news, a report by CryptoRank Platform named Klaytn among Layer 1 and Layer 2 projects with the highest number of users. Other protocols on the list were BNB Chain, Ethereum, Polygon Arbitrum, Optimism, Avalanche, Base, Solana, Fantom zkSyncEra, and Near.
Projects with the Highest Number of Users on Major L1 and L2 Сhains 🤓

Discover the most popular dApps on #BNBChain, #Ethereum, #Polygon, #Arbitrum, #Optimism, #Avalanche, #Base, #zkSyncEra, #Solana, #Fantom, #Klaytn, and #Near. pic.twitter.com/ndErWiHSsA

— CryptoRank Platform (@CryptoRank_io) September 21, 2023
Promising Klaytn Alternative To Buy
The need to have a diverse portfolio has never been so paramount in the crypto market as it is now, hence the need for investors to consider buying tokens in their presale stages. Presale tokens are a unique way to invest in the crypto market as they allow investors to buy many tokens at their lowest price before they are listed for public trading.
In the ever-changing world of online gaming, finding the project that strikes a sweet balance between gaming, staking and maybe the metaverse is critical. There's no need to look further than TG.Casino, an online casino, crypto, and messaging platform.
Ever dreamt of being part of a casino? Where players can play the most popular games such as Wanted Dead or a Wild?

Soon you'll be able to! $TGC holders get exclusive rewards and benefits from staking their tokens! pic.twitter.com/6wtRMM0hZS

— TG Casino (@TGCasino_) September 19, 2023
The team realized that there is a sweet spot that emerges when cryptocurrency is combined with the traditional casino reward system. $TGC, the token powering the ecosystem, is used to reward players, share profits, and support staking.
Investors interested in crypto gambling will quickly find a home at TG.Casino. While not boring users with KYC requirements, the online crypto casino is safe and secure.
Potential investors must hurry to buy TGC tokens at $0.125 in the presale that already raised over $220,000. Buying TGC takes only a few steps as long as you have either USDT or ETH in a crypto wallet like MetaMask.
Related Articles