Best & New Meme Coins On CoinMarketCap, Uniswap, PancakeSwap To Watch November 10 – IDO & ICO Calendar
We cover some contenders for the best meme coins to buy right now, potentially worth adding to your watchlist over the coming days.
Cryptocurrency exchange Bitget has found itself embroiled in a contentious dispute with the developers of Floki Inu regarding the listing and subsequent delisting of the TokenFi TOKEN meme coin.
Bitget, citing "suspected market manipulation" and "malicious control of liquidity" on decentralized exchanges (DEXs, declared its intention to delist TokenFi TOKEN shortly after its initial listing.
Best Meme Coins Now and New Meme Tokens ICO Calendar
However, the exchange claimed Floki contributed just $2,000 in tokens to liquidity pools. Floki responded by alleging that Bitget listed the token without authorization and prematurely listed a counterfeit version of TOKEN.
They further accused Bitget of facilitating substantial trading volume without holding any tokens in their wallet, creating a $10 million deficit as TOKEN's value increased. In response, Bitget offered to buy back tokens held by users at a predetermined price, which may face limited acceptance given TOKEN's recent price surge.
1. ELMOERC (ELMO)
ElmoERC, a deflationary memecoin, stands out with its focus on utility, transparency, and a compelling use case. This token embraces meme culture while implementing a tokenomic design around burn and earn. Through sell taxation and utility-driven strategies, ElmoERC ensures a consistent reduction in token supply, creating scarcity that benefits long-term holders.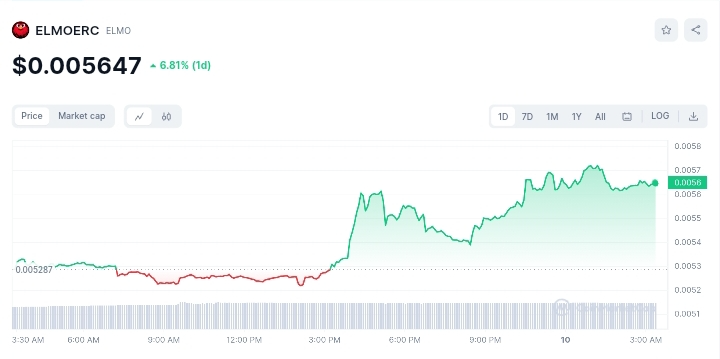 Introducing Elmofos NFTs adds a unique dimension to the project, with benefits such as NFT staking, staking boosts, and a 0% sell tax via the Burn Portal. The Burn Portal is an innovative selling mechanism contributing to deflation by sending tokens to the null address and rewarding users with USDT.
Furthermore, ElmoERC's plan to develop an on-chain First Person Shooter (FPS) game adds an interactive and fun element to its ecosystem. This blend of meme culture, deflationary mechanisms, NFTs, staking, and gaming opportunities makes ElmoERC an investment in the crypto space.
Did you know that $ELMO is one of the few #memecoins that use the only right way to burn?

Burn to null, not dead.

— ElmoERC (@RealElmoERC) November 9, 2023
Today's live ELMOERC price is $0.005647, with a 24-hour trading volume of $227,291. ELMOERC is up 6.89% in the last 24 hours. The current CoinMarketCap ranking is #1272, with a live market cap of $1,459,020. It has a circulating supply of 258,354,949 ELMO coins; the maximum supply is unavailable.
2. TokenFi (TOKEN)
TokenFi emerges as a promising crypto and asset tokenization player, aspiring to simplify the complex tokenization process and establish itself as a leading platform globally.
With the backing of the experienced Floki team, renowned for their success with the Floki token, TokenFi aims to capitalize on their expertise to become the foremost tokenization platform.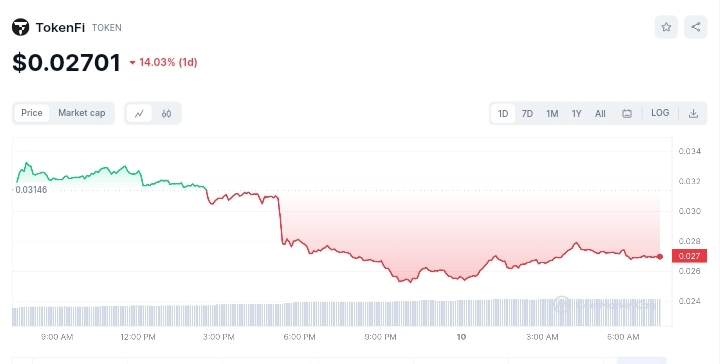 The industry's projected growth to a $16 trillion market by 2030 adds weight to TokenFi's mission, aligning with the vision embraced by institutional giants like BlackRock. The strategic listings on major exchanges and the support from DWF Labs as a liquidity provider signify a strong market presence.
TokenFi's achievements within its first week, including a substantial user base and notable market cap milestones, underscore its early success. As a potential contender in the expanding tokenization landscape, TokenFi offers investors an opportunity to engage in a project with experienced leadership and evident market traction.
TOKENFI PARTNERS WITH KAIRON LABS FOR TOKENFI CONNECT#TokenFi / $TOKEN has formed a strategic partnership with @KaironLabs, a leading market maker and advisory firm for digital asset issuers.

As a respected market maker, Kairon Labs has helped over 300 digital asset issuers… pic.twitter.com/LKdhyFMFb8

— TokenFi (@tokenfi) November 9, 2023
Today's live TokenFi price is $0.026611, with a 24-hour trading volume of $12,740,573. TokenFi is down 16.41% in the last 24 hours. The current CoinMarketCap ranking is #578, with a live market cap of $26,611,809. It has a circulating supply of 1,000,019,789 TOKEN coins and a maximum supply of 10,000,000,000 TOKEN coins.
3. BullBear AI (AIBB)
BullBear AI is a groundbreaking addition to the Arbitrum Ecosystem, leveraging artificial intelligence to predict BULL and BEAR markets based on user behaviors and price action.
The project aims to empower users with AI tools for trading and predictions, promising value creation and profit opportunities. By training the AI on historical user data, price line history, and market movements, BullBear AI seeks to provide accurate insights.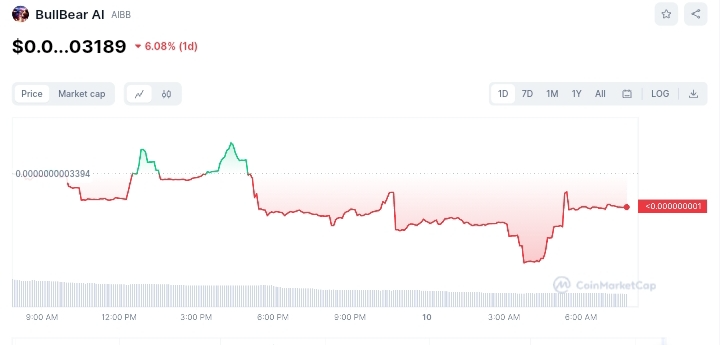 The native token, AIBB, plays a crucial role as a cryptographically secure, fungible protocol token within the ecosystem. Functioning as a multi-utility token, AIBB facilitates decentralized exchanges and transactions on BullBear AI.
The project's commitment to providing a secure mode of payment without intermediaries aligns with the goal of fostering a decentralized trading environment. While considering an investment, potential investors should carefully assess the utility and governance functions of AIBB, understanding its role in the ecosystem and its intended use within the platform.
AI + BullBearAI + Blockchain= AICHAIN

BullBearAI is coming up with AICHAIN, a Layer 2 solution designed specifically for AI-based dapps. 🚀

Stay tuned!!#BullBearAI #AICHAIN pic.twitter.com/W2N7wEJNpf

— BullBear AI | AIBB 97% Supply Burned🔥 (@bullbear_ai) November 8, 2023
Today's live BullBear AI price today is $0.000000000363 with a 24-hour trading volume of $400,587. BullBear AI is up 40.32% in the last 24 hours. The current CoinMarketCap ranking is #1505, with a live market cap of $742,418. It has a circulating supply of 2,045,833,899,998,990 AIBB coins and a maximum supply of 100,000,000,000,000,000 AIBB coins.
4. Turbo price (TURBO)
Turbo Token (TURBO) distinguishes itself as a meme coin with a futuristic toad mascot, embodying a unique experiment in cryptocurrency creation initiated by leveraging artificial intelligence, particularly GPT-4.
The founder's challenge to create the next great meme coin with a modest budget of $69 showcases the project's innovative approach. Turbo Token's evolution, guided by GPT-4's creative insights and community engagement, highlights the potential of AI-driven creativity in the cryptocurrency landscape.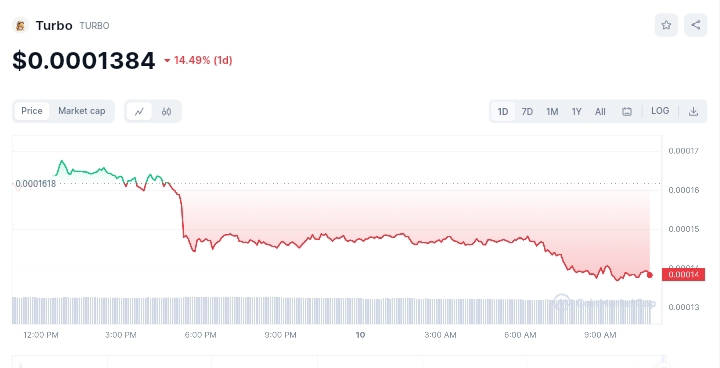 The commitment to documenting the process and inviting the community along the journey underscores transparency and inclusivity. Moreover, Turbo Token's strategic use of Rubic's multi-chain capabilities enhances security and reliability for buyers, mitigating risks associated with fraudulent tokens.
As the project continues to explore exciting possibilities, potential investors may find interest in Turbo Token's unique fusion of AI-guided creativity, community-driven development, and enhanced security features facilitated by Rubic.
indeed pic.twitter.com/PoEIFKmYY8

— Turbo 🐸 (@TurboToadToken) November 9, 2023
Today's live Turbo price is $0.000132 with a 24-hour trading volume of $3,291,020. Turbo is down 5.38% in the last 24 hours. The current CoinMarketCap ranking is #847, with a live market cap of $8,398,630. It has a circulating supply of 63,674,701,174 TURBO coins and a maximum supply of 69,000,000,000.
5. Sponge (SPONGE)
Sponge (SPONGE) emerges as a distinctive meme coin in the crypto realm, drawing inspiration from the beloved cartoon character SpongeBob SquarePants. Positioned as a zero-tax meme coin, Sponge aims to foster a vibrant community around its cartoon mascot, echoing the character's iconic and nostalgic appeal.
🚨 Exciting news, #SPONGERS! 🧽

The $SPONGE Airdrop distribution is now complete! https://t.co/iMAdfg9SiS

Check your wallets to see if you've made a splash as one of the recipients! 🌊💰#SPONGE #MemeCoin #Airdrop pic.twitter.com/yw7RKVtcg9

— $SPONGE (@spongeoneth) November 7, 2023
While emphasizing its independence from the original cartoon, Sponge strives to create the best meme coin based on a secret recipe akin to the humorously elusive Krabby Patty in the show.
The project prioritizes inclusivity, targeting those who missed out on earlier meme coin pumps offering an opportunity for early positioning before a potential price explosion. With a focus on community growth, Sponge aspires to achieve milestones such as a $1 billion market cap, 100,000 holders, and listings on top-tier exchanges.
Sponge's tokenomics model, allocating percentages to DEX liquidity, unity, and CEX, sets it apart. Collaborating with Tamadoge for a Web3 gaming project adds an extra layer of excitement and hype.
Despite Sponge's popularity, investors are advised to approach it as a highly speculative investment, emphasizing the importance of thorough research before making investment decisions.
Today's live Sponge price is $0.000116, with a 24-hour trading volume of $509,567. Sponge is down 0.01% in the last 24 hours. The current CoinMarketCap ranking is #2580, with a live market cap of unavailable. The circulating supply and maximum supply of 40,400,000,000 $SPONGE coins are unavailable.
Learn More
New Crypto Mining Platform – Bitcoin Minetrix
Audited By Coinsult
Decentralized, Secure Cloud Mining
Earn Free Bitcoin Daily
Native Token On Presale Now – BTCMTX
Staking Rewards – Over 100% APY