Pepe Price Prediction: Analyst Says PEPE Coin Will Pump 30%, But These New Meme Coins Might 10X
The Pepe price soared 22% over the past week and is trading at $0.000001313 at 10:00 a.m. EST.
Pepe Price: A Bearish Trend
But analyzing the 4-hour PEPE/USD charts reveals a bearish trend. Multiple bearish engulfing candlestick patterns indicate increasing bearish dominance over the PEPE price.
Concurrently, the Relative Strength Index (RSI) is on a downward trajectory, nearing a point below the mid-line, which often signals weakening bullish momentum.
Additionally, the Moving Average Convergence Divergence (MACD) gravitates toward the red zone, further suggesting that the bullish sentiment previously driving the PEPE price is diminishing.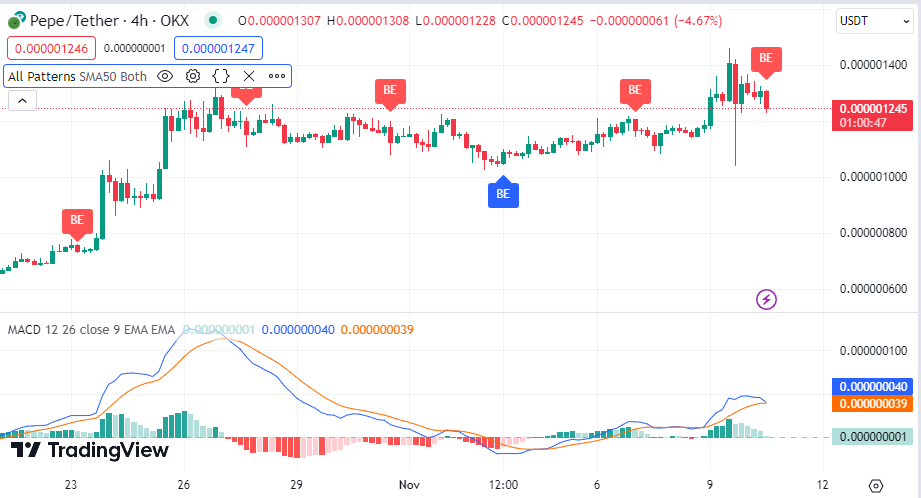 According to the 1-hour PEPE/USDT charts, the 20-day moving average surpassing the 10-day moving average has led to a 'death cross.' This pattern is typically viewed as a bearish signal, suggesting a potential downtrend in the PEPE price.
Additionally, the widening of the Bollinger Bands on these charts indicates heightened volatility in the PEPE market. Such expansion often points to periods of significant price movement. The increased volatility is further supported by a noticeable surge in trading activities, as evidenced by a 17% increase in trading volume within 24 hours. This spike in trading volume could maintain the elevated levels of volatility in the near future.
Pepe Price Prediction: What Do Analysts Think?
Despite the current bearish indicators in the short term, analysts have a contrasting perspective on PEPE's future price movement.
Bluntz, a notable analyst in the crypto space, offers an optimistic forecast for PEPE. He predicts a substantial upward swing in its value, projecting an increase of over 30%. His analysis is based on the expectation of a complete 5-wave rise within PEPE's price movement, with the third wave being the most significant in length.
This bullish outlook suggests a possible "rage pump" for PEPE, targeting a 25-30% increase. Bluntz's analysis also points to a favorable risk-reward ratio in this context, indicating that the potential rewards of investing in PEPE at this stage could significantly outweigh the risks.
This viewpoint signals optimism among traders and suggests potential gains for those willing to engage in this market despite the current bearish trends.
got shook out on overnight scamwick, onto the next

— Bluntz (@Bluntz_Capital) November 9, 2023
Meanwhile, as the PEPE price holds uncertainties about what's in store for the future, Meme Kombat and Wall Street Memes are two competitors in the meme coin space that have caught investors' attention. 
First, let's take a look at Meme Kombat. 
What is Meme Kombat And Why The Hype?
The Meme Kombat project amalgamates various popular concepts within the cryptocurrency domain, such as Play2Earn, staking, gambleFi, and artificial intelligence. At the center of the project is the MK token, a standard meme token with limited utility currently in presale.
Meme Kombat's practicality has yielded exceptional results during its presale phase, accumulating over $1.4 million in roughly a month.
Meme Kombat is set to revolutionize the Play2Earn gaming sector with an innovative platform featuring eleven unique characters, each symbolizing a popular meme coin such as Pepe, Floki, Doge, Shiba, and Sponge.
In this AI-driven gaming environment, these characters will engage in intense, AI-guided battles, offering players a thrilling experience with unpredictable outcomes. This setup allows players to wager on these battles, either against other players or against the house, adding a strategic element to the game.
The project has caught the attention of high-net-worth investors, including Michael Wrubel, who have praised Meme Kombat's staking-to-earn model. This model offers an impressive 112% annualized return (APY), making it an attractive opportunity.
Given the current market uncertainties, especially with fluctuations in the Pepe price, Meme Kombat presents itself as an appealing alternative for those looking to diversify their crypto investments. Its anticipated release is generating considerable excitement, with expectations of significant impact and growth potential in the gaming and crypto communities.
Wall Street Memes: Will The Meme Coin Explode?
With the PEPE price holding uncertainties, Meme Kombat's MK is not the only solution. Wall Street Memes, just recently launched, is another token holding explosive potential as the WSM token trades 8% above its previous 7-day price, holding a spot price of $0.02271 as of 11.15 a.m. EST.
Wall Street Memes (WSM) is bringing a refreshing blend of humour and incentives to the meme coin market. Born from the "WallStreetBets" meme, WSM has rapidly climbed the ranks in the meme coin sector, now boasting a community of over 1.1 million active users.
This significant user base indicates a growing interest in the token, with many holders anticipating a rally.
Staking and Casino
Wall Street Memes (WSM) has established a strong brand identity and allows investors to stake their assets, with estimated pay outs reaching a 45% annual percentage yield (APY). 
$WSM staking on Trust Wallet?, our current APY of 45% would be the highest right now!

— Wall Street Memes (@wallstmemes) October 4, 2023
The Wall Street Memes (WSM) team is taking a bold step by venturing into decentralized gambling (GambleFi) with the launch of the Wall Street Memes Casino. This ambitious move marks a significant pivot in WSM's strategy, opening new avenues for growth and engagement.
The casino is set to offer a rich array of features, including access to live sports betting markets, a selection of over 5,000 games, and the integration of the WSM token, which will stand alongside other major cryptocurrencies like BTC and ETH.
With the ongoing interest in other meme coins like PEPE and MK, Wall Street Memes Casino adds another dimension to the landscape, offering an alternative investment opportunity in meme coins.
Related News
New Crypto Mining Platform – Bitcoin Minetrix
Audited By Coinsult
Decentralized, Secure Cloud Mining
Earn Free Bitcoin Daily
Native Token On Presale Now – BTCMTX
Staking Rewards – Over 100% APY