Solana Price Prediction: SOL Surges 156% In A Month, Shrugging Off FTX Asset Sales. Can It Repeat The Feat By Christmas?
The Solana price has skyrocketed 156% in one month to hit an 18-month high as the asset traded up almost 11% in the past 24 hours at $56.08 as of 7:28 a.m. EST.
The extraordinary rise comes despite the drag from the sale of FTX estate assets. Fears that these sales would weigh heavily on SOL's price are giving way to optimism that the potential impact of the event may have been overblown.
Solana Price And FTX Asset Sales
FTX is set to offload trust fund assets worth $744 million, comprising holdings from Grayscale Investments and Bitwise. This move comes after a September court approval to gradually liquidate nearly $3.4 billion in digital assets. 
On November 3, FTX's debtors petitioned the court for permission to sell these trust assets in anticipation of forthcoming payouts to creditors. These assets comprise a $53 million Bitwise trust and five Grayscale trusts totaling $691 million, offering investors exposure to cryptocurrencies without direct ownership. 
The debtors have sought approval from investment advisors for the sales and proposed the establishment of a stakeholder-led price committee to oversee the process. To prevent market disruption, the court-mandated the sale of these assets in increments of $50 million and $100 million, following the earlier authorization to liquidate crypto holdings.
Solana Price: Technical Analysis
Looking at the 1-hour SOL/USD charts, the Relative Strength Indicator has exited the overbought as the Solana price faces corrections. The MACD indicator also moves in the red zone, indicating bearishness on the Solana price.
These point toward a slump in the Solana price in the short term as holders now look to capitalize on the made profits, which will likely cause selling pressure.
The 20-day moving average has exceeded the 10-day moving average to form a death cross, according to 45-minute SOL/USD charts. This shows bearishness on the Solana price as a price plunge looms.
We also see several bullish engulfing candle stick patterns forming, indicating a reversal pattern on the recent surge in the Solana price.
Solana's volatility levels are currently high, as shown by the Bollinger bands, which are wide apart. These levels will likely remain high due to the increase in trading activities that have seen the trading volume skyrocket by 38% in a day.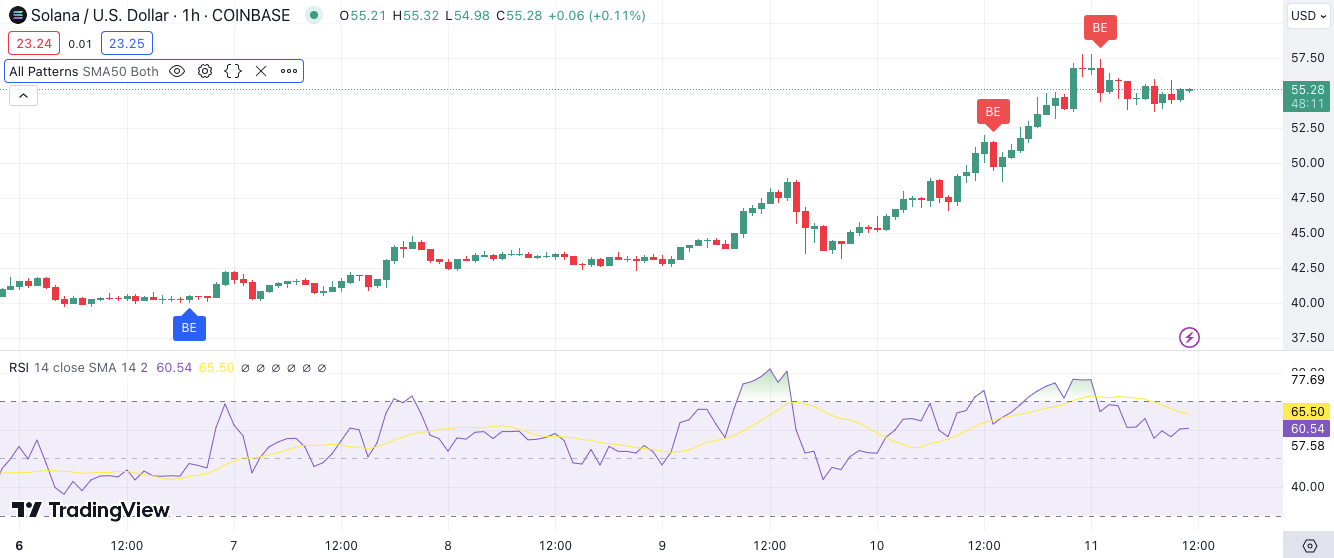 While technical analysis suggests caution, SOL's seemingly defied gravity for a while now and it's not inconceivable that the uptrend will continue given that the token has already soared more than 450% so far this year. Crypto market sentiment also has turned more bullish on optimism surrounding spot Bitcoin ETF approvals, providing another tail wind for SOL's price.
Meanwhile, as the Solana price faces the risk that FTX sales catch up with it, Meme Kombat continues to make waves with its booming pre-sale.
MK Pre-sale Nears $1.5m Milestone: Could it Beat The Solana Price?
Meme Kombat's pre-sale is closing on the $1.5 million mark. The Meme Kombat project amalgamates Play2Earn, staking, gambleFi, and artificial intelligence, promising a dynamic shift in the crypto landscape.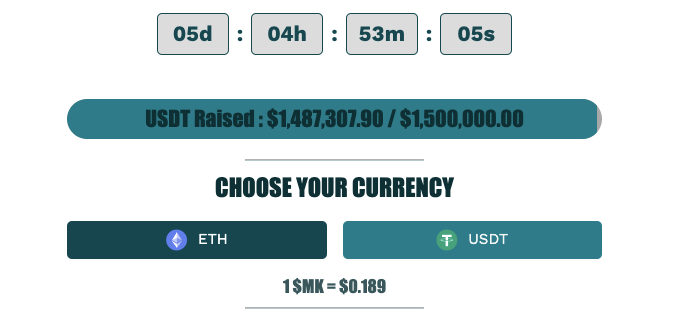 With its exceptional utility, Meme Kombat has effortlessly amassed $1.48 million during its presale phase, demonstrating its potential as a game-changing contender.
Meme Kombat's Play2Earn Platform
Meme Kombat is poised to unveil a groundbreaking Play2Earn platform featuring 11 iconic characters representing meme coins, including Pepe, Floki, Doge, Shiba, and Sponge. These characters will engage in captivating and unpredictably thrilling battles, all thanks to the integration of artificial intelligence.
Excitingly, players can engage in head-to-head wagers against each other or the house, injecting a new level of competition into the crypto-gaming arena.
Stake-to-earn enthusiasts, exemplified by notable traders like Michael Wrubel, are lauding Meme Kombat's staking mechanism, which yields an impressive 112% return. Floki's recent bullish surge following the introduction of its staking program underscores the burgeoning demand for such innovative products.
To foster user trust and confidence, Meme Kombat has unveiled its team members, a significant step towards transparency and security in an industry plagued by anonymity and potential scams. As you watch out for the Solana price, $0.189 is a good entry point for those purchasing MK tokens. 
The $MK presale price is now at $0.189!

LFG memers🚀 pic.twitter.com/clLidmJoKF

— Meme Kombat (@Meme_Kombat) November 9, 2023
Related News
New Crypto Mining Platform – Bitcoin Minetrix
Audited By Coinsult
Decentralized, Secure Cloud Mining
Earn Free Bitcoin Daily
Native Token On Presale Now – BTCMTX
Staking Rewards – Over 100% APY