Trust Wallet Token Price Soars 11% After Binance Launches Competitor. What's Going On?
The Trust Wallet Token price has seen a notable uptick, recording an 11% increase over the past week. As of 1:15 pm EST, it was trading at $1.34.
However, this rise has been accompanied by a significant decline in trading volume, which dropped by 22% in the last 24 hours, bringing it down to $96 million. This decrease in trading activity for TWT can be attributed to the recent strategic moves by Binance, the world's largest cryptocurrency exchange by trading volume.
Binance's introduction of its web3 wallet, coupled with a new Tether (USDT) earning program offering an annual percentage yield (APY) of up to 13%, has attracted investors' attention.
The promise of higher returns and the allure of a new wallet system by a major player like Binance has led many to explore these new offerings, impacting the trading volume of Trust Wallet Token as investors divert their focus and resources.
This shift highlights the dynamic nature of the cryptocurrency market, where new products and services can quickly change the landscape and influence investor behaviour.
Big news 🚨🚨! Yesterday, Binance launched its web3 wallet, where you can now buy MMIT. Binance's integration of MMIT represents a power of MMIT and its community 🔥🔥@binance #BinanceBlockchainWeek #binanceweb3wallet #MMIT #firstfruitmemetoken pic.twitter.com/fJsLPnQhSz

— mangomanintell (@mangomanintell) November 9, 2023
In 2018, Binance expanded its portfolio by acquiring Trust Wallet, which included cash, Binance stock, and a portion of BNB tokens. At the time of this acquisition in July 2018, BNB was valued at $14.80. Fast forward to the present, and BNB has seen a significant increase in its value, trading at around $244.
Trust Wallet Token Price: Bulls Rejected At $1.82, Forming Double-Top Pattern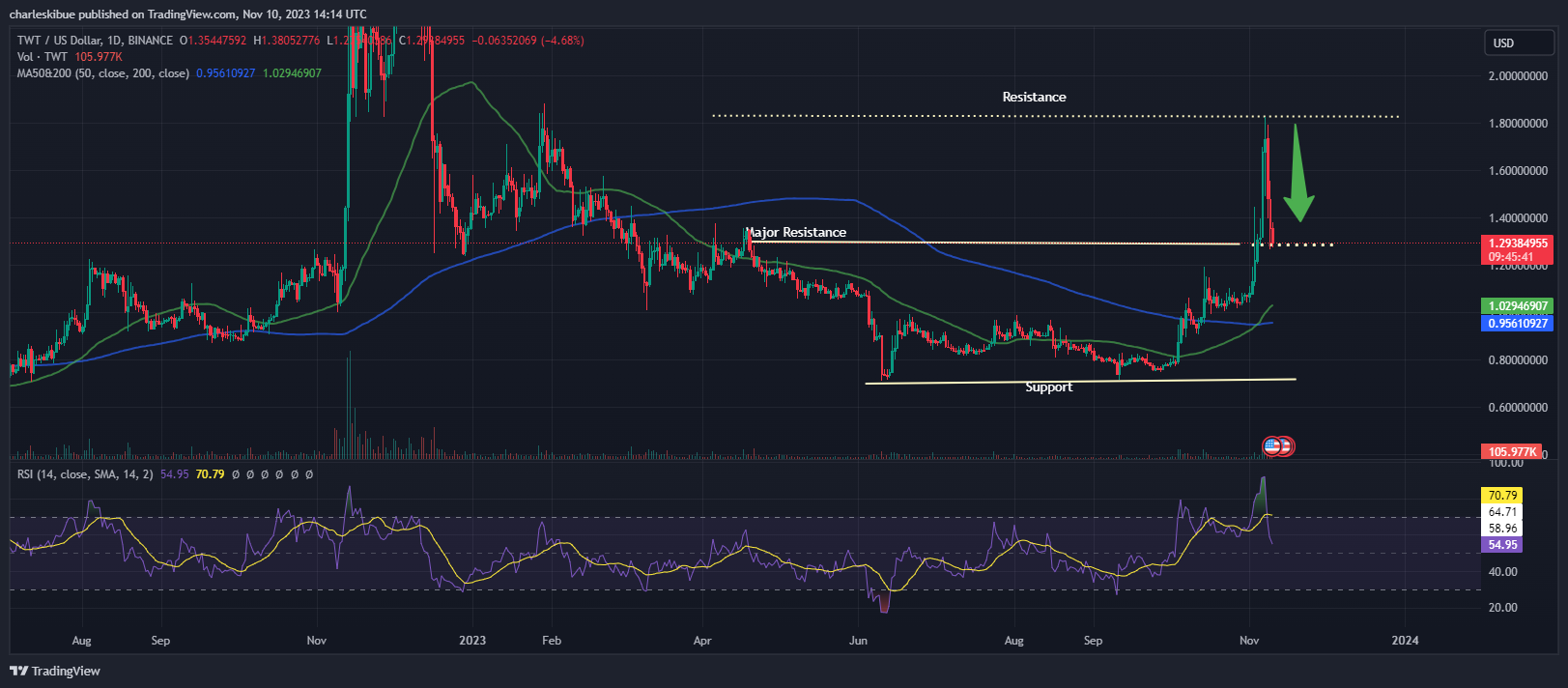 The price dynamics of Trust Wallet Token (TWT) have been quite eventful recently. Initially, the token faced resistance, leading to a bearish push, driving the price down to $0.96. On the technical front, the 1-hour chart revealed an inverted head and shoulders pattern, typically interpreted as a bullish indicator in technical analysis.
However, the situation took a turn when a double-top pattern formed at the $1.82 price point. This pattern is often seen as a bearish signal, and in this case, it allowed bears to gain control, pushing the price downward and causing the bulls to retreat to a support zone around $1.33.
Trust Wallet Token Price Could Reverse on $1.33 Level
The price trajectory of Trust Wallet Token (TWT) is currently at a crucial juncture. There's a possibility of a rebound from the $1.33 support zone. If this rebound materializes and the bullish momentum is sustained, TWT could challenge and break through the $1.82 resistance level. Such a move would represent a 43% increase from its current price, offering a lucrative opportunity for bullish investors.
On the other hand, if bearish sentiment prevails, the price might face downward pressure towards the $1.10 support zone. This scenario would favor investors with a bearish outlook on TWT seeking to capitalize on potential declines.
Investors are looking at other promising opportunities in the crypto market in the broader context of portfolio diversification. One such opportunity is the BTCMTX presale coin, which has been gaining attention.
It has approached its predefined soft cap relatively quickly after the launch of its presale phase. This rapid progress suggests a growing investor interest in BTCMTX.
BTCMTX: One Day Before Price Increases
Bitcoin Minetrix (BTCMTX) presale is rapidly approaching its $4.4 million soft cap, having already amassed $3.7 million. 
Investors have a compelling opportunity to join the presale, with just over a day remaining in the 6th stage. 
Recognising a significant accomplishment for #BitcoinMinetrix! 🌟

Exceeding the $3,600,000 milestone! pic.twitter.com/jC0RxzqnTu

— Bitcoinminetrix (@bitcoinminetrix) November 7, 2023
Engaging in the early stages of a token presale can be quite beneficial, particularly when the prices are offered at a discount. In this instance, the tokens are priced at a discounted rate of $0.0115 each.
As the presale progresses to its final stage, the price will rise to $0.0119 per token, offering early participants a more favorable entry point.
The project team has set a hard cap of $15 million for this presale. This cap is significant as it determines the maximum funds the project intends to raise during this phase.
Additionally, it allows participants to acquire up to 77.5% of the total token supply, which is a substantial portion and could be attractive to investors looking to have a significant stake in the token's total supply.
Chance To Win $3,000 In The BTCMTX Minedrop Competition
The project is hosting a Minedrop airdrop with a total prize pool of $30,000, providing an opportunity for ten fortunate participants to win a $3,000 reward.
Additionally, investors have the potential to generate passive income through the stake-to-mine program. By staking your BTCMTX tokens, you can access a significant APY of 158%.
Currently, around 263 million tokens are already staked, resulting in the mining of 158.5 blocks per ETH.
Jacob Bury Crypto, a popular YouTuber with over 23,000 subscribers, has provided his viewers with an extensive review and guidance about this promising opportunity. He has personally invested $3,000 in the project.
Acquiring BTCMTX tokens is possible by linking your digital wallet to the BTCMTX website and obtaining tokens through ETH, USDT, BNB swaps or bank card.
Related News
New Crypto Mining Platform – Bitcoin Minetrix
Audited By Coinsult
Decentralized, Secure Cloud Mining
Earn Free Bitcoin Daily
Native Token On Presale Now – BTCMTX
Staking Rewards – Over 100% APY