Best & New Meme Coins On CoinMarketCap, Uniswap, PancakeSwap To Watch November 11 – IDO & ICO Calendar
Each day, we review some picks for the best meme coins to buy now based on the latest market movements, blockchain news and trending narratives.
The cryptocurrency market witnessed an exhilarating week marked by remarkable surges in various digital assets. Meme coins, renowned for their whimsical origins and vibrant communities, particularly stood out.
Best Meme Coins Now and New Meme Tokens ICO Calendar
SAMO and PEPE exhibited meteoric rises, capturing attention alongside noteworthy performances from projects like Mina (MINA), Injective (INJ), and Chainlink (LINK).
These assets experienced substantial gains, contributing to the dynamic landscape of the crypto space in the past seven days. We must highlight our focus on the best meme coins investors should add to their watchlist. These tokens boast market capitalizations surpassing $20 million.
1. Homer (SIMPSON)
Homer Simpson, the meme coin with a humorous twist, aims to inject fun into the cryptocurrency market. Beyond the laughter, the project introduces innovative features, such as a Twitter AI Bot and a Telegram AI Bot, adding interactive elements for users. The Twitter ChatBot, fully integrated into the platform, promises superhuman-level accuracy in responding to user queries.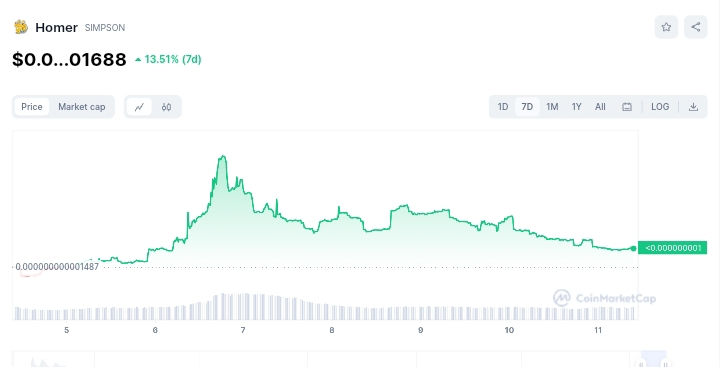 Similarly, the Telegram ChatBot, available in groups and channels, enhances interaction with the option for premium features. The project ensures security with PinkSale, locking liquidity for one year and a commitment to transparency through audits and team KYC verification.
With a team of experienced professionals and a strategic marketing push, Homer Simpson seeks to provide value to the token and NFT holders, making it an exciting venture for those seeking a unique and engaging crypto experience. As with any investment, thorough research and considering potential risks are advised.
#newSimpson with a brand new roadmap and will be @gate_io 🚀🚀🚀🚀🚀👀 Let's take a ride to the moon now🚀🚀🚀👀👀👀👀

$Simpsonhttps://t.co/pSjvAd2tAx

Buy now @Uniswap https://t.co/6grkbAQMlH

TG coming soon🚀👀

— Homer Simpson (@HomerSimpson_HS) November 9, 2023
Today's live Homer price is $0.00000000000197 with a 24-hour trading volume of $395,831. Homer is up 5.00% in the last 24 hours. The current CoinMarketCap ranking is #2518, with a live market cap of unavailable. The circulating supply is unavailable, and a maximum supply of 420,000,000,000,000,000 SIMPSON coins.
2. Baby Meme (BABYMEME )
Baby Meme Coin emerges as a unique project aiming to democratize access to meme coins, especially targeting retail investors in regions with lower income levels.
Inspired by meme coin concepts, Baby Meme Coin's mission is to allow those who might need more money to afford traditional meme coins to participate in the crypto market. The token introduces an innovative tax system, presenting itself as an evolved version within the meme coin category.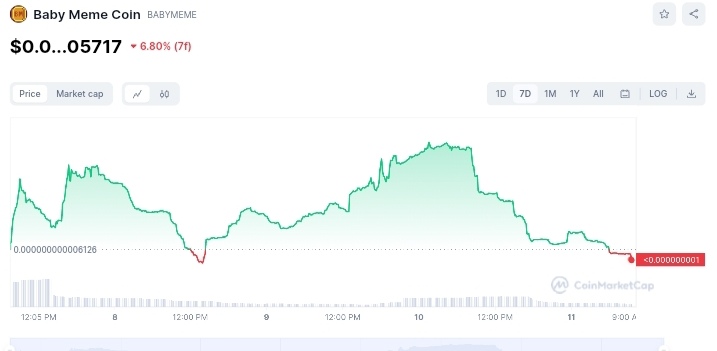 Its recent impressive overnight surge, reflecting a +1,000% increase on DEX markets, suggests significant interest, particularly from the Vietnamese crypto community, where the token aims to make meme coins accessible to individuals with a lower hourly wage.
The decision to launch Binance Smart Chain (BSC) further emphasizes the project's commitment to reducing transaction fees, potentially making it an appealing choice for retail investors in economically constrained regions. However, as with any investment, potential risks should be thoroughly evaluated before considering participation.
Announced PancakeSwap Listing #babymemecoin 🔥

Time : 2023.11.06 – 13:00 UTC 🔥

CA : 0x63f79D1de735C922cfCE240b6c1cc30A00214f8C

TAX : 10% ( 2%: MAKETING 4%: REWARDS 4%: ADD LP)

Dextool : https://t.co/ixwSDv9S4y

TG : https://t.co/1OIbU5uYZU
Website. : https://t.co/Qz6aZcvYav pic.twitter.com/4MU3gwiIJ2

— BabyMeme Coin (@BabyMemeCoinBSC) November 5, 2023
Today's live Baby Meme Coin price is $0.00000000000596 with a 24-hour trading volume of $72,515.09. We update our BABYMEME to USD price in real time. Baby Meme Coin is down 39.60% in the last 24 hours. The current CoinMarketCap ranking is #3214, with a live market cap of unavailable. The circulating supply is unavailable, and a maximum supply of 210,000,000,000,000,000 BABYMEME coins.
3. Hoge Finance (Hoge)
HOGE, formerly Hoge.Finance, positions itself as a community-driven DeFi auto-staking ERC-20 token, distinctive for its capped and deflationary supply model. The token, launched with fairness in mind on February 7, 2021, features a 2% transaction tax, where 1% is permanently burned, reducing the supply, and the remaining 1% is distributed to HOGE holders.
HOGE stands out as one of the pioneering DeFi memecoins with a Certik audit, affirming its security with no significant findings. The project has evolved beyond its initial vision of being a deflationary "Doge but DeFi" into a philanthropic and practical endeavor.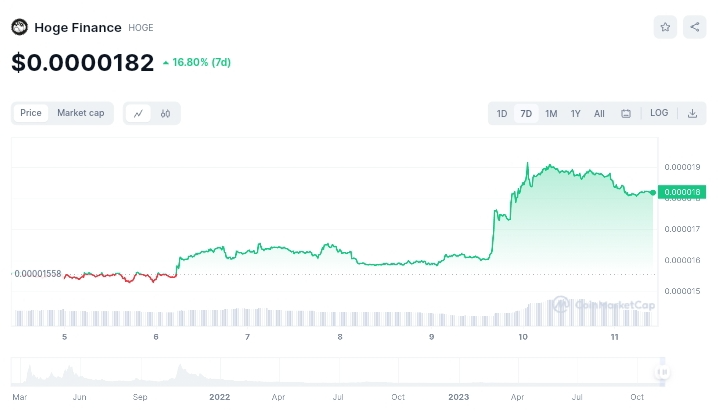 With initiatives like minting NFTs for holders, sponsoring eSports and Rally Racing Trucks, and fostering a non-profit DAO hybrid, HOGE demonstrates a commitment to community engagement and charitable causes. It has successfully raised over $20,000 for animals through campaigns like #HogeSavesTheAnimals.
The project's exploration of dApp game development through HogeGameLabs adds another layer to its multifaceted approach, contributing to its potential for long-term viability and community impact. However, investors should conduct thorough research and consider the inherent risks before investing in HOGE.
Bridging the gap between Meme Business and Personal Business one MEME at a time!! https://t.co/eMmuo7JqvZ pic.twitter.com/94Iskb7nG3

— HOGE (@HogeFinance) November 10, 2023
Today's live Hoge Finance price is $0.000016, with a 24-hour trading volume of $32,999.08. We update our HOGE to USD price in real-time. Hoge Finance is up 2.33% in the last 24 hours. The current CoinMarketCap ranking is #901, with a live market cap of $6,607,262. It has a circulating supply of 402,276,464,812 HOGE coins and a maximum supply of 395,625,752,439.
4. LUPIN (LUPIN)
Lupin, a Binance Smart Chain token, stands out with its unique approach of providing rewards in Bitcoin to holders. The innovative system ensures that Lupin holders earn Bitcoin from each transaction permanently, fostering a continuous reward mechanism.
The token's primary utility lies in building a vibrant meme community to enhance awareness and introduce comical character NFTs for sale.
These NFTs contribute to the community's fun aspect and serve as a means to receive airdrops from an upcoming sister project. Lupin's mission revolves around creating an engaging and rewarding ecosystem for its holders while utilizing the meme culture to spread awareness.

However, as with any investment, potential investors must conduct thorough research, considering both the innovative features and potential risks associated with the project before deciding to invest in Lupin.
Today's live LUPIN price is $0.690697, with a 24-hour trading volume of $20.60. LUPIN is up 1.08% in the last 24 hours. The current CoinMarketCap ranking is #6679, with a live market cap of unavailable. The circulating supply is unavailable, and there is a maximum supply of 100,000 LUPIN coins.
5. Bitcoin ETF (BTCETF)
The BTCETF Token (BTCETF) introduces a strategic approach to aligning its design with crucial milestones in the anticipated Bitcoin ETF approval process. The project plans to burn 25% of its total token supply over time, fostering scarcity and encouraging long-term holding.
The SEC's closing approval window prompts a 90% chance by Jan 10, 2024, per #Bloomberg.

As #BTC nears $36K, the #CryptoCommunity anticipates a potential game-changer.

In addition to that #BitcoinETF has also hit another milestone, raising over $200K! 🏆 pic.twitter.com/KWoDWm5pF1

— BTCETF_Token (@BTCETF_Token) November 10, 2023
This deflationary mechanism is complemented by staking rewards that dynamically increase based on the duration of token lockups, emphasizing network security and stability. Following a tier-based structure, the ongoing presale offers early supporters a chance to acquire tokens at advantageous prices.
The allocation of funds from the presale aims to establish a robust community and create awareness around the project's unique value proposition tied to significant BTC ETF milestones. The decreasing transaction tax tied to real-world achievements further incentivizes long-term commitment.
While speculation surrounds potential Bitcoin ETF approvals, the BTCETF Token's combination of utility, strategic design, and community engagement presents an intriguing opportunity for investors seeking involvement in this evolving space.
Learn More
New Crypto Mining Platform – Bitcoin Minetrix
Audited By Coinsult
Decentralized, Secure Cloud Mining
Earn Free Bitcoin Daily
Native Token On Presale Now – BTCMTX
Staking Rewards – Over 100% APY