Best & New Meme Coins On CoinMarketCap, Uniswap, PancakeSwap To Watch November 12 – IDO & ICO Calendar
Every day, InsideBitcoins covers the best meme coins listed on CoinMarketCap, Uniswap, PancakeSwap, and presale projects.
Bonk (BONK), a Solana token that originated as a meme coin, has experienced a significant surge, gaining 66% in the past 24 hours and extending a week-long rally to over 170%.
This surge reflects a broader trend in the Solana ecosystem, propelled by the blockchain's 110% rally over the past month. Bonk's increased trading volumes and market capitalization suggest a renewed interest and influx of new investments into the Solana blockchain.
Best Meme Coins Now and New Meme Tokens ICO Calendar
The introduction of single-sided staking on Bonk liquidity pools in early November, offering annualized yields of over 25%, likely contributed to the positive sentiment.
It's important to note that Bonk first gained attention in January amid the Sam Bankman-Fried and FTX exchange incident, experiencing a rapid surge of up to 3,200% in just three weeks.
As the Solana ecosystem gains momentum and the value of its projects rises, Bonk's resilience and recent performance may attract investors seeking opportunities within the evolving landscape of decentralized applications on the Solana network.
1. ROBIN HOOD (HOOD)
The ROBIN HOOD ($HOOD) cryptocurrency positions itself as more than a mere meme token, projecting a narrative reminiscent of the legendary figure from Sherwood Forest.
Its mission, as outlined, is to bring financial justice and social equity to the crypto world, mirroring the legendary Robin Hood's fight against corruption and oppression.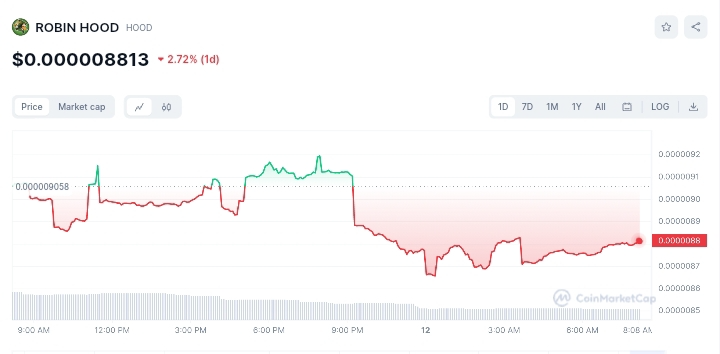 However, investors should approach this narrative cautiously, recognizing meme coins' inherent risks and volatility.
While the concept of financial freedom and a revolution in the crypto market is compelling, evaluating the coin's utility beyond its story is crucial.
Coming soon:

🏆 TOP 10-20 CEXES IN DISCUSSION
🏆 BIG BURN EVENT SOON
🏆 CERTIK AUDIT OTW
🏆 AI NFT INTEGRATION
🏆 P2E GAME DEVELOPMENT MAKING SIGNIFICANT PROGRESS….$HOOD #HOOD #BITCOIN #BTC $ETH $SHIB $FLOKI $PEPE $ONE #CRYPTO

— ROBIN HOOD COIN (@HoodRobinETH) November 5, 2023
The live price of $0.000009 and the 24-hour trading volume of $7,032.32 provide a snapshot of its current market activity. With a CoinMarketCap ranking at #4482, the circulating supply is undisclosed, and the maximum supply is 10,000,000,000 HOOD coins.
Potential investors should consider the coin's fundamentals, utility, and broader market conditions before joining the adventure and investing in ROBIN HOOD.
2. Moonlana (Mola)
Moonlana positions itself as a community-based Solana Token, with 90% of its total supply distributed through airdrops and giveaways, emphasizing inclusivity and community engagement.
The project distinguishes itself by focusing not only on meme token dynamics but also on utility. Moonlana has developed its own DEX using the Serum API, redirecting generated fees to buy back and burn its tokens, showcasing a commitment to token value appreciation.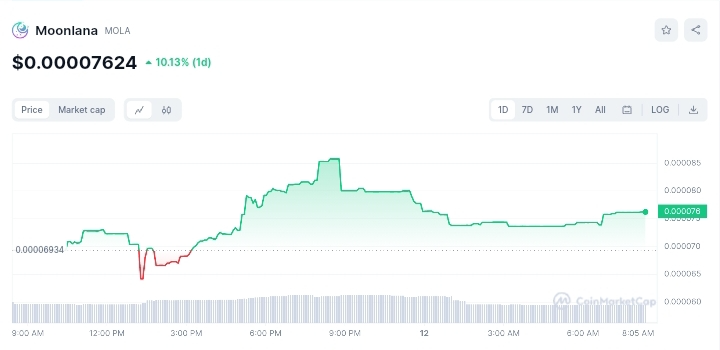 Additionally, the initiative to create a Solana charting solution for various tokens aligns with their utility-driven approach, providing a practical tool for the Solana community. The introduction of Lanamon, an on-chain Solana tipbot supporting 50+ SLP tokens, further enhances the project's utility within the Solana ecosystem.
While the live price of $0.000074 and 24-hour trading volume of $7,526.45 offer insights into its current market activity, potential investors should exercise caution and thoroughly assess Moonlana's utility, community engagement, and broader market conditions before considering investment.
$MOLA has great potential for a huge economic recovery!

1- Low market capitalization
2- Fixed Supply
3- We have been supporting the #solana community for 2 years and have been active since then.

We are still standing and we still believe in this our project. Step by step

— Moonlana (@xMoonLana) July 16, 2023
The coin's mission appears centered on fostering a vibrant Solana community with practical solutions, making it noteworthy for those seeking a balance between community-driven initiatives and utility-focused projects within the crypto space.
3. SHIBONK (SBONK)
Shibonk Coin positions itself as a decentralized community token deployed on the Solana Blockchain, aiming to bridge the gap between the Shiba Inu and Bonk Inu communities by setting an example of unity and collaboration.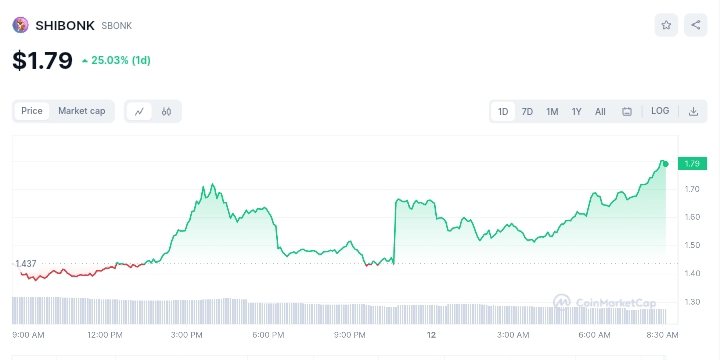 Governed by the decentralized autonomous organization SHIBONK DAO, the project emphasizes community-driven decision-making. With $SBONK deployed on six blockchains and eight decentralized exchanges, Shibonk strives for borderless accessibility, reaching a broad spectrum of crypto users.
Integrating a native NFT collection, Shibonk Gang offers a social experiment powered by the Solana Blockchain, comprising 4,200 unique digital collectibles. These NFTs grant access to an exclusive community, voting rights in the SG DAO, and the ability to mine $SBONK tokens. The live price of $1.64 and 24-hour trading volume of $26,042.75 provide insights into its current market activity.
🚀 Thread on Shibonk ($SBONK) – The Deflationary Gem 🔥

1/10 Did you know that Shibonk $SBONK only needs to reach a market cap of $710,000 to reach a previous high of $10 when at that time it required a 1.5M Market cap? 📈 pic.twitter.com/f2lyIO9y9D

— SHIBONK $SBONK (@SHIBONKSOL) November 10, 2023
While Shibonk's mission to foster unity and innovation is commendable, potential investors should carefully assess its utility, community engagement, and the broader market landscape before considering investment.
The project's emphasis on cross-chain accessibility and a robust NFT ecosystem adds depth to its mission, making it an exciting option for those seeking community-driven initiatives with a tangible utility component.
4. SolDoge (SDOGE)
SolDoge (SDOGE) emerges as a next-generation meme coin on the Solana blockchain, portraying a fun-loving demeanor with a distinctive cyber-shaded flair.
Positioned as a spiritual successor to Dogecoin, SolDoge distinguishes itself with lower transaction fees and energy consumption on Solana, prioritizing efficiency. Notably, 100% of the token supply entered circulation on day one, placing the community at the forefront of decision-making and project development.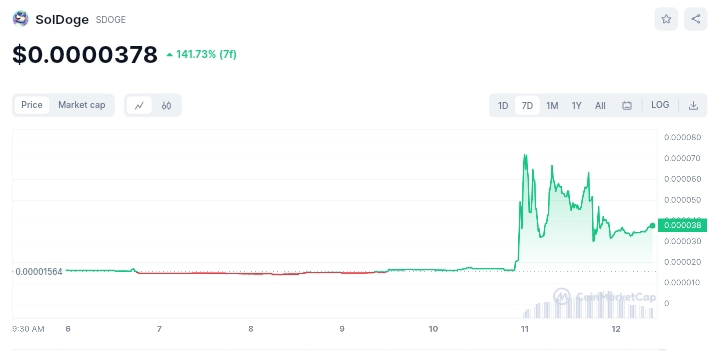 The absence of a traditional core dev team funded by token reserves led the early SolDoge community to self-organize, demonstrating a decentralized approach to governance and project funding.
Integrating an official SolDoge NFT collection adds a governance layer to community involvement. The live price of $0.000035 and 24-hour trading volume of $28,280.52 provide insights into its current market activity.
— SolDoge 🐕 | $SDOGE (@SolanaDoge) November 11, 2023
While the coin's recent decrease of 37.95% in the last 24 hours highlights market volatility, potential investors should consider SolDoge's community-driven ethos and innovative approach to governance as factors worth exploring before considering investment.
The project's commitment to decentralization and community empowerment adds depth to its mission, intriguing those seeking a meme coin with a unique, community-centric approach.
5. Meme Kombat ($MK)
Meme Kombat ($MK) emerges as a promising contender in the altcoin space, having recently raised $1.44 million amid the ongoing altcoin season. Positioned as a gaming and betting ecosystem, Meme Kombat introduces dynamic yield staking, offering stakers a substantial annual percentage yield (APY) of over 1,000%.
Our staking dashboard launched on Thursday.

We're already past 1000 $MK stakers💪 pic.twitter.com/U79s06pxd6

— Meme Kombat (@Meme_Kombat) November 12, 2023
The platform, yet to be fully launched, stands out for seamlessly blending on-chain and off-chain transactions, providing a gas-less experience for claiming rewards and engaging in gaming activities through a state-of-the-art hybrid system.
Meme Kombat's unique approach to security, utilizing smart contracts and requiring six block confirmations before transactions, adds an efficient layer to its operations. With a focus on the booming GameFi and GambleFi sectors and its position in the high-octane meme coin segment, $MK presents an intriguing investment opportunity.
The current price of $0.189, set to rise in the upcoming presale stage, coupled with the platform's innovative features and community incentives, contributes to its appeal.
Learn More
New Crypto Mining Platform – Bitcoin Minetrix
Audited By Coinsult
Decentralized, Secure Cloud Mining
Earn Free Bitcoin Daily
Native Token On Presale Now – BTCMTX
Staking Rewards – Over 100% APY