CRO Crypto Price Prediction – Cronos Rockets Up 59% In Weekend Rally
Altcoins have demonstrated notable price movements recently, with $CRO charting an upward trajectory and experiencing a growth of over 59% in the past week.
$CRO, native coin of Cronos chain has consistently surged to a level not witnessed in months and  outperforming some of the most prominent names in the top 100 crypto ranking over the weekend.
$CRO has consistently surged to levels not seen in months, outperforming some of the most prominent names in the top 100 cryptocurrency ranking over the weekend.
This upward movement was initiated by an ambitious rebranding announcement from Crypto.com, leading to the transformation of Cronos' website, Crypto.org, into Cronos-POS.org.
The Cronos Network is currently in the process of updating domain names across most of their URLs, with a targeted completion date set for January 2024. However, the Cronos EVM chain will maintain its current domain.
The price surge also coincides with the second anniversary of the Cronos proof-of-stake blockchain, providing additional momentum to the ongoing rally.
Cronos Explorer – Bridging Ethereum and Cosmos Ecosystems with Enhanced User Experience
Cronos, a blockchain integrating with Ethereum and Cosmos ecosystems, recently launched Cronos Explorer on its testnet, marking a significant step forward. The project's announcement heralds a new era in blockchain exploration, aiming to cater to developers and users with exclusive features.
While not yet a comprehensive solution for existing block explorers, it promises an enhanced user experience in the near future. Cronos Mainnet users will continue using Coronoscan during this transitional phase.
The integration timeline with the main net remains undecided, and Cronos testnet will stay accessible until Cronos Explorer achieves feature parity, focusing on historical and real-time data. The project introduces diverse insights into the Cronos chain's functionality across Cosmos SDK and EVM layers.
Notably, it addresses concerns in Ethereum-exclusive explorers, allowing users to monitor Cosmos transfer fees. The Cronos Explorer's innovative features include streamlined token transfer filtering and internal transfer analysis tools.
With a focus on user convenience and bridging Ethereum and Cosmos technologies, the unveiling of Cronos Explorer on the testnet signifies promising advancements in blockchain exploration.
$CRO Crypto Price Prediction
Cronos price today is $0.109 with a 24-hour trading volume of $76.34 million and market cap of $2.76 billion. The $CRO price increased 4.02% in the last 24 hours.
The market's view of the asset as potentially overvalued at its current levels is indicated by the notably high relative strength index (RSI) at 97.20, firmly establishing it within the overbought zone. This situation might pave the way for a potential retracement or consolidation soon.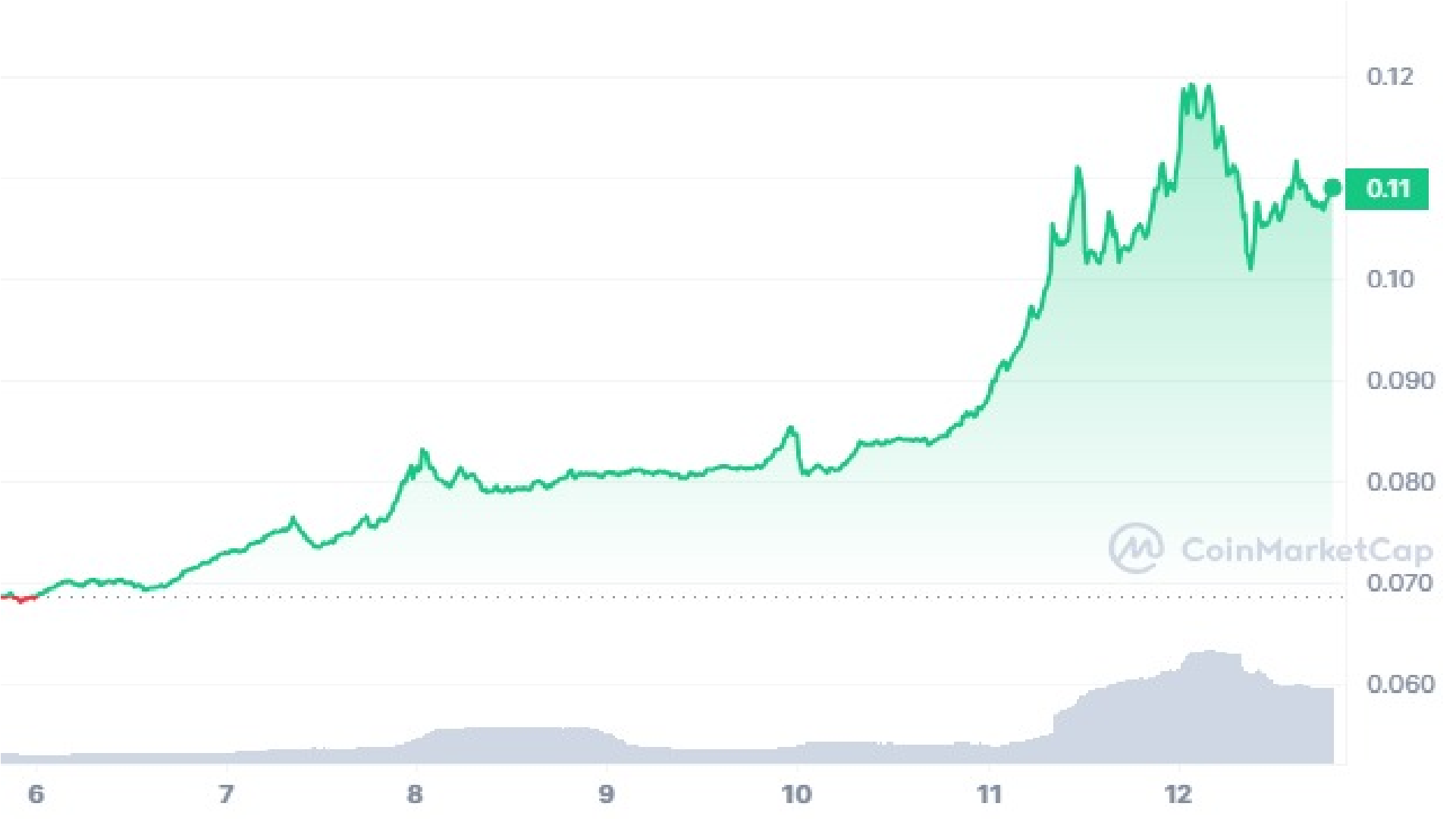 Nevertheless, in the immediate term, the cryptocurrency displays a robust bullish trend, with the 50-day exponential moving average (EMA) at $0.067, and the present trading price of approximately $0.108 exceeding past resistance levels.
Buyers aiming for the pivotal resistance point at $0.13 are likely to propel the coin's prospects further into the realm of optimism. To buy $CRO we recommend eToro, a safe regulated crypto exchange.
For a comprehensive $CRO crypto price prediction analysis, check out the video above. For more crypto-related content, subscribe to Jacob Crypto Bury's YouTube channel. Additionally, join his Discord community of 17,000 members to gain valuable trading insights and discover upcoming crypto presales.
New Eco-Friendly Cloud Mining Crypto as Cronos High-Profitability Alternative
While Cronos crypto shows promise for the future, it's also smart to check out investing in a new crypto currently in presale, offering significant prospect with the potential to provide 10x returns upon hitting exchanges.
Bitcoin Minetrix stands out as one of the top crypto presales in 2023, with a goal to streamline and democratize Bitcoin cloud mining. Fueled by its native ERC-20 token, $BTCMTX, users can stake it to earn mining credits.
The ongoing presale offers each token at a discounted price of $0.0116. In less than a month since its launch, Bitcoin Minetrix has raised over $3.8 million, showcasing strong community support.
This project introduces a fresh approach to online Bitcoin mining. Instead of traditional cash contracts with mining companies, you can use $BTCMTX to earn mining credits, making it safer and less risky. The earned credits, secure against trading, provide an extra layer of security.
#BitcoinMinetrix pioneers a renewed cloud mining landscape, emphasising stakeholder involvement and transparency.

With a focus on user autonomy and token security, it aims to lead in tokenised cloud mining, offering a dependable $BTC mining avenue for all users. 🌐⛏️ pic.twitter.com/P4kd3un36G

— Bitcoinminetrix (@bitcoinminetrix) November 12, 2023
The platform plans to offer a simple app for phones and computers, ensuring accessibility for users. If users choose to exit, they can unstake $BTCMTX tokens after the minimum staking period and sell them at market prices, a departure from locking funds seen in traditional mining contracts.
Utilizing cloud mining, Bitcoin Minetrix aligns with eco-friendly practices, appealing to the environmentally conscious crypto community and gaining an edge in broader adoption. With a total token supply of 4 billion, Bitcoin Minetrix plans to allocate 42.5% for mining, 7.5% for staking, and other distributions.
Early supporters can benefit from a $30K minedrop on the platform. With a hard cap goal of over $33 million, funds are earmarked for platform development, marketing, and staking rewards. take part in the BTCMTX presale at bitcoinminetrix.com.
Related
New Crypto Mining Platform – Bitcoin Minetrix
Audited By Coinsult
Decentralized, Secure Cloud Mining
Earn Free Bitcoin Daily
Native Token On Presale Now – BTCMTX
Staking Rewards – Over 100% APY