Dogecoin Price Prediction: Analyst Says DOGE Ready To Pump 160% As This New Meme Coin Competitor Accelerates Past $1.4M In Presale
The Dogecoin price surged 10% in seven days as the meme coin traded at $0.07412 at 5 a.m. EST. 
According to KALEO, co-founder at LedgART, the Dogecoin price could gain as much as 10 cents in the near future, representing a 160% surge.

Here's my playbook for $DOGE:

Sometime in the next week or two, Dogecoin finally starts to move.

When DOGE starts moving higher, it usually moves pretty fast. I wouldn't be surprised to see a daily from here to somewhere in the 9 – 10 cents range, chop there for a bit, then… pic.twitter.com/BN1AqSe8d2

— K A L E O (@CryptoKaleo) November 9, 2023
Dogecoin Price Prediction
Looking at the 2-hour DOGE/USD charts, a bullish engulfing candle stick pattern has formed, signifying bullishness on the Dogecoin price. The RSI is also on an upward trajectory, having crossed the midline as the Dogecoin price recovers from the recent short dip. This shows bull dominance on DOGE. The MACD indicator, currently in the red zone, is moving towards the green zone, showing fading bearishness from the Dogecoin price.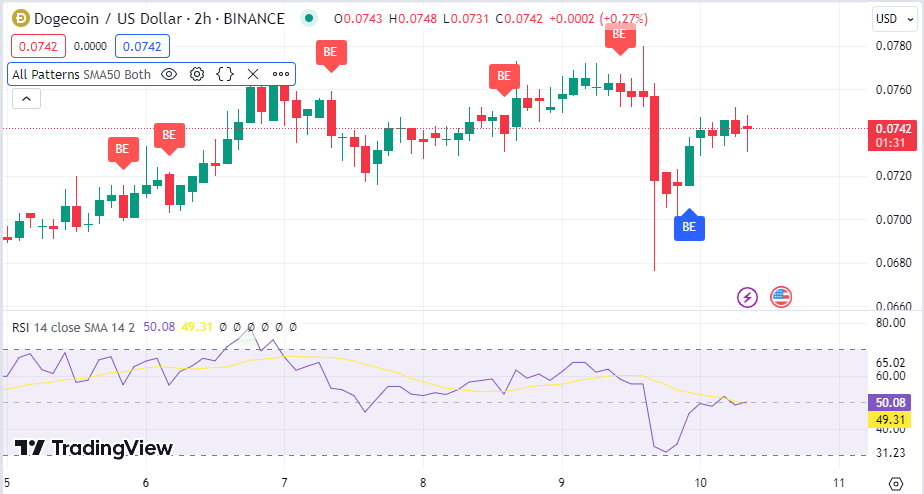 The 5-day moving average has exceeded the 15-day moving average to form a golden cross. This shows buying pressure on the meme coin. Looking at volatility, the Bollinger Bands are far apart, highlighting the volatile nature of the Ethereum price.
These levels will likely remain high due to increased trading activities, which have caused a 63% surge in trading volume within 24 hours.
Meanwhile, as the Dogecoin price looks to explode, the new MK meme coin, currently in its presale, could hold prospects of higher returns as Meme Kombat, the project behind the token, continues to grow its community daily.
As Dogecoin Price Looks To Surge, Meme Kombat Approaches $1.5M 
Despite the Dogecoin price promising a bull run, Meme Kombat offers a unique blend of entertainment and financial opportunity. With its presale gaining immense traction, Meme Kombat is now inching closer to the $1.5 million milestone.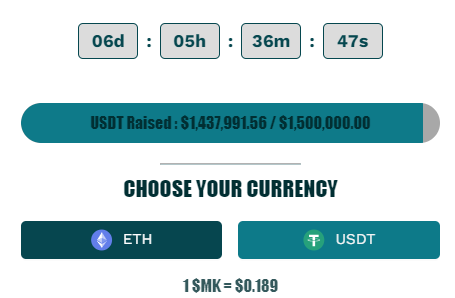 At its core, it's a decentralized platform that introduces a virtual battleground where meme coin avatars engage in fierce combat. The battlefield will be crafted using cutting-edge AI technology, promising participants an immersive and thrilling experience.
Meme Kombat encourages users to combine their passion for meme culture with their financial ambitions. During the presale, the native cryptocurrency, MK, is priced at a mere $0.189. The presale has already amassed over $1.4 million in investments in weeks, showing investor confidence.
With staking just launched and our community growing day by day, we just want to celebrate yet another milestone that we smashed.

We hit $1.4 million raised in presale!

Thanks kombatants🥊 pic.twitter.com/t2mrYrXnvC

— Meme Kombat (@Meme_Kombat) November 10, 2023
Token holders will have various avenues to explore within the Meme Kombat ecosystem. Unlike traditional meme coins, Meme Kombat offers exciting gameplay, staking opportunities, and betting options.
Meme Kombat provides a play-to-earn platform that promises captivating battles between meme coin avatars. Players can acquire MK avatars, each with unique skills and combat styles. Seasonal releases will introduce fresh combat possibilities and enticing prizes.
Betting And Earning
As the presale ends, the inaugural season of the battle arena will launch, featuring 11 meme coin characters. The Player vs. Player mode allows participants to earn tokens and incentives, while the combat arena enables them to wager MK on match outcomes, intensifying the stakes.
Strategic predictions and understanding opponents' moves can lead to even greater rewards. Additionally, the battle arena will feature a Player vs. Game mode.
Meme Kombat leverages the power of artificial intelligence (AI) and blockchain technology to enhance gameplay. Dynamic graphics driven by AI will provide a lifelike and unpredictable gaming experience. Security and transparency are also prioritized, with Ethereum's robust features ensuring a safe environment for all users.
Meme Kombat incentivizes long-term token ownership through staking. Once listed on crypto exchanges, token holders can stake MK on intelligent contracts.
The rewards in this dynamic staking process are determined by the number of tokens locked, with greater participation yielding higher returns. Preorder investors are set to enjoy unique Annual Percentage Yields (APYs) courtesy of Meme Kombat.
As Meme Kombat's presale approaches the $1.5 million mark, the crypto community eagerly anticipates the dawn of a new era where memes and money collide in an exhilarating Battle Arena. So, as the Dogecoin price looks to explode, remember to take advantage of the MK pre-sale.
Visit Meme Kombat here and get your MK tokens
Related News
New Crypto Mining Platform – Bitcoin Minetrix
Audited By Coinsult
Decentralized, Secure Cloud Mining
Earn Free Bitcoin Daily
Native Token On Presale Now – BTCMTX
Staking Rewards – Over 100% APY