New Cryptocurrency Releases, Listings and Presales Today – IPMB, Pax Unitas, Baby Meme
This article highlights the newly listed tokens on CMC and other exchanges today. It also analyzes a presale token that investors should keep an eye on.
Newly released crypto assets can offer investors a higher return on investment (ROI). Today, we reviewed various new coins on the market.
BlackRock's announcement of Ethereum ETF plans has triggered a surge in ETH prices, crossing the $2,000 mark and intensifying FOMO around the Bitcoin ETF Token ($BTCETF). Currently trading at $37,400, Bitcoin has bullish momentum, eyeing $40,000 by month-end, while the Bitcoin ETF Token has already amassed $271,000 from eager investors.
As the most significant asset manager, BlackRock's influence resonates across the financial industry. Their move into the spot Bitcoin ETF space is evident, and the recent registration of the iShares Ethereum Trust in Delaware underscores their intention to introduce a spot Ethereum ETF.
New Cryptocurrency Releases, Listings and Presales Today
Nasdaq's recent filing for the iShares Ethereum Trust confirms BlackRock's entry into the Ethereum ETF arena. iShares, the BlackRock ETF brand, is positioned to play a pivotal role in this development.
The crypto community's excitement about spot ETFs, whether for Bitcoin or Ethereum, stems from the sheer potential within the US ETF market, valued at approximately $7 trillion. To put this in perspective, the US equity market is $44 trillion.
While existing crypto ETFs operate in the regulated futures market in the US, the prospect of spot ETFs signals a significant paradigm shift in the crypto investment landscape.
1. IPMB (IPMB)
IPMB, a gold-backed cryptocurrency, aims to streamline gold investment by allowing investors to buy, trade, and hold gold seamlessly on the blockchain through IPMB and its upcoming NFT platform, NFT GeM. Each IPMB Token represents a gram of physical gold securely stored by IPM Ltd in vaults.
The accompanying GeM NFTs, set to launch soon, will signify ownership of specific amounts of gold within the IPMB Ecosystem, such as GeM100 for 100 grams of gold. Notably, these GeMs can be acquired at a discounted rate by staking IPMB tokens.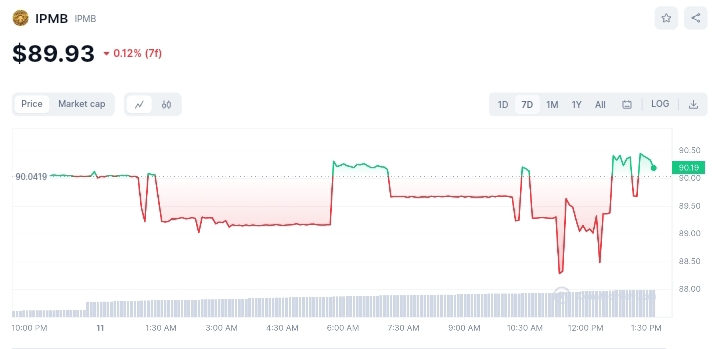 The mission of IPMB appears centered on providing a transparent and secure means for investors to engage with gold on the blockchain, backed by physical reserves.
This unique fusion of blockchain technology and tangible asset backing, coupled with incentives like discounted GeM purchases through staking, may appeal to those seeking a more genuine and secure avenue for cryptocurrency investment.
IPMB is a gold-backed cryptocurrency that seeks to create a seamless process for investors to buy, trade, and hold gold on the blockchain via IPMB and its partnering NFT GeM, which will soon be released. Each IPMB Token in circulation represents a gram of actual gold held by IPM Ltd in secure vaults. GeM NFTs will also mean a set amount of gold in the IPMB Ecosystem, held in vaults. For example, GeM100 represents ownership of 100 grams of gold. GeMs can be bought at a discount rate via the Staking of IPMB tokens. 
⚠️Attention #IPMB Community⚠️

Less than 24 Hours to go until our ounce coin #giveaway ends!

Click below to enter 👇 Time is running out🦁https://t.co/CeL2e1Ifty https://t.co/cSKyj3aJBm

— IPMB (@IpmbOfficial) November 8, 2023
Today's live IPMB price is $90.41, with a 24-hour trading volume of $147,555. IPMB is up 0.42% in the last 24 hours. The current CoinMarketCap ranking is #2862, with a live market cap of unavailable. The circulating supply is unavailable, and there is a maximum supply of 200,000,000 IPMB coins.
2. Pax Unitas (PAXU)
Pax Unitas emerges as a pioneering project poised to reshape the landscape of airdrop marketing, emphasizing trust, security, and user engagement. The coin's mission is distinctly outlined — combating Sybil attacks, fostering genuine user interactions, and introducing innovative solutions to the crypto marketing sector.
The commitment to transparency and user-centricity positions Pax Unitas as a reliable platform for legitimate airdrops, aiming to instil confidence in participants and facilitate effective outreach for projects.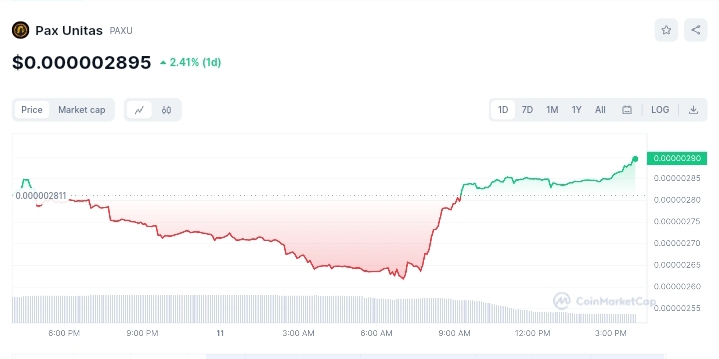 The coin's core values center around peace and unity, seeking to address marketing challenges and actively advocating for a better future. By offering a suite of utilities, including a collateralized airdrop system and a guaranteed whitelist, Pax Unitas addresses the hurdles faced by projects in marketing, utilizing AI and data-driven insights to optimize user targeting and enhance airdrop campaign success rates.
What sets Pax Unitas apart is its broader vision of promoting global peace and harmony, actively engaging in advocacy efforts, particularly addressing the ongoing conflict in Ukraine.
While the coin introduces a comprehensive solution framework to revolutionize crypto marketing, its unique stance on collective action and social impact may resonate with investors looking for a project with a meaningful purpose beyond financial gains.
We have submitted our @CoinMarketCap listing request with an id of 791324.
Our CMC Dexscan link: https://t.co/gXQfU1Q11c#CoinMarketCap

— PAX UNITAS ( STOP THE WAR ) (@PaxUnitas) November 9, 2023
PAX Unitas is a decentralized token created with the noble purpose of advocating for an end to war. As the world grapples with conflicts and divisions, PAX Unitas symbolizes unity, harmony, and the collective desire for a peaceful world.
Today's live Pax Unitas price is $0.000003, with a 24-hour trading volume of $16,552.53. Pax Unitas is down 1.13% in the last 24 hours. The current CoinMarketCap ranking is #4164, with a live market cap of unavailable. The circulating supply is unavailable, and there is a maximum supply of 650,000,000,000 PAXU coins.
3. Baby Meme (BABYMEME) 
Baby Meme Coin is a distinctive project aiming to democratize meme coins, mainly targeting retail investors in economically constrained regions.
Inspired by meme coin concepts, its innovative tax system sets it apart as an evolved player in this category. The recent remarkable overnight surge, showcasing a +1,000% increase on DEX markets, indicates substantial interest, particularly from the Vietnamese crypto community.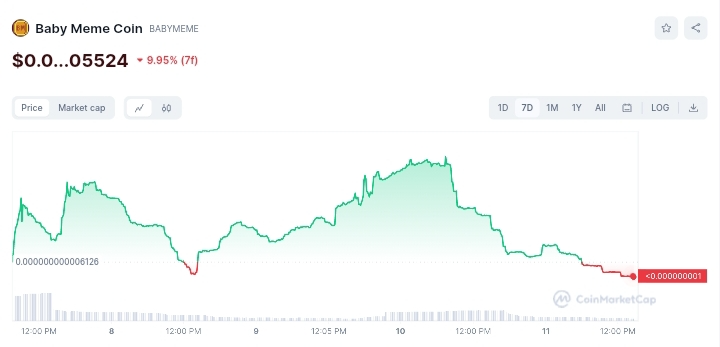 Baby Meme Coin's focus on making meme coins accessible to lower-income individuals, reflected in its surge, suggests a potential avenue for financial inclusion. The strategic decision to launch Binance Smart Chain (BSC) underscores the project's commitment to reducing transaction fees, enhancing its appeal to retail investors in economically constrained regions.
However, as with any investment, prudent consideration of potential risks is crucial. Baby Meme Coin presents an interesting case for those seeking exposure to meme coins with a mission of inclusivity, but careful evaluation remains essential before considering investment participation.
Meme coins inspire Baby Meme Coin. Baby Meme Coin was born to let those who have no chance to own a meme coin have the opportunity to own a Baby Meme Coin. Baby Meme with a smart tax system is an improved version of meme coin,100% meme only.
Today's live Baby Meme Coin price is $0.00000000000571 with a 24-hour trading volume of $57,581.65. Baby Meme Coin is down 30.83% in the last 24 hours. The current CoinMarketCap ranking is #3337, with a live market cap of unavailable. The circulating supply is unavailable, and a maximum supply of 210,000,000,000,000,000 BABYMEME coins.
4. Bitcoin Minetrix (BTCMTX)
Bitcoin Minetrix (BTCMTX) presents itself as a tokenized cloud mining platform that addresses the historical challenges of traditional Bitcoin mining by emphasizing efficiency and user-friendliness. The platform aims to democratize Bitcoin mining, making it accessible to individuals and allowing investors to stake BTCMTX tokens for additional mining credits.
Recognising a significant accomplishment for #BitcoinMinetrix! 🌟

Exceeding the $3,600,000 milestone! pic.twitter.com/jC0RxzqnTu

— Bitcoinminetrix (@bitcoinminetrix) November 7, 2023
Notably, the project tackles concerns related to the reliability of cloud mining and fraud within the industry. With a reputation for reliability, the project prioritizes security and transparency, utilizing user-friendly wallets like MetaMask for seamless token acquisition and staking within the ecosystem.
The advantages include low initial costs, a secure interface, and a straightforward onboarding process. The project's roadmap outlines a forward-thinking approach, including exchange listings, a comprehensive marketing campaign, and the development of desktop and mobile applications.
The team's milestones during the presale period, coupled with the current valuation of BTCMTX at $0.0115 and over $3.7 million in funding, contribute to its appeal. While the roadmap and achievements are promising, potential investors should approach with caution, considering factors like the project's developing nature and the crypto-mining sector's competitive landscape.
Read More
New Crypto Mining Platform – Bitcoin Minetrix
Audited By Coinsult
Decentralized, Secure Cloud Mining
Earn Free Bitcoin Daily
Native Token On Presale Now – BTCMTX
Staking Rewards – Over 100% APY