Next Cryptocurrency to Explode Friday 10 November – Launchpad XYZ, ORDI, Rocket Pool
The last 24 hours have been exciting in the crypto market. Its capitalization reached an impressive $1.4 trillion, marking a 2.23% increase over the past day. It impresses on investors that the next cryptocurrency to explode will be massive.
Over the same period, the total crypto market volume has surged to $95.11 billion, indicating a substantial 85.15% increase. Within the decentralized finance sector, the volume is currently at $9.01 billion, constituting 9.47% of the total crypto market 24-hour volume. Stablecoins maintain a strong presence, with a volume of $83.22 billion, representing 87.50% of the entire crypto market's 24-hour volume.
Bitcoin exhibits a dominance of 51.13%, reflecting a slight decrease of 0.98% over the day. Ethereum, on the other hand, gained more than 9%.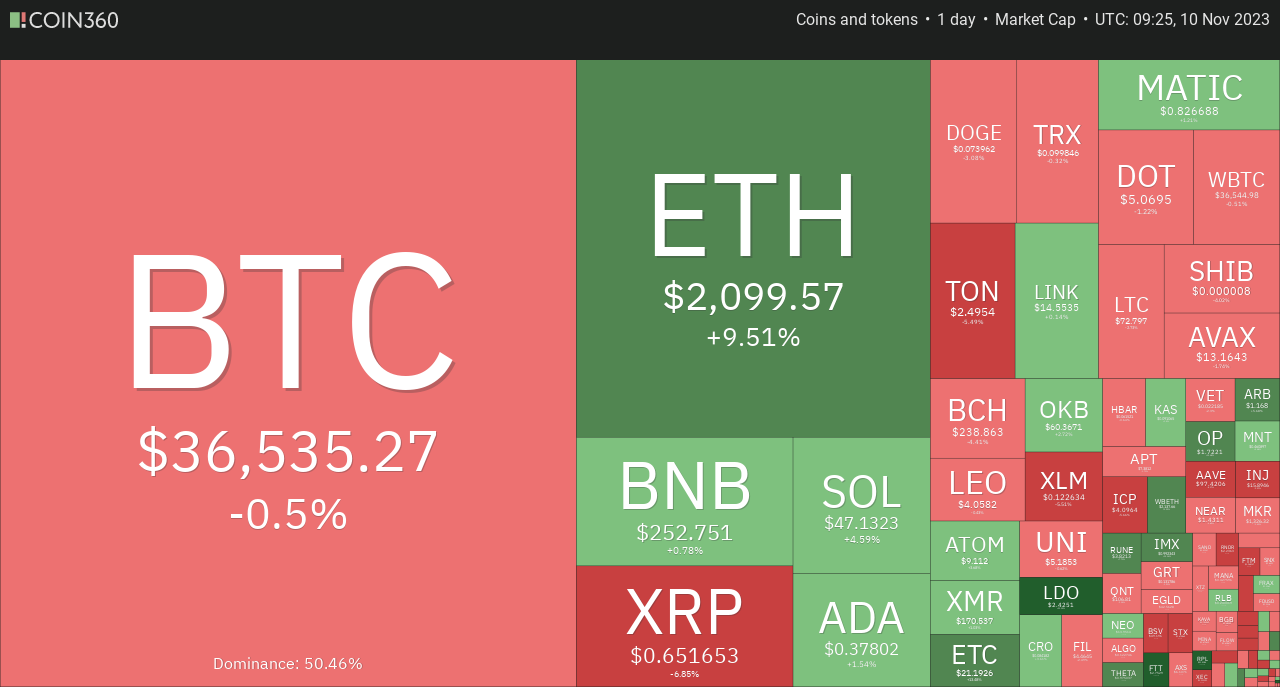 Asian stocks experienced a decline to their lowest point in a week, contributing to a somber market atmosphere on Friday. Concurrently, the Dollar maintained stability as heightened Treasury yields impacted sentiment, prompted by hawkish remarks from US Federal Reserve Chair Jerome Powell. Powell's comments dispelled expectations of an imminent peak in interest rates, intensifying the prevailing cautious sentiment.
As Europe prepares its trading day, futures indicate a notably lower open. Eurostoxx 50 futures demonstrated a 0.73% decrease, German DAX futures dropped by 0.66%, and FTSE futures were 0.78% lower.
Next Cryptocurrency To Explode
The somber market mood persists following statements from US Federal Reserve officials, including Powell, on Thursday. Powell emphasized the uncertainty about whether interest rates are sufficiently high to combat inflation effectively. He affirmed the Fed's commitment to implementing monetary policies with adequate restrictiveness to gradually bring inflation down to the target of 2% over time.
1. ORDI (ORDI)
The ORDI token saw a remarkable 35.06% price surge within 24 hours. It has steadily risen following its listing on the Binance crypto exchange under the "seed" tag, signifying its status as an emerging project. It instantly showed its capacity to be the next cryptocurrency to explode.
In an announcement on Tuesday, Binance emphasized the newness of the ORDI token, acknowledging its elevated risk profile and anticipating potential high price volatility. The exchange urged traders to exercise diligent risk management, conduct thorough research on ORDI's fundamentals, and understand the project comprehensively before engaging in token trading.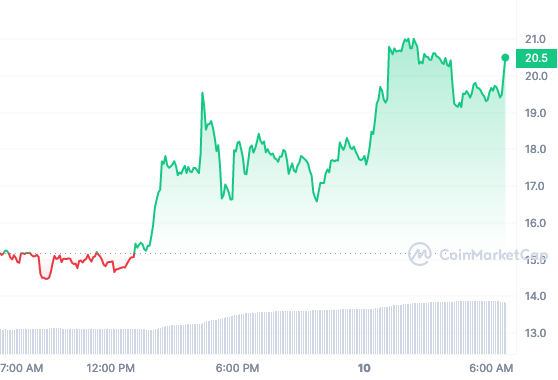 Binance introduced the "Seed Tag" to identify innovative projects that may exhibit increased volatility and risks compared to other listed tokens. ORDI was assigned the Seed Tag, signaling its classification as a project with higher inherent risk.
Market data reveals that ORDI prices surged from the $7 range on Monday to $20.27 at the time of this report. It is accompanied by a substantial increase in trading volumes, reaching $752.46 million over 24 hours.
The Ordinals protocol, introduced in April, enables users to embed data into the Bitcoin blockchain by incorporating references to digital art within small Bitcoin-based transactions. This innovation followed the introduction of the Bitcoin Request for Comment (BRC-20) token standard, facilitating the issuance of transferable tokens directly through the Bitcoin network. Subsequently, this led to the emergence of various digital artwork and meme tokens built on the Bitcoin blockchain in the weeks that followed.
2. Rocket Pool (RPL)
Rocket Pool (RPL) also emerged as one of the top-performing tokens, experiencing a notable surge of over 20% within the last 24 hours. Its aid toward being the next cryptocurrency to explode is based on its staking services.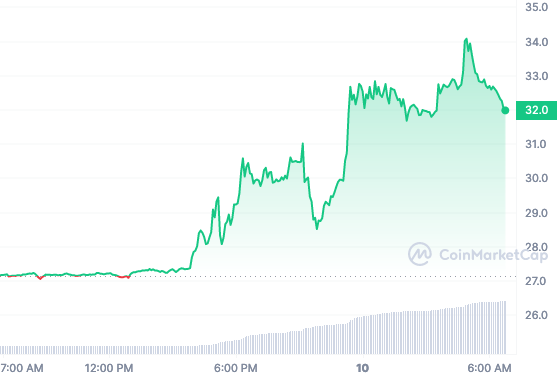 Distinguished as a significant participant in the liquid staking sector, Rocket Pool significantly enables users to engage in decentralized staking. Liquid staking offers the advantage of withdrawing tokens even before the conclusion of the staking period, providing enhanced flexibility for asset holders.
🇹🇷 We've landed in Istanbul, come and say hi!
10th – 11th: @StakingRewards summit
11th: Community meet-up 🛥️
13th – 14th: @ethStaker gathering
14th: @eigenlayer restaking summit
15th: @NethermindEth summit pic.twitter.com/uv5CSQXYfA

— Rocket Pool (@Rocket_Pool) November 10, 2023
The Rocket Pool platform currently boasts an impressive 819,000 ETH staked, equivalent to a valuation exceeding $1.7 billion. Users participating in the platform's staking activities, coupled with node operation, stand to earn an annual percentage rate (APR) exceeding 7%. Alternatively, those solely involved in staking can achieve a 3.12% APR. This robust performance contributes to Rocket Pool's status as a critical player in decentralized finance's dynamic and evolving landscape.
3. Launchpad XYZ (LPX)
Launchpad XYZ aspires to transcend the provision of an AI-driven trading advantage for a broad audience by demystifying the intricacies of cryptocurrency. The startup delivers a unified experience through its comprehensive services, enabling users to access various Web3 offerings such as non-fungible tokens and decentralized finance opportunities.
The development team envisions a platform where the complexities of Web3 are consolidated within a single, user-friendly ecosystem. The proposed in-house decentralized exchange underscores their commitment to streamlined and autonomous trading practices. Integrating a Web3 wallet further empowers users, providing direct control over their digital assets with a focus on security and autonomy.
Beyond facilitating trades, Launchpad XYZ aims to function as an educational hub. The 'Alpha' section will educate users on optimizing their interactions with Web3 technologies and yield-generating opportunities. This initiative reflects the startup's broader mission to enhance the community's proficiency in cryptocurrency dealings.
https://x.com/launchpadlpx/status/1722901968526389701?s=20
The positive response to Launchpad XYZ's crypto presale signals a robust vote of confidence from the market. As the presale progresses, the market capitalization of LPX is anticipated to rise, leading to its listing on Launchpad XYZ's exchange later in the year while it seals its place as the next cryptocurrency to explode.
Visit Launchpad XYZ.
4. Huobi Token (HT)
Huobi Token (HT), the native cryptocurrency of the crypto exchange HTX, has experienced a notable surge in its price, reaching a five-month high of $3.035. This sudden uptick follows a prolonged 12-month downtrend for HT, which struggled to regain momentum after reaching an all-time high of $34.80 in 2021.
A substantial increase in trading volume accompanies Huobi Token's price surge. The token is now ready to start its journey as the next cryptocurrency to explode.
HT's daily trading volume has soared to $33,120,880, marking the highest volume trading day since February. This significant increase in trading activity contrasts sharply with the previous week, during which trading volumes fluctuated between $2 million and $5 million, with HT trading around $2.40.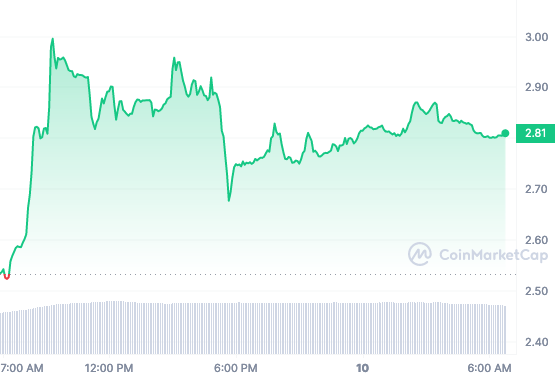 Most of this recent surge in trading activity occurred on the HTX exchange, particularly with the HT/USDT trading pair, which recorded a volume of $26 million in the last 24 hours.
The precise reasons for this surge remain uncertain, with Huobi advisor Justin Sun stating in an interview with a prominent media outlet that he needs to gain knowledge about the cause.
Read More
New Crypto Mining Platform – Bitcoin Minetrix
Audited By Coinsult
Decentralized, Secure Cloud Mining
Earn Free Bitcoin Daily
Native Token On Presale Now – BTCMTX
Staking Rewards – Over 100% APY