Top Trending Crypto Coins on DEXTools – 0x Protocol Token, Bypass, Pond Coin
The crypto market is up, gaining 1.03% over the last 24 hours. The market started Saturday morning in the red zone after a 48-hour winning streak. Several altcoins led the rally, and legacy crypto assets, Bitcoin and Ethereum, rode the waves. The market has now resumed its rally.
While investors look forward to more top-trending cryptocurrencies, there is more impetus for new assets, as reflected on DEXTools. The most trending cryptocurrencies are assessed to give new perspectives.
Meanwhile, U.S. Federal Reserve officials are grappling with the recent surge in bond borrowing rates, which remains perplexing given the unchanged Fed policy expectations. The central issue lies in understanding whether the resurgence of a "term premium," the additional compensation demanded for holding longer-term bonds, contributes to this puzzle.
This problem becomes particularly significant as the emergence of a sustained or more volatile risk premium could impact credit conditions beyond the central bank's intended policy stance, adding complexity to the transmission of policies to the broader economy, especially during a critical period.
Top Trending Crypto Coins on DEXTools
While many economists attribute the rising premium to concerns about escalating public deficits, mounting debts, and continuous bond sales—with little indication of imminent restraint—central banks may be compelled to embark on an uncomfortable path of publicly cautioning their political counterparts. The episode of Britain's sudden budget and debt shock last year and the subsequent actions of the Bank of England could be seen as a precursor to such scenarios.
The critical question is assessing the legitimacy of investors' demand for additional compensation amid fiscal uncertainties. Olivier Blanchard, former Chief Economist of the International Monetary Fund, recently framed concerns about debt sustainability around a straightforward query: whether the interest costs on the debt now surpass economic growth projections—a concept denoted as 'r minus g' in the realm of budget mathematics.
1. 0x Protocol Token (ZRX)
The ZRX token of the 0x Protocol has experienced a notable upward trend in recent months, surging by more than 75% in just two months. It is a top-trending cryptocurrency investors reckon with. The platform's announcement of enabling gasless swaps contributed to the increased attention from investors. At the time of this report, the value of ZRX stood at approximately $0.4004.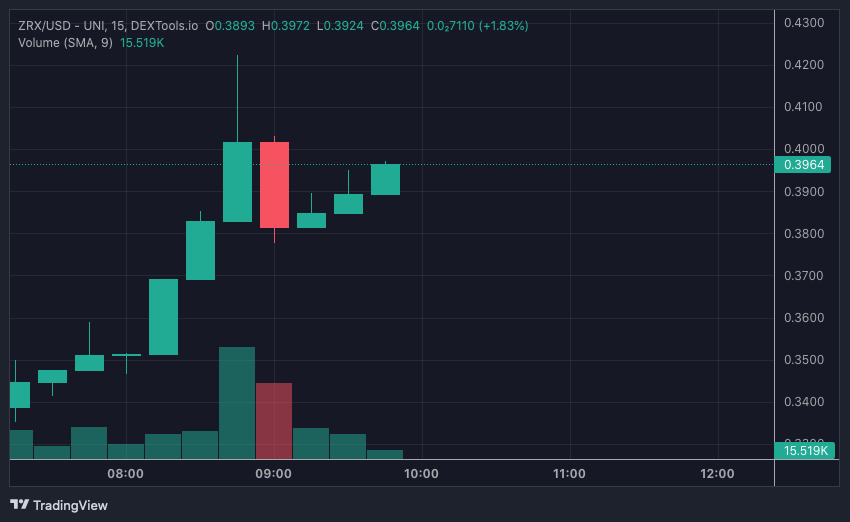 Various price predictions have been made, with CoinCodex forecasting a short-term decline, but that is not likely to happen. DigitalCoinPrice suggested a year-end target of $0.58, while CaptainAltCoin anticipated a December value of $0.2438. PricePrediction.net predicted a trading price of $0.25 in 2023.
Looking ahead, DigitalCoinPrice envisioned a value of $0.95 for 0x Protocol in 2025, while CaptainAltCoin predicted $0.7157. PricePrediction.net anticipated a value of $0.55 in two years.
The 0x Protocol, created by ZeroEx Inc. in 2017 by founders Will Warren and Amir Bandeali, aimed to establish a space where various assets, including cryptocurrencies, fiat currencies, commodities, stocks, and online gaming items, could be tokenized and traded on the blockchain. Initially designed for standardized Ethereum (ETH) trading, the protocol evolved into a decentralized exchange, providing users with independent trading capabilities. The ZRX token supports the 0x Protocol, operating on the Ethereum blockchain.
2. Pond Coin (PNDC)
The current price of Pond Coin (PNDC) stands at $0.00000143, marking an 11.04% increase in the last 24 hours and a 28.36% surge over the past 7 days. Unfortunately, data on the market cap is unavailable today due to unreported circulating supply.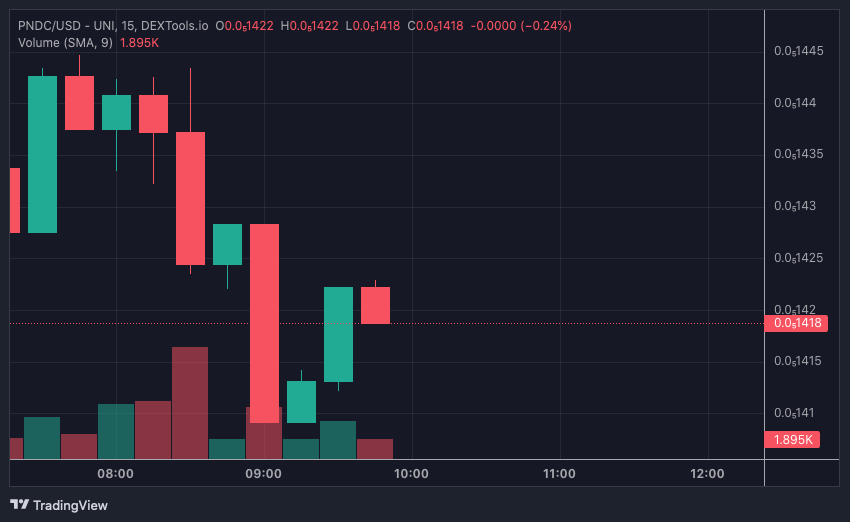 The all-time high for Pond Coin occurred on September 2, 2023, reaching $0.00000297, while the current price reflects a 51.79% decrease from this peak. The all-time low, recorded on August 18, 2023, at $0.000000819212, now sees a 75.04% increase in the current price.
If you earn a 💎 Diamond Boost 💎:

– More $PNDC when you MINE ⛏️

– More $PEPE when you SPAWN 🧪

– More Match Multiplier when you…

🪷 pndETH 🪷

The Pond awaits.https://t.co/jiZ5iLLtYB pic.twitter.com/kNjBGEGlWo

— Pond Coin (@Pond0x) November 10, 2023
Pond Coin is showcasing strong performance compared to its peers, with a 28.40% increase in the last 7 days, outpacing the global cryptocurrency market's 7.20% growth. The sentiment within the community is bullish, as more than 93% of users express positivity about PondCoin today. It is, then, set up to become a top-trending cryptocurrency shortly.
3. Bypass (BYPASS)
The current price of Bypass (BYPASS) is $2.36, reflecting a 6.29% decrease in the last 24 hours and an impressive 281.44% surge over the past 7 days. Unfortunately, data on the market cap is unavailable today due to unreported circulating supply.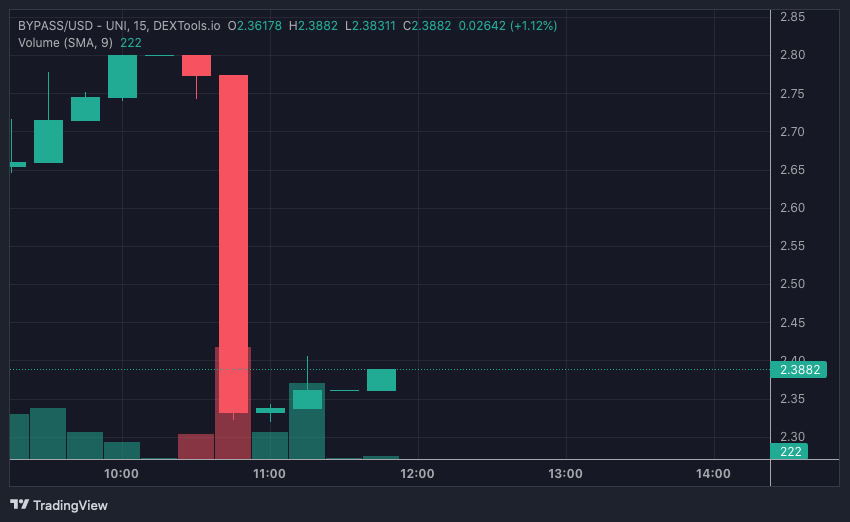 Bypass achieved its all-time high on November 8, 2023, reaching $3.72. The present price represents a 36.29% decrease from this peak. On the flip side, the all-time low of $0.282308 occurred on November 3, 2023, marking a significant 739.71% increase in the current price.
The fully diluted valuation (FDV) of Bypass (BYPASS) stands at $2.37 million, portraying the maximum market cap based on the assumption that all 1 million BYPASS tokens are circulating today. The realization of FDV might take multiple years based on the token emission schedule.
$20,000 (10 ETH) Added To Liquidity!

During the past couple days team has bought back $BYPASS tokens constantly.

We have used these tokens to add 10 ETH LP.

This is done to increase the projects stability and balance as we are moving forward.

TX Hash:https://t.co/e0JpsKRS9J pic.twitter.com/wgyNzd5SCD

— Bypass 🌐 Unlock Total Privacy (@BypassERC20) November 10, 2023
Compared to its peers, Bypass has demonstrated exceptional performance with a remarkable 280.60% increase in the last 7 days, surpassing the global cryptocurrency market's 7.20% growth and similar Ethereum Ecosystem cryptocurrencies, up 12.70%. Notwithstanding the asset's current price, sentiment within the community is predominantly bullish, with more than 55% of users expressing positivity about Bypass (BYPASS) today. Traders are confident in BYPASS's ability to be sustained among the most trending coins.
What Might Be The Next Top Trending Crypto?
The Bitcoin Mintrix (BTCMTX) isn't merely another cryptocurrency; it's a forward-looking project for Bitcoin mining. It offers its community a chance to benefit from these significant developments in the cryptocurrency world.
Presenting the revolutionary #BitcoinMinetrix System!

Discovering effortless #Bitcoin extraction using the cutting-edge $BTCMTX #Token. 🔥

Experiencing crystal-clear mining with #BTCMTX.#Blockchain #CryptoMining pic.twitter.com/2pTMfgDbT1

— Bitcoinminetrix (@bitcoinminetrix) November 11, 2023
Similarly, whether or not you're involved in Bitcoin mining, Bitcoin Minetrix is a promising investment with considerable market impact. Having already secured over $3.7 million and achieved notable success in its presale, Bitcoin Minetrix aims to revolutionize Bitcoin cloud mining through a smart contract-powered stake-to-mine mechanism.
The project team leverages the advantages of cloud mining, granting regular individuals access to the capabilities of significant mining operations. They enhance security and control by integrating staking, a method well-known to many crypto enthusiasts.
Here's a simple breakdown of how it works: when you stake the BTCMTX token in an Ethereum-powered smart contract, it serves as your gateway to Bitcoin cloud mining. You purchase and stake BTCMTX tokens to earn cloud mining credits, providing access to hash power.
By tokenizing the entire process of acquiring hash power, Bitcoin Minetrix ensures complete control over your funds. You can conveniently withdraw or sell your BTCMTX tokens at your discretion, offering flexibility.
As you stake your BTCMTX, it consistently generates mining credits over time. These credits can be utilized to acquire Bitcoin cloud mining power, and the more credits you use, the greater the Bitcoin earnings through cloud mining.
Visit Bitcoin Minetrix.
Read More
New Crypto Mining Platform – Bitcoin Minetrix
Audited By Coinsult
Decentralized, Secure Cloud Mining
Earn Free Bitcoin Daily
Native Token On Presale Now – BTCMTX
Staking Rewards – Over 100% APY