New Cryptocurrency Releases, Listings and Presales Today – R-DEE Protocol, Shrapnel, X AI
Each day, InsideBitcoins covers the latest new cryptocurrency listings on CoinMarketCap, including CEX and DEX tokens and presale projects.
The Securities and Exchange Commission (SEC) finds itself in a time crunch, with an eight-day window commencing on Thursday, to potentially greenlight all 12 spot Bitcoin (BTC) exchange-traded fund (ETF) applications slated for this year.
As we observe Bitcoin trading slightly higher, maintaining its position above the $35,000 threshold, we await the culmination of comment periods for seven applicants, concluding today. This sets the stage for the SEC to issue approval orders from Thursday, November 9, through November 17.
New Cryptocurrency Releases, Listings and Presales Today
Notably, this marks the first approval opportunity following Grayscale's legal triumph on October 23, securing the conversion of its $17 billion Grayscale Bitcoin Trust (GBTC) into a spot ETF.
While three applicants, Hashdex, Franklin, and Global X, could have separate comment periods, should the SEC choose to delay their consideration, they might grant approvals for the initial nine submissions. These include industry players like BlackRock, Grayscale, 21Shares, Ark, Bitwise, VanEck, Wisdomtree, Invesco, Galaxy, Fidelity, and Valkyrie.
This timeline holds substantial significance in the cryptocurrency market, and market participants closely monitor the SEC's decisions in this critical period.
1. R-DEE Protocol (RDGX) 
R-DEE Protocol Token (RDGX) emerges as a promising blockchain solution tailored exclusively for the global healthcare sector, underpinned by a distinctive blend of private Proof of Authority (PoA) and permissioned Proof of Stake (PoS) consensus on a custom Quorum-based/QBFT infrastructure.
At the heart of the Radiologic ecosystem, RDGX aspires to revolutionize healthcare technology by redefining healthcare data management, sharing, and security. Combining PoA and PoS, its dual-consensus mechanism ensures swift data processing and resilience and prioritizes trust and safety, which are crucial in healthcare IT.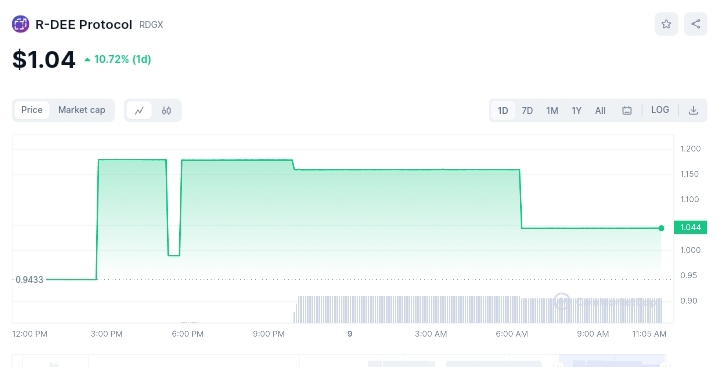 Authlogex™, the protocol's backbone, integrates KYC procedures and cutting-edge biometric identification, fostering unparalleled trust and data authenticity. Moreover, RDGX introduces Healthcare Digital IDs (HD-ID), enabling real-time verification, cross-border data portability, and robust Personal Health Information (PHI) anonymization.
While the concept is intriguing, investors should exercise caution as they evaluate the coin's potential. The healthcare sector's unique requirements and regulatory challenges may pose significant hurdles, making thorough research and consideration essential before considering RDGX as an investment.
Let us enlighten you on how we use the best technology to safeguard your data, plus it's benefits.#blockchain #Radiologex #digitalhealth pic.twitter.com/uaR8qO63Gf

— Radiologex (@radiologex) November 6, 2023
R-DEE excels in security, speed, and healthcare IT integration. Its advanced cryptographic security rooted in blockchain offers unmatched trust and efficient workflows. Its distinctive technology adheres to strict privacy standards, overseeing all communications and data exchanges. Globally adaptable, R-DEE integrates effortlessly with existing healthcare IT systems. Born from the minds of healthcare IT and web3 experts, R-DEE innovatively addresses persistent industry issues, elevating care quality while drastically saving time and expenses. 
Today's live R-DEE Protocol price is $1.04, with a 24-hour trading volume of $9,440.74. R-DEE Protocol is up 10.72% in the last 24 hours. The current CoinMarketCap ranking is #4377, with a live market cap of unavailable. The circulating supply is unavailable, and there is a maximum supply of 1,000,000,000 RDGX coins.
2. Shrapnel (SHRAP)
SHRAP, the native token of Shrapnel, is at the forefront of the convergence between gaming and blockchain technology. Developed by a team of industry experts with remarkable accolades in the gaming and entertainment realm, Shrapnel presents a first-person extraction shooter game that promises competitive and intense gameplay.
The backdrop of a post-apocalyptic world with valuable meteorites sets the stage for a high-stakes treasure hunt, where players aim to collect mysterious meteorite substances amidst military combat challenges. The game's progression system offers long-term goals and rewards for player characters, making it an engaging and immersive experience.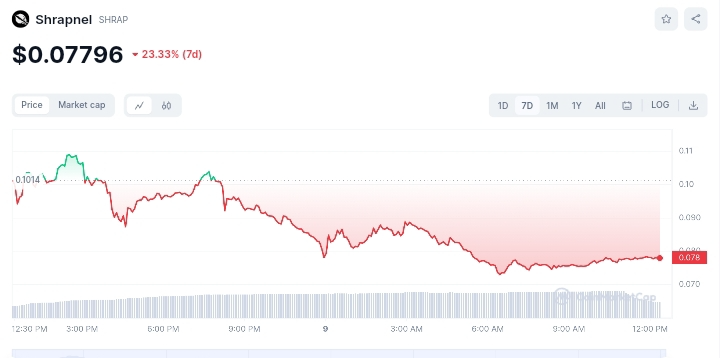 Bitget's listing of SHRAP signifies the exchange's commitment to exploring the potential of blockchain in the gaming industry. However, potential investors should approach this cautiously, recognizing the competitive nature of the gaming sector and the need for further evaluation of Shrapnel's adoption and community participation before considering it as an investment opportunity.
The SHRAPNEL team comprises industry experts from AAA games and blockchain projects. We are designers, producers, artists, and programmers at the nexus of games, television, movies, and graphic novels. Collectively, we've produced some of the biggest game franchises in the world (Bioshock, Ghost of Tsushima, Halo Remastered, Red Faction Guerilla, Star Wars, Harry Potter, and more). The team leadership has won Emmys and BAFTAs for their previous work, and SHRAPNEL has already won six industry awards.
Get ready to drop into Shrapnel…
…STX stream starts in 30mins.

We are excited to tell US customers that they have access to all of the features of the Shrapnel ecosystem.

Tune into the stream if you have more questions! https://t.co/K1PrbRPiAM pic.twitter.com/Obdmi3KO8W

— SHRAPNEL 🔺 (@playSHRAPNEL) November 8, 2023
Today's live Shrapnel price is $0.077694 with a 24-hour trading volume of $11,597,563. Shrapnel is down 23.59% in the last 24 hours. The current CoinMarketCap ranking is #2167, with a live market cap of unavailable. The circulating supply is unavailable, and there is a maximum supply of 3,000,000,000 SHRAP coins.
3. X AI (GROK)
X AI ($GROK) presents an intriguing fusion of artificial intelligence and blockchain technology to redefine the NFT landscape. By harnessing AI and machine learning, it generates unique digital assets that can be tokenized as NFTs. Notably, this innovative approach allows for the creating of highly intricate and exclusive digital content, which holds significant allure for collectors and investors.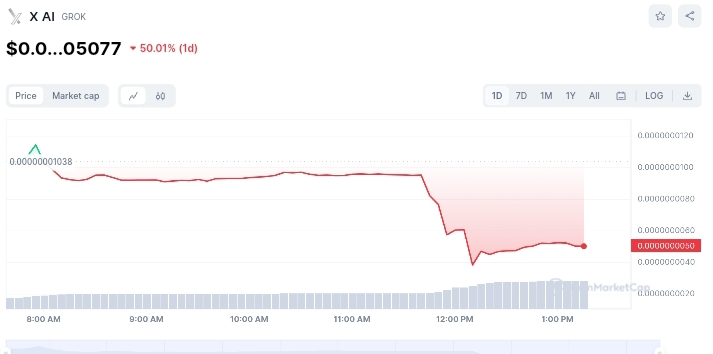 Beyond NFTs, GROK ventures into the DeFi market, offering diverse and distinctive DeFi solutions. The utility token, GROK, unlocks access to various AI tools and products, including the XAI AI marketplace and the GROK – XAI Data Lab, facilitating innovation in the AI and blockchain sectors.
While this venture exhibits excellent potential, potential investors should approach it with caution and conduct thorough research, considering the competitiveness of the NFT and DeFi markets and the adoption and community engagement before considering it as an investment opportunity.
X AI ($Grok) has attained over 1,000 holders in just a few hours!#X #AI #Grok pic.twitter.com/e5FKJFT8qV

— XAI (@Grok_gd) November 7, 2023
Today's live X AI price is $0.00000000505 with a 24-hour trading volume of $100,117. X AI is down 50.30% in the last 24 hours. The current CoinMarketCap ranking is #3040, with a live market cap of unavailable. The circulating supply is unavailable, and a maximum supply of 100,000,000,000,000 GROK coins.
4. LaunchpadXYZ (LPX)
Launchpad XYZ is positioned as a promising AI-powered Web3 platform that seeks to enhance trading strategies and demystify the complexities of the cryptocurrency space. It has garnered investor attention by raising nearly $2 million in its crypto presale.
Embrace the Web3 lifestyle with #LaunchpadXYZ

Learn how to conquer the markets before the next #BullMarket 💪#Crypto #Web3 #Altcoins #Trading pic.twitter.com/aHE8lKml4c

— Launchpad.xyz (@launchpadlpx) November 7, 2023
The startup's ambition extends beyond trading, aiming to provide a unified ecosystem where users can access various Web3 services, including NFTs and DeFi opportunities. It strongly emphasizes user autonomy and security through its in-house decentralized exchange and web3 wallet integration.
Launchpad XYZ's commitment to education via its 'Alpha' section also demonstrates its mission to empower the community with cryptocurrency knowledge.
While these initiatives showcase promise, potential investors should exercise caution, recognizing the competitive nature of the crypto space and the need for comprehensive research and community engagement before considering it as an investment opportunity.
Read More
New Crypto Mining Platform – Bitcoin Minetrix
Audited By Coinsult
Decentralized, Secure Cloud Mining
Earn Free Bitcoin Daily
Native Token On Presale Now – BTCMTX
Staking Rewards – Over 100% APY