Bitcoin Price Prediction: All Eyes On Possible BTC ETF Approvals This Week As This Bitcoin Cloud Mining Platform Rockets Toward $4 Million In Presale
The Bitcoin price is up around 5% in the last seven days, and BTC is selling for $37,100 at 7:30 AM EST.
It powers on as all eyes remain focused on whether the US Securities and Exchange Commission (SEC) will approve about a dozen applications to launch spot Bitcoin ETFs (exchange-traded funds) this week.
This comes after Bloomberg Intelligence ETF analyst James Seyffart indicated that the SEC could approve spot Bitcoin exchange-traded funds (ETFs) by November 17.
JUST IN: 🇺🇸 Bloomberg analysts say a "brief window" opens tomorrow for SEC to potentially approve spot #Bitcoin ETFs, and it will be open for at least 8 days. pic.twitter.com/CfDXylvd8v

— Bitcoin Magazine (@BitcoinMagazine) November 8, 2023
If approval comes, the $40,000 or $50,000 psychological levels may not be pipe dreams after all.
In the latest development, another ETF specialist, Nate Geraci, reiterated what Seyffart had said. He notes that the financial regulator could batch the approvals to avoid "being perceived as playing kingmaker in what will eventually be an extremely high stakes and absurdly competitive market."
Spot bitcoin ETF approval *could* come this week…

Here's my attempt to briefly summarize the situation that @JSeyff was all over.

h/t @SGJohnsson pic.twitter.com/whAAiHxwaZ

— Nate Geraci (@NateGeraci) November 13, 2023
SEC May Approve All Spot Bitcoin ETFs Together
Geraci is the president at ETFStore, host at ETF Prime, and co-founder at ETF Institute, according to credentials indicated on his Crypto X profile. He underscored Seyffart's recent assertions in a November 13 post on X. In his opinion, the financial regulator could issue 19b-4 approval orders with the consensus of batch approval.
Geraci opines that the issuance of 19b-4 approval orders in the eight-day window indicated by Seyffart would "keep the commission in the path towards batching up all existing spot Bitcoin ETF filings to launch at the same time."
With the window closing on November 17, there may be a decision on spot Bitcoin ETFs within just four days out.
Btw, another factor to consider here is potential government shutdown later this week…

— Nate Geraci (@NateGeraci) November 13, 2023
Bitcoin Price Prognosis
BTC is massively overbought, indicated by the position of the Relative Strength Index (RSI) above 70, at 79. Nevertheless, the upside potential remains alive and will remain so unless the RSI crosses below the 70 level to the downside.
Until then, perpetual traders who have taken long positions for BTC should consider keeping them open as the price of Bitcoin could still rise.
The Awesome Oscillator (AO) also supports the bullish outlook, flashing volumes of green histogram bars in the positive territory. This shows the bulls are leading the market. Increased buying pressure above current levels could see BTC shatter the range high of $37,972, potentially heading to the $40,000 psychological level.
In a highly bullish case, the gains could extrapolate to test the $50,000 psychological level. Such a move would constitute a 35% climb above current levels.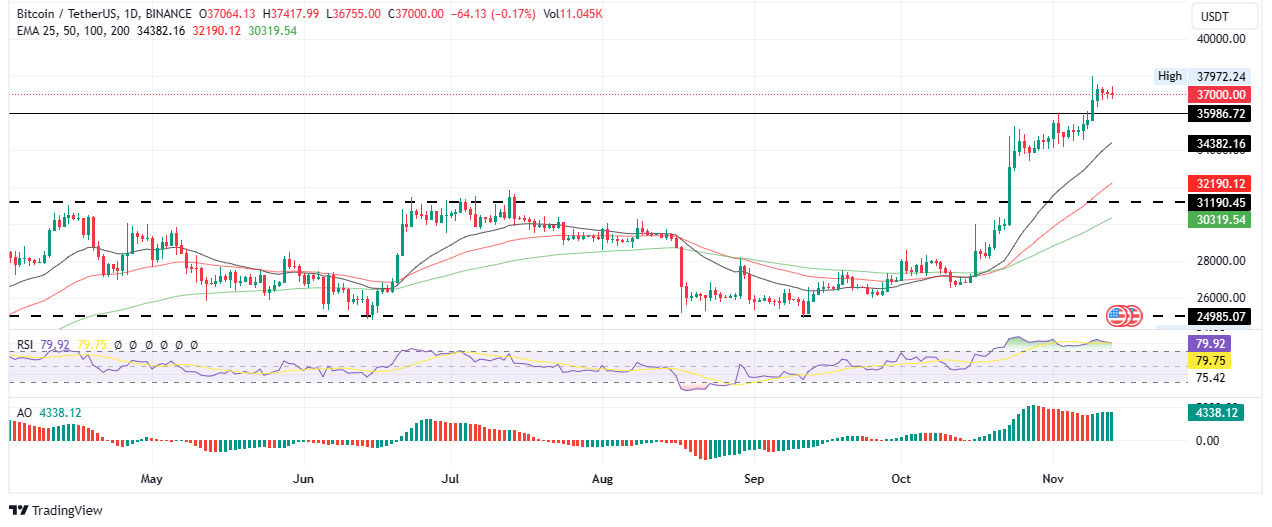 On the flip side, if profit-taking commences, Bitcoin price could pull south with the likelihood of breaking below the $35,986 support level. Below this level, the 25- and 50-day Exponential Moving Averages (EMAs) are likely turnaround points for BTC at $34,376 and $32,187 levels respectively.
If the two EMAs fail to hold as support levels, Bitcoin price could spiral lower to lose the critical support at $31,190. A break and close below this level would invalidate the bullish thesis, streamlining the downtrend past the 100-day EMA at $30,317, with the $28,000 psychological level in sight.
Meanwhile, Bitcoin Minetrix, a BTC cloud-mining platform, is rocketing toward the $4 million threshold, with $3.9 million already in the bag. Experts say it has the potential for 10X growth upon launch, with the steam growing ahead of spot BTC ETF approval.
The Bitcoin Alternative To Buy
While Bitcoin pushes towards $40,000 and $50,000 in highly ambitious cases, investors are looking to BTCMTX. The token is among the top five cryptos to buy now.
The project's hallmark is to simplify BTC ownership for everyone. With this in mind, the project has decentralized and tokenized Bitcoin mining. Happening on the cloud, no intermediaries are required. Further, hassles relating to hardware cost, heat, space, and noise have been removed. This explains why traders are flocking to the website to buy BTCMTX.
Considering cloud mining #BTC with #BitcoinMinetrix? ⛏️

1️⃣ Easy entry for all, no technical know-how required.
2️⃣ Cost-effective mining without hardware expenses.
3️⃣ Say goodbye to space, noise, and heat concerns.
4️⃣ No worries about hardware resale challenges. pic.twitter.com/MJ2Cxuy2UI

— Bitcoinminetrix (@bitcoinminetrix) November 12, 2023
BTCMTX is selling for $0.0116 in the presale stage (seven), a price tag that will hold for the next three days before another hike.
#BitcoinMinetrix Stage 7 has started! 🔥 pic.twitter.com/xAEHpwLeiw

— Bitcoinminetrix (@bitcoinminetrix) November 12, 2023
Visit the Bitcoin Minetrix website here to buy BTCMTX in the presale.
Also Read:
New Crypto Mining Platform – Bitcoin Minetrix
Audited By Coinsult
Decentralized, Secure Cloud Mining
Earn Free Bitcoin Daily
Native Token On Presale Now – BTCMTX
Staking Rewards – Over 100% APY