Sponge Price Prediction: $SPONGE Soars 250% In A Week As Investors Rush To These Two Meme Coin Competitors Amid FOMO Frenzy
The Sponge price is up 250% in the last seven days and is trading at $0.0003978 on the Poloniex exchange at 10:50 am EST. Trading volume for the token is up almost 40% in the past 24 hours, with the cryptocurrency showing massive volatility over the past few weeks.
💹 Daily Top Gainers From https://t.co/x3toxzqASH #XT #Crypto
📅 Nov 14, 2023

🚀 #POL/USDT +90.00%
🚀 #PEPEBRC/USDT +34.81%
🚀 #MEMECOIN/USDT +29.40%
🚀 #MUSE/USDT +28.81%
🚀 #SPONGE/USDT +26.68%

👉 Trade on https://t.co/v1Reqdf5H5 pic.twitter.com/UaqWzVEUdM

— XT.com Exchange (@XTexchange) November 14, 2023
Gate.io exchange has also featured SPONGE among its top gainers, bolstering the merit as the token continues to show bullish momentum.
🔥 https://t.co/8kWqgEeplL Top 5 Daily Gainers

Date: November 14th

Price Gains 🚀
🥇 #JPG +913.68%
🥈 #CHAPZ +187.48%
🥉 #IOI +83.57%
4️⃣ #MEME +49.36%
5️⃣ #SPONGE +48.62%

🤔 Which #cryptocoins do you think will be on the Top Gainers list next? pic.twitter.com/C0UkQyfHhX

— Gate.io (@gate_io) November 14, 2023
The bullishness for SPONGE comes on the back of strong project fundamentals.
Sponge Meme Coin, Drawing Inspiration From SpongeBob
Sponge is a unique meme coin inspired by the popular cartoon SpongeBob Square Pants.
With a strong community orientation, SPONGE is committed to growing its market capitalization to $1 billion. There are plans to draw in at least 100,000 SPONGE holders while securing listings on tier-one exchanges.
Sponge Price Forecast
SPONGE is overbought, indicated by the position of the Relative Strength Index (RSI) at 89. It points to buyer exhaustion and explains why the RSI is dropping as momentum falls. This pullback could see the SPONGE price drop further to potentially test the $0.0004 psychological level.
Meanwhile, the Parabolic Stop and Reverse (SAR) indicator shows that the Sponge price's upside potential remains alive. Whenever this indicator trails the price from below, it is usually a bullish sign, with the asset's price enjoying additional support.
As the bulls look to rejuvenate, a reentry by sidelined or late investors could steer the SPONGE price north, shattering the $0.0006 psychological level. In a highly bullish case, the gains could extend for the altcoin to clear the range high of $0.0006865 to test the $0.0007000 psychological level. Such a move would constitute a 45% climb above current levels.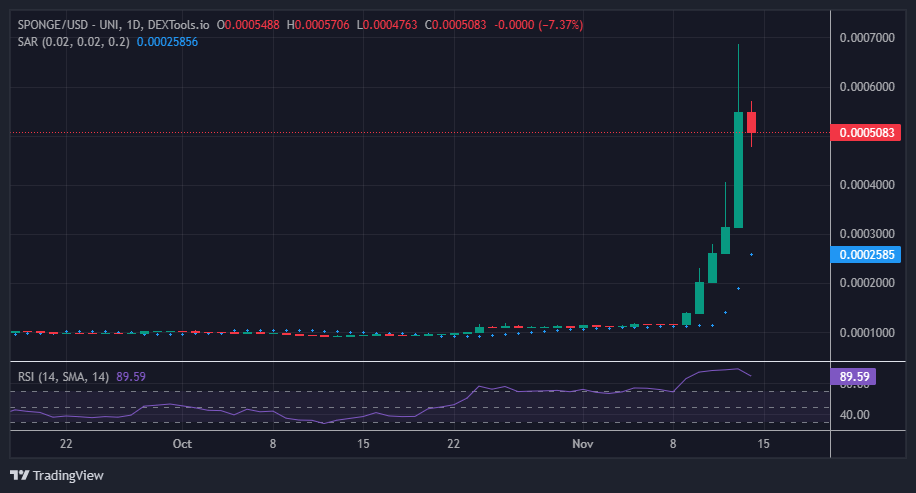 While the SPONGE meme coin pumps hard, attention is also shifting to MK and WSM, two meme coins that have taken the industry by storm. The two tokens feature among the top five crypto presales to buy in 2023.
Promising Alternatives To SPONGE
MK
MK is the ticker for the Meme Kombat ecosystem, with the token selling for $0.189 in the current stage. So far, presale sales have reached $1.660 million out of the $2 million target. This price will only be on the tags for the next two days before another hike.
Meme Kombat just blasted past $1.6 million raised in presale🚂

There's no stopping it! pic.twitter.com/QM7dSxgsUd

— Meme Kombat (@Meme_Kombat) November 13, 2023
MK token holders can already use the project's staking function, with Annual Percentage Yields (APY) as high as 749% as of the press time.
📣 Major Update 📣

The Meme Kombat Staking Dashboard is officially live and ready to be used by you!

Take a break from Kombat and visit the staking dashboard here: https://t.co/nNFEYESjPs pic.twitter.com/yswl0esb4G

— Meme Kombat (@Meme_Kombat) November 9, 2023
As the fastest-growing stake-to-earn project, Meme Kombat boasts up to 1,450 stakers, with 52% of the entire supply already staked.
Hands up if you have already staked your $MK 🙋 pic.twitter.com/Xx3Hulj9eV

— Meme Kombat (@Meme_Kombat) November 12, 2023
Specifically, this is up to 5,259,922 MK tokens. Rewards paid have reached 333,015.

The project allows participants to participate in battles at the arena, represented by meme characters of their choice. Your character selection could either be inspired by the gaming odds or by going for your favorite meme character.
If $GROK had to fight in Kombat, who would beat it?

Also, what form would Grok take when fighting? pic.twitter.com/Rsi9h8eoRD

— Meme Kombat (@Meme_Kombat) November 8, 2023
MK is easily the hottest new stake to earn gaming meme crypto presale. You will miss a lot if you wait until the MK token goes live on exchanges before buying.
Visit Meme Kombat to buy MK in the presale here.
WSM
On the other hand, WSM powers the Wall Street Memes ecosystem, a project committed to breaking down the monopoly on Wall Street.
Is a millionaire considered middle class? pic.twitter.com/hVnTyHXE0N

— Wall Street Memes (@wallstmemes) November 13, 2023
The project has a very immersive community across various social platforms. These have played a key role in steering the project's roadmap to the latest milestone, the launch of a casino.
The project launched on tier-one exchanges in September after achieving the $25 million target in presale sales. It is arguably the biggest meme coin presale of 2023, but Meme Kombat is putting up formidable competition.
Investors looking to buy WSM tokens can do so now on exchanges for just $0.022 in KuCoin, with MEXC, Gate.io, and other exchanges also listing the meme coin.
Visit Wall Street Memes here.
Also Read:
New Crypto Mining Platform – Bitcoin Minetrix
Audited By Coinsult
Decentralized, Secure Cloud Mining
Earn Free Bitcoin Daily
Native Token On Presale Now – BTCMTX
Staking Rewards – Over 100% APY