Storj Crypto Price Pump While New Bitcoin Mining Token Raises Nearly $4 Million In Presale
Storj has recently shown strong potential, with a clear upward trend over the past seven days, resulting in a significant 55.31% increase. This surge raises the question of whether it presents a favorable investment opportunity.
Looking at the preceding month, the price of $STORJ has surged by 72.32%, suggesting that it could evolve into a stable asset if this growth trend persists. This decentralized cloud storage platform has attracted considerable attention since its inception, offering a more secure and cost-effective method for data storage.
It utilizes a decentralized network of nodes to host user data, ensuring enhanced security through advanced encryption measures. Storj was initially introduced as a concept in a white paper published in December 2014, aiming to establish a decentralized, peer-to-peer encrypted cloud storage platform.
Subsequently, an updated white paper was released two years later, outlining the creation of a decentralized network connecting users in need of cloud storage with those willing to provide hard drive space for sale.
The platform was officially launched in late 2018, allowing individuals with available hard drive space and reliable internet connectivity to participate as nodes in the network. These space providers are rewarded with Storj tokens for their contributions.
STORJ Crypto Price Prediction
As of today, November 14th, Storj is valued at $0.67, with a 24-hour trading volume of $322.28 million and a market cap of $267.06 million. Over the past 24 hours, the $STORJ price has experienced a slight decline of 3.31%.
The highest recorded price for Storj was on Mar 28, 2021, reaching an all-time high of $3.86. The Relative Strength Index (RSI) currently stands at 72.44, signaling that the $STORJ market is in an overbought position.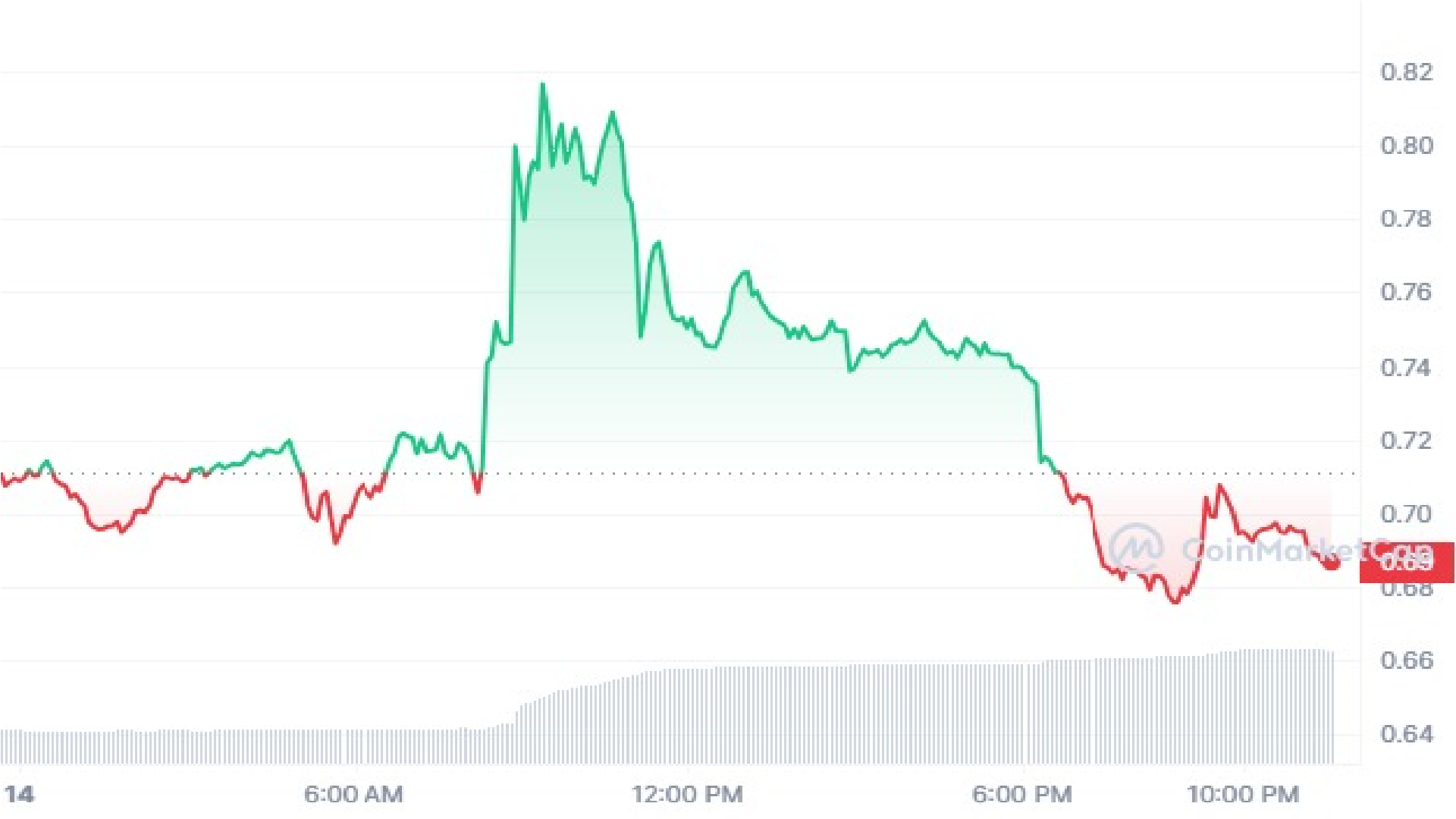 Considering the optimistic market sentiment, Storj has the potential to witness an increase to $0.80 by the end of 2023. Supported by strong fundamentals and community backing, there is a possibility for Storj to achieve a maximum price of $1.5 in 2024.
For an in-depth Storj price analysis, watch the video above and subscribe to his YouTube channel for more crypto-related content. Jacob Crypto Bury also runs a Discord server with 17,000 members, where users can get trading tips and learn about upcoming crypto presales.
Bitcoin Minetrix Offers a Secure and Accessible Way to Mine Bitcoin, Positioning Itself as a Viable Storj Alternative
Storj has attracted significant attention in the cryptocurrency sector because of its engaged and active crypto community, coupled with practical use cases. We anticipate a promising future for the $STORJ coin. While $STORJ presents a solid investment, those seeking a high-potential altcoin might want to explore Bitcoin Minetrix (BTCMTX).
Many crypto analysts believe it holds substantial upside potential for the upcoming bull run. This new crypto project introduces a tokenized cloud mining platform, making Bitcoin mining more accessible.
The platform prioritizes transparency, security, and trust through decentralization, drawing in a considerable number of investors during the presale. Historically, the average person has faced financial barriers when attempting to engage in traditional Bitcoin mining.
However, with this platform and its associated token, anyone interested in mining the leading cryptocurrency can now participate. This project introduces $BTCMTX staking on Ethereum as an alternative to BTC mining, gaining significant attention from investors.
The platform offers a secure, user-friendly interface, affordable startup costs, and a straightforward onboarding process. The steps involve acquiring tokens, choosing the buy-and-stake option, and receiving Bitcoin payouts. Bitcoin Minetrix has become a prominent topic in crypto discussions, generating significant interest.
The presale for Bitcoin Minetrix's $BTCMTX token has garnered over $3.9 million in funding, currently priced at $0.0116. With only two days left in the current presale phase, now is the best time to get involved with this innovative project.
Who's ready for the next #BitcoinHalving in April 2024?

Block rewards will be dropping from 6.25 BTC to 3.125 BTC. 🔄

What are your thoughts on this upcoming event? 🤔#BitcoinMinetrix is also celebrating another crucial achievement, exceeding the $3,800,000 milestone. 🚀 pic.twitter.com/au2SXuZSyY

— Bitcoinminetrix (@bitcoinminetrix) November 13, 2023
Bitcoin Minetrix is currently focusing on securing post-launch exchange listings. The team aims to list $BTCMTX on prominent centralized exchanges (CEXs) and decentralized exchanges (DEXs). The aspiration is for $BTCMTX to become more widely available to crypto investors globally through these top-tier exchange listings.
Additionally, an exciting Gleam competition is ongoing, offering a 'minedrop' prize pool of $30,000. Participants stand the opportunity to claim one of ten rewards, amounting to a total of $10,000.
To be eligible for this competition, individuals simply need to complete specific tasks, such as engaging with and following the project's social media channel like Twitter.
Bitcoin Minetrix stands out as a highly promising token in the market, due to its remarkable use case. It not only broadens mining accessibility but also has the potential to revitalize the entire market. Take part in the $BTCMTX token presale at bitcoinminetrix.com.
Related
New Crypto Mining Platform – Bitcoin Minetrix
Audited By Coinsult
Decentralized, Secure Cloud Mining
Earn Free Bitcoin Daily
Native Token On Presale Now – BTCMTX
Staking Rewards – Over 100% APY