Best Crypto to Buy Now November 14 – Mantle, Kaspa, OKB
Each day, we review some picks for the best cryptos to buy now based on the latest market movements, blockchain news, and trending narratives.
The total crypto market capitalization is $1.40 trillion, reflecting a 1.70% intraday decline. Nonetheless, the crypto market volume has surged by a notable 15.45% to $283.96 billion within the same timeframe.
Looking closely at Bitcoin, its price is $36,301, with a recorded 1.62% loss in the last 24 hours. Bitcoin's dominance has witnessed a slight uptick of 0.03% during this period, reaching a current level of 50.81%.
Best Crypto to Buy Now
This data offers a perspective on recent market dynamics, allowing for an informed examination of fluctuations in market cap, trading volume, and individual asset performance.
1. Mantle (MNT)
The current market analysis of Mantle (MNT) reveals a trading value of $0.456272, marking a marginal 0.16% intraday increase. The coin's 24-hour trading volume is $96.44M, contributing to a market capitalization of $1.42B, with a market dominance of 0.10%. Over the past 30 days, Mantle has experienced 19 positive trading days, constituting 63% of the observed period.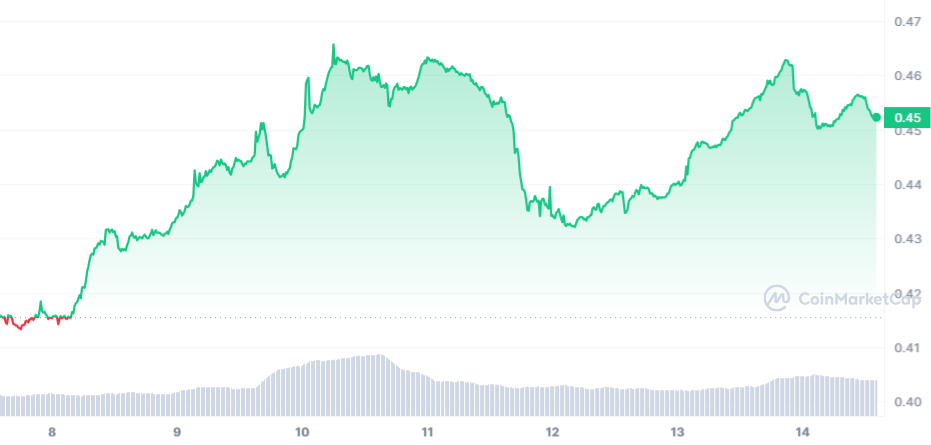 Notably, Mantle is trading close to its cycle high, reaching its peak price of $0.600249 on July 20, 2023. The lowest price since its all-time high (ATH) was recorded at $0.307707, indicating a cycle low. Subsequently, the highest post-cycle low reached $0.466733.
Moreover, Mantle's circulating supply stands at 3.11B MNT out of a maximum supply of 6.22B, illustrating a stable supply. The project positions itself as a layer-two platform, focusing on delivering a user-friendly smart contract platform to enhance possibilities within the Web3 landscape.
The Fear & Greed Index, standing at 69 (Greed), reflects the current market sentiment. The liquidity, gauged by the market cap, is deemed high. These factors have placed MNT as the best crypto to buy now.
Mantle team rep @0bMimikyu on stage giving her hot take on rollups and Mantle Network in Istanbul at @AvailProject's Hot Take Series: Battle of the L2s ⚔️

🔥 Follow us here and on @0xMantleDevs as we provide updates on the train of events happening this week. pic.twitter.com/bTKETfWqPc

— Mantle (@0xMantle) November 13, 2023
Looking ahead, Mantle's team projects a bullish trend, foreseeing a maximum price of $1.43 by the conclusion of 2023. The average projected price for the year is $0.98, contingent on the broader crypto market aligning with expectations. However, in the event of a bearish market scenario, the minimum projected price is $0.73 by 2023.
2. Kaspa (KAS)
Kaspa (KAS) has recently garnered attention in the altcoin market, drawing interest from investors. The cryptocurrency reached an all-time high, reflecting a 66% increase in the past week. KAS's monthly performance reveals an upward trend, demonstrating a surge of over 90%. Over one year, the altcoin has experienced an exceptional increase of over 2,000%, showcasing substantial growth.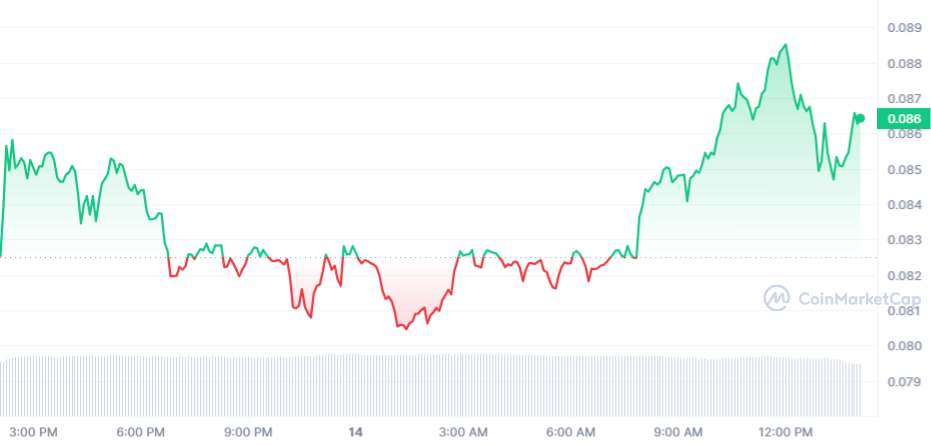 Moreover, investors are closely monitoring Kaspa due to its evident bullish momentum, indicative of the dynamic nature of the cryptocurrency market. In addition, the notable short- and long-term increases underscore the token's potential for favorable returns.
A recent development in Kaspa's trajectory is its successful entry into the South Korean market, indicating a growing presence among cryptocurrency traders and investors. As Kaspa strives to achieve scalability, security, and practical application, it positions itself for further expansion.
📢#Kaspa Integration news!@ViaWallet, a multi-crypto wallet, adds $KAS!https://t.co/z6WNGi5Jth #ViaWallet #Kaspa #DYOR pic.twitter.com/v1y5ZMzjTc

— Kaspa (@KaspaCurrency) November 13, 2023
The future path of KAS remains uncertain, with the potential for either continued rally or correction. A noteworthy milestone would be reaching $1, signaling an impressive 1062% growth. However, current indicators make this outcome seem unlikely. Despite community members maintaining a target of at least $0.10, the possibility of a correction looms.
The recent surge in Bitcoin (BTC) to a yearly high of over $36k may have influenced KAS's all-time high. This suggests a potential correlation between KAS and other altcoins following BTC's lead if it sustains its rally. Furthermore, it places KAS as the best crypto to buy now.
3. dYdX (ethDYDX) (ETHDYDX)
The current state of dYdX (DYDX) reveals a market price of $3.20, with a 24-hour trading volume of $650.21M. Likewise, a market capitalization of $587.35M makes DYDX the best crypto to buy now. Notably, there has been a 4.38% price increase within the past 24 hours, and dYdX holds a market dominance of 0.04%.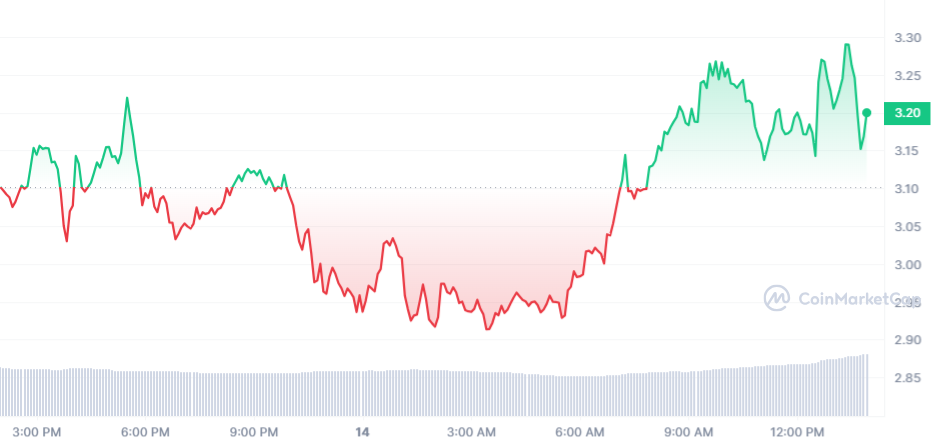 Furthermore, historical data shows that the cryptocurrency peaked on September 30, 2021, at $27.61. In contrast, its lowest point was recorded on June 18, 2022, at $1.008300, representing a cycle low. Subsequently, the highest price after the last cycle low is $3.65, marking a cycle high.
The current circulating supply is 183.77M DYDX out of a maximum supply of 1.00B DYDX. In addition, it has a yearly supply inflation rate of 180.26%, creating 118.20M DYDX over the last year. In the sector rankings, dYdX holds the 8th position in the Exchange Tokens sector and 4th in the Layer 2 sector.
The treasury migration could enable governance on the dYdX Chain to fund; a launch incentives program, seed the dYdX Chain insurance fund, distribute trading rewards and fund other initiatives for the dYdX DAO, among many other potential initiatives.

— dYdX Foundation 🦔 (@dydxfoundation) November 14, 2023
Analyzing its recent performance, dYdX has exhibited a 42% price increase over the past year, outperforming 63% of the top 100 crypto assets. Additionally, it is trading above its 200-day simple moving average and boasts high liquidity based on its market cap. The Fear & Greed Index indicates that the current sentiment is 69 (Greed).
Looking ahead, experts project a potential peak price of approximately $5.13 as the broader crypto market undergoes recovery. The average price prediction for DYDX in 2023 is $4.53. However, in the event of a significant bearish trend in the crypto market, the minimum projected price value for 2023 is $3.92.
3. Bitcoin Minetrix (BTCMTX)
Bitcoin Minetrix, a cloud mining platform, has introduced tokenization to address concerns associated with third-party cloud mining scams. The project aims to offer a secure and transparent method for individuals to use decentralized Bitcoin (BTC) mining.
#BitcoinMinetrix Stage 7 has started! 🔥 pic.twitter.com/xAEHpwLeiw

— Bitcoinminetrix (@bitcoinminetrix) November 12, 2023
The project has garnered significant participation, with over 400,000 BTCMTX tokens currently locked in staking. The noteworthy annual percentage yield (APY) stands at 103,225%, although it is expected to decrease as more tokens are staked.
In tokenomics, Bitcoin Minetrix allocates 42.5% of the BTCMTX tokens to fund mining operations. In comparison, 35% is earmarked for marketing and the growth of BTCMTX. An additional 15% is reserved for community rewards to acknowledge active participation. Furthermore, the remaining 7.5% is dedicated to BTCMTX staking rewards until the Bitcoin Minetrix cloud mining platform is developed.
The ongoing BTCMTX presale has raised over $3,946,642, offering tokens at $0.011 each. Thus placing it as the best crypto to buy. Of the total token supply of 4 billion, 70% (2.8 billion BTCMTX) is available during the presale. Also, investors can acquire them using Ethereum (ETH) or Tether (USDT).
The minimum investment requirement of $10 enhances accessibility for many participants. Therefore, potential investors should consider this opportunity before the conclusion of the two-day window for the current token pricing.
4. OKB (OKB)
OKB, the native digital asset associated with the OKEx exchange, is valued at $61.12, marking a 4.38% increase within 24 hours. Over this period, the trading volume reached $36.82 million, contributing to an overall market capitalization of $3.67 billion. The coin's market dominance is currently at 0.26%.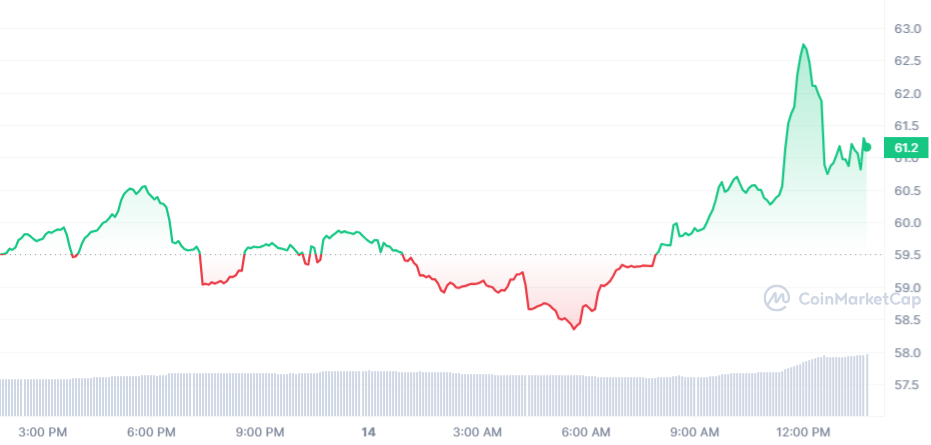 Likewise, the Fear & Greed Index stands at 69, reflecting a market sentiment of greed. This aligns with the prevailing bullish sentiment in OKB's price predictions. Performance metrics reveal a 235% price upswing last year, outperforming 91% of the top 100 cryptocurrencies. OKB has also shown better performance than Bitcoin and Ethereum. 
Introducing #OKX Advanced Dual Investment Auto-renewal — easily define target prices for new orders by setting price tolerances.

Enjoy precision and convenience! Learn more: https://t.co/b627eZKkva pic.twitter.com/clRm7LpAai

— OKX (@okx) November 14, 2023
Moreover, maintaining trading levels above the 200-day simple moving average underscores a positive trend. Over the past 30 days, OKB has encountered 16 positive trading days, constituting 53% of the observed period. It is also trading close to its all-time high and cycle high.
Read More
New Crypto Mining Platform – Bitcoin Minetrix
Audited By Coinsult
Decentralized, Secure Cloud Mining
Earn Free Bitcoin Daily
Native Token On Presale Now – BTCMTX
Staking Rewards – Over 100% APY