Kaspa Price Prediction: KAS Soars 28% As Potential Explosive Growth Emerges In This Bitcoin Cloud Mining Phenomenon
The Kaspa price has experienced a 28% increase in the last 24 hours to trade at $0.1088 as of 7:49 a.m. EST.
The surge can be attributed to new developments such as KAS's integration with the OKX wallet and its news of an upcoming $1 million airdrop.
The campaign looks great! Thanks @CoinPal_io! We'll be releasing the #XSpaces interview from last week today, so stay tuned! https://t.co/fgu6pQ6nJA

— Kaspa (@KaspaCurrency) November 15, 2023
Kaspa trading volume has also experienced an 88% surge in the last 24 hours to reach $84.05 million.
KASPA Price: Bulls May Be Poised For New Highs
KASPA's price has been trading on wave-like patterns since its beginning, with each bullish wave growing in size and resulting in significant price surges. These waves are categorized as wave 1, wave 2, wave 3, and wave 4.
The bullish momentum has driven KAS's price to exceed the $0.042 resistance threshold on wave 3. Following a brief retracement to the $0.034 support level, the bulls have found support, regaining price control.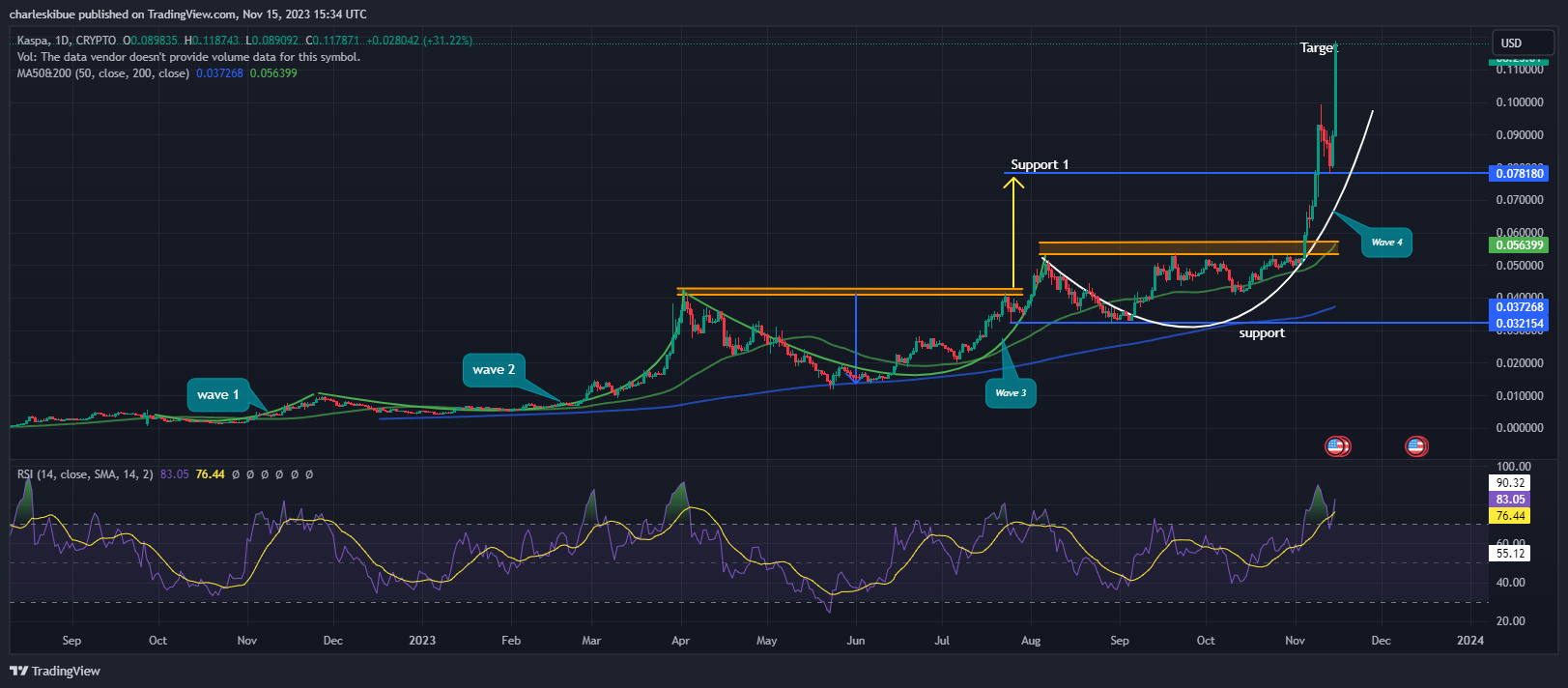 Bulls are currently riding the 4th wave, facing a minor setback around the $0.095 resistance level. A breakthrough at this key level could trigger a significant upward movement. The price has encountered two bounces during its ascent, confirming the possibility of a rally beyond the crucial resistance at $0.078.
KAS trades above the 50-day and 200-day simple moving averages, indicating the prevailing bullish sentiment. Moreover, these moving averages intersect at $0.024, signifying support for sustained upward momentum.
The relative strength index (RSI) has experienced a slight decline. However, it remains above the overbought region of 70, indicating intense buying pressure.
Kaspa Price Support At $0.078
Based on the analysis, KAS appears primed for another bullish surge. Conversely, if there is a candlestick closure below the parabolic curve, the price may find support on the lower bullish trendline at $0.078.
If you missed the KAS bull run, consider joining the BTCMTX presale, which has experienced a remarkable surge and presents attractive potential returns.
BTCMTX: Presale Rapidly Approaches $4.68 Million Softcap
The BTCMTX presale is now in its 7th stage, having already raised an impressive $3,987,855 with less than 2 days left before it concludes.
Who's ready for the next #BitcoinHalving in April 2024?

Block rewards will be dropping from 6.25 BTC to 3.125 BTC. 🔄

What are your thoughts on this upcoming event? 🤔#BitcoinMinetrix is also celebrating another crucial achievement, exceeding the $3,800,000 milestone. 🚀 pic.twitter.com/au2SXuZSyY

— Bitcoinminetrix (@bitcoinminetrix) November 13, 2023
As an investor, you have the opportunity to secure up to 77.5% of the total token supply, as its hard cap is set at $15 million. Currently, each BTCMTX token is selling for $0.0116. However, the price is set to increase as the stages progress to the soft cap target of $4.6 million.
The BTCMTX team has allocated the funds for various purposes, including supporting Bitcoin mining operations, launching the platform, token marketing, creating a cloud mining facility, and securing a long-term lease for such a facility.
15 percent of the tokens are reserved to reward community members, and 8% will be held for BTCMTX staking rewards until the development of the Bitcoin Minetrix cloud mining platform is completed.
Considering cloud mining #BTC with #BitcoinMinetrix? ⛏️

1️⃣ Easy entry for all, no technical know-how required.
2️⃣ Cost-effective mining without hardware expenses.
3️⃣ Say goodbye to space, noise, and heat concerns.
4️⃣ No worries about hardware resale challenges. pic.twitter.com/MJ2Cxuy2UI

— Bitcoinminetrix (@bitcoinminetrix) November 12, 2023
Win $3000 Minedrop Airdrop, Stake to Mine
The project is also offering more ways for investors to enhance their potential rewards and secure a significant prize through their participation. As a further incentive, there's a chance to win a $3,000 prize by taking part in the $30,000 Minedrop airdrop competition, with 10 lucky winners eligible for this attractive prize. 
You will also be able to earn extra BTCMTX tokens and generate mining credits using the stake-to-mine mechanism once the app is launched. This means that the BTCMTX tokens you've staked will steadily contribute to boosting your earnings from Bitcoin cloud mining over time.
Jacob Bury, a YouTuber boasting over 23.7k subscribers, explains how to buy and stake BTCMTX tokens. He also backs his endorsement with a personal investment in the presale.
You can participate in this presale by connecting your wallet to the official BTCMTX website and using the presale widget for token acquisition. You can purchase BTCMTX tokens using ETH, USDT, BNB, or a bank card.
Related News
New Crypto Mining Platform – Bitcoin Minetrix
Audited By Coinsult
Decentralized, Secure Cloud Mining
Earn Free Bitcoin Daily
Native Token On Presale Now – BTCMTX
Staking Rewards – Over 100% APY