What's Behind Celestia's Price Surge – Is $TIA Crypto Worth Buying?
Celestia (TIA) has achieved an all-time high of $6.62, marking a remarkable 200% increase in price since its initial launch. Celestia has been on an impressive upward trajectory, capturing the attention of investors.
The journey began with a substantial surge in the $TIA token's market value, following its departure from the traditional monolithic blockchain framework. This strategic move by Celestia, separating consensus to fortify decentralization and enhance scalability, marked a departure from the conventional model.
The surge in momentum continued as the $TIA token found its place on various platforms. Bitget took the lead by being the first to list the $TIA token, followed by its listing on OKX. However, the most significant boost in price is thought to have occurred with its recent listing on Binance.
Adding another milestone to its trajectory, Celestia has now joined Bitfinex, a prominent digital token trading platform. This recent addition underlines the significant strides Celestia is making in its journey.
The combination of strategic shifts in its blockchain framework and strategic listings on major platforms has contributed to the continued surge in the $TIA token's value.
What is Celestia
Celestia stands as the inaugural modular blockchain network, providing a straightforward avenue for anyone to deploy their blockchain with minimal overhead. Its scalability is reimagined by redesigning blockchain architecture from the ground up.
Introducing a pioneering concept called data availability sampling, Celestia separates execution from consensus. With no constraints on execution or settlement, developers enjoy the freedom to define their execution and settlement environments, opening up novel possibilities.
Celestia breaks away from the conventional approach of monolithic blockchains, which grapple with scaling issues due to performing all core functions, from processing transactions to ensuring correctness and aligning network nodes on validity and transaction ordering.
The modular design of Celestia, decoupling consensus from transaction execution, achieves enhanced scalability without compromising security or decentralization. This modular framework paves the way for endless possibilities.
Experimentation becomes seamless as new application-specific or general-purpose blockchains can swiftly deploy on Celestia, inheriting security from its validator set.
The modularity empowers developers with control over application rules, offering sovereignty to make alterations to the tech stack without requiring permission from external applications.
$TIA Crypto Price Prediction
The current value of Celestia stands at $6.46, with a 24-hour trading volume of $1.42 billion and a market cap of $870.19 million. Over the past 24 hours, the $TIA price has witnessed a notable increase of 09.32%.
Should bulls find support at the $5.40 level, there is a possibility of the $TIA price targeting the $12 level by the year's end, especially if this aligns with a broader market upturn. In a bullish market scenario with increased network growth, the cryptocurrency may experience significant price discovery, propelling its value higher.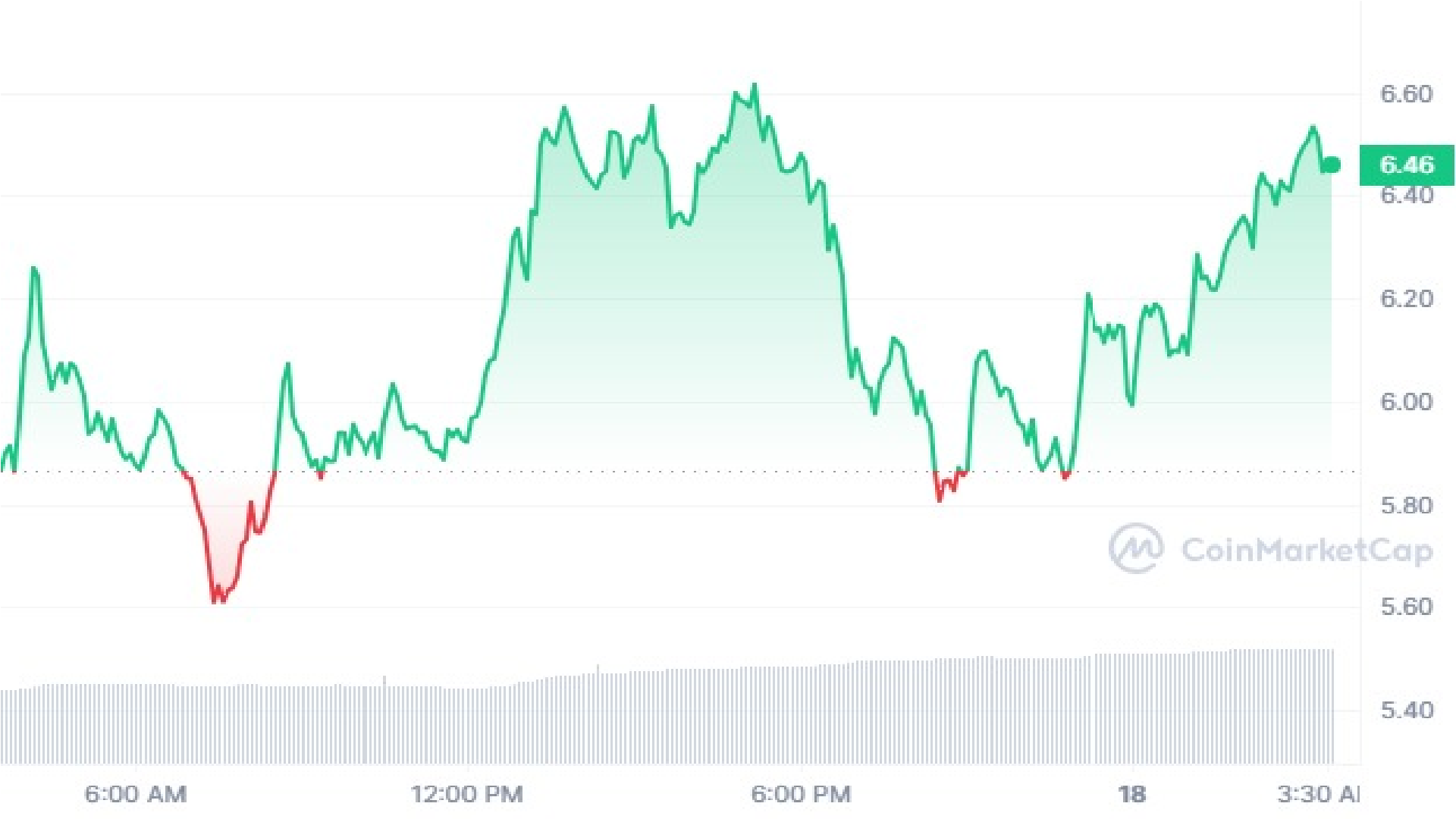 Conversely, a breakdown below $5.00 could invite a bearish retest in the vicinity of $4. Celestia has now secured the 60th position as the most valuable asset, according to CoinMarketCap.
This ascent is attributed to both increased developer activity on the platform and a generally positive sentiment towards it, highlighting its substantial impact on the broader crypto community.
For a detailed $TIA price analysis and predictions, watch the video above, and follow Jacob Crypto Bury's YouTube channel for more crypto-related content. Jacob also manages a Discord channel with 17,000 members, providing users with trading tips and information about upcoming crypto presales.
A Sustainable and Profitable $TIA Alternative with Unique Stake-to-Mine Model
Monitoring the movement of altcoins is essential for market participants. While Celestai presents itself as an attractive investment option with positive indicators for future growth, there are other emerging crypto projects to consider, such as Bitcoin Minetrix.
This project, hailed as one of the best crypto presales of 2023, has successfully raised a substantial $4 million in funding. Bitcoin Minetrix's innovative Stake-to-Mine model allows users to stake $BTCMTX, the platform's native token, generating 'mining credits.'
These ERC-20 tokens possess a unique utility — they can be exchanged for designated BTC cloud mining time slots. This approach enables retail investors to access fresh Bitcoin rewards without the need for expensive hardware or technical expertise.
#BTCMTX offers a safe haven in cloud mining for every #Crypto enthusiast.💻

Past worries over pricey equipment and shady cloud mining schemes have deterred numerous individuals from joining.

This decentralised approach offers a transparent and protected mining experience.🔐 pic.twitter.com/VB71r90u4A

— Bitcoinminetrix (@bitcoinminetrix) November 17, 2023
By simply buying and holding $BTCMTX, users can participate in cloud mining and anticipate actual BTC rewards once the mechanism becomes fully operational. Notably, the platform's staking protocol offers substantial rewards, with an impressive up to 146% APY.
Over 280 million $BTCMTX tokens have already been staked, showcasing significant interest. The Bitcoin Minetrix presale offers an opportunity to acquire $BTCMTX tokens at a low cost of $0.0116.
Presale buyers can access up to 77.5% of the total $BTCMTX supply, with the remaining 22.5% reserved for community initiatives and staking rewards. Investors looking to capture the token's future price movements can participate in the presale, purchasing $BTCMTX using ETH, USDT, or a credit/debit card.
To celebrate the presale, Bitcoin Minetrix is running a 'Minedrop' with a prize pool of $30K worth of $BTCMTX, split among ten winners. Users can earn up to six chances to win by completing simple tasks like following Bitcoin Minetrix on social media channels. Take part in the $BTCMTX presale at bitcoinminetrix.com.
Related
New Crypto Mining Platform – Bitcoin Minetrix
Audited By Coinsult
Decentralized, Secure Cloud Mining
Earn Free Bitcoin Daily
Native Token On Presale Now – BTCMTX
Staking Rewards – Over 100% APY