Top 5 Cryptos To Buy Right Now – Altcoins That Might 10x Your Investment
As 2024 draws closer, investors are eagerly looking for opportunities to solidify their portfolios and maximize their returns before the year ends. In the midst of this transition to the new year, the financial landscape is prompting a strategic focus on maximizing returns and navigating potential market fluctuations.
In the current upswing of the cryptocurrency market, Bitcoin's resurgence past the $36,000 mark signals a favorable moment to explore promising coins poised for potential growth.
Consideration of new tokens that are currently in the presale phase also emerges as a viable strategy, offering the potential for substantial returns in the rapidly changing crypto environment.
Sui (SUI)
Sui operates on a smart contract platform maintained by a group of validators, enhancing the network's security and functionality. The native token, $SUI, serves as a payment method for gas fees. Users can stake their $SUI tokens with validators in a Delegated Proof-of-Stake model, actively participating in consensus and potentially earning rewards.
A notable feature of $SUI is its ability to achieve parallel agreement on independent transactions, boosting scalability. Recently, the Sui core team addressed reported vulnerabilities from the community, deploying fixes across all networks.
The team swiftly responded to the vulnerability report, promptly patching and implementing necessary fixes across mainnet, testnet, and development networks. The confirmation has been received that the vulnerability was not taken advantage of in the past.
At the time of writing, the price of $SUI Crypto stands at $0.53, with a 24-hour trading volume of $159.85 million. Over the last 30 days, the $SUI token has experienced a significant 47% surge.
Bitcoin ETF Token (BTCETF)
The Bitcoin ETF Token marks the arrival of the latest ERC20 token presale, designed to reward early holders based on events tied to the approval of the Bitcoin spot ETF. In addition to this, it offers an attractive staking APY of 232%. The ongoing presale stage has already garnered an impressive sum of over $1 million.
Investors can easily join the $BTCETF token presale by linking their Ethereum-based crypto wallet, such as MetaMask, and purchasing their preferred number of tokens using ETH, USDT, or a card. With 10 presale stages, each comprising 84 million tokens and a consistent price increase, seizing the opportunity early on is likely to yield the most benefits.
Bitcoin's resilience shines through as it eyes the $50,000 mark, despite the SEC's #ETF delay.

Analysts remain optimistic, projecting a potential rally in December.

What are your thoughts on the trajectory of #Bitcoin?#BitcoinETF has also now raised over $1 Million!🥇 pic.twitter.com/Gv3347ttHH

— BTCETF_Token (@BTCETF_Token) November 18, 2023
Investors have the option to choose the 'Buy and Stake' feature on the presale website, allowing them to directly stake their holdings. This deflationary cryptocurrency plans to host five token burning events, triggered by reaching predetermined milestones tied to the debut of the first Bitcoin Spot ETF.
These milestones include the official announcement of the first Bitcoin Spot ETF, the ETF's release, $BTCETF surpassing a $100 million market cap, and BTC hitting the $100K mark. Following each milestone, Bitcoin ETF Token will burn 5% of its 2.1 billion token supply.
In total, the project has set five milestones, implying that a quarter of the token supply will gradually be burned. Notably, Bitcoin ETF Token imposes a 5% trading tax, with a 1% reduction occurring after each milestone is achieved.
Sei (SEI)
The optimistic trends within Sei Network underscore the growing interest of market participants in the cryptocurrency realm, paving the way for promising future developments. A significant announcement on November 15th by Fourtune, Circle, the issuer behind USDC, one of the largest stablecoins, revealed its investment in Sei Network.
This strategic investment from Circle is poised to enable Sei Network to seamlessly integrate USDC into its expanding suite of applications, including the popular decentralized exchange Sushiswap.
⚪️🔴

Announcing that @circle_ventures has invested in Sei, the fastest Layer 1 blockchain to unlock novel use cases for Circle's USDC in the ecosystem. pic.twitter.com/DpcSfRf2yx

— Sei 🚢 (@SeiNetwork) November 15, 2023
Wyatt Lonergan, Director of Circle Ventures, expressed confidence in Sei's ecosystem, deeming it a fitting partner aligning with their objectives of fostering open access and programmable trading. Subsequent to this noteworthy development, the price of $SEI Coin surged by over 10%.
As of today, the Sei price stands at $0.14, boasting a 24-hour trading volume of $89.05 million and a market cap of $255.02 million. Over the past seven days, $SEI's price has seen a notable increase of 7.58%.
Find comprehensive details about the top five cryptos to buy right now in the video provided above, and follow his YouTube channel for more crypto-related content. Jacob Crypto Bury also manages a Discord community with 17,000 members, offering users trading tips and insights into upcoming crypto presales.
Yearn.finance (YFI)
Yearn.finance functions as an aggregator service catering to decentralized finance (DeFi) investors, utilizing automation to empower them in maximizing profits through yield farming.
Its primary objective is to streamline the ever-expanding DeFi landscape, providing accessibility for investors who may not possess technical expertise or prefer a less involved approach compared to serious traders.
As of the X post on November 14th, Santiment, the blockchain analytics platform, reported a remarkable +60% growth in yearn.finance's market cap over the past week. This surge is attributed to the escalating growth of addresses and significant whale transactions.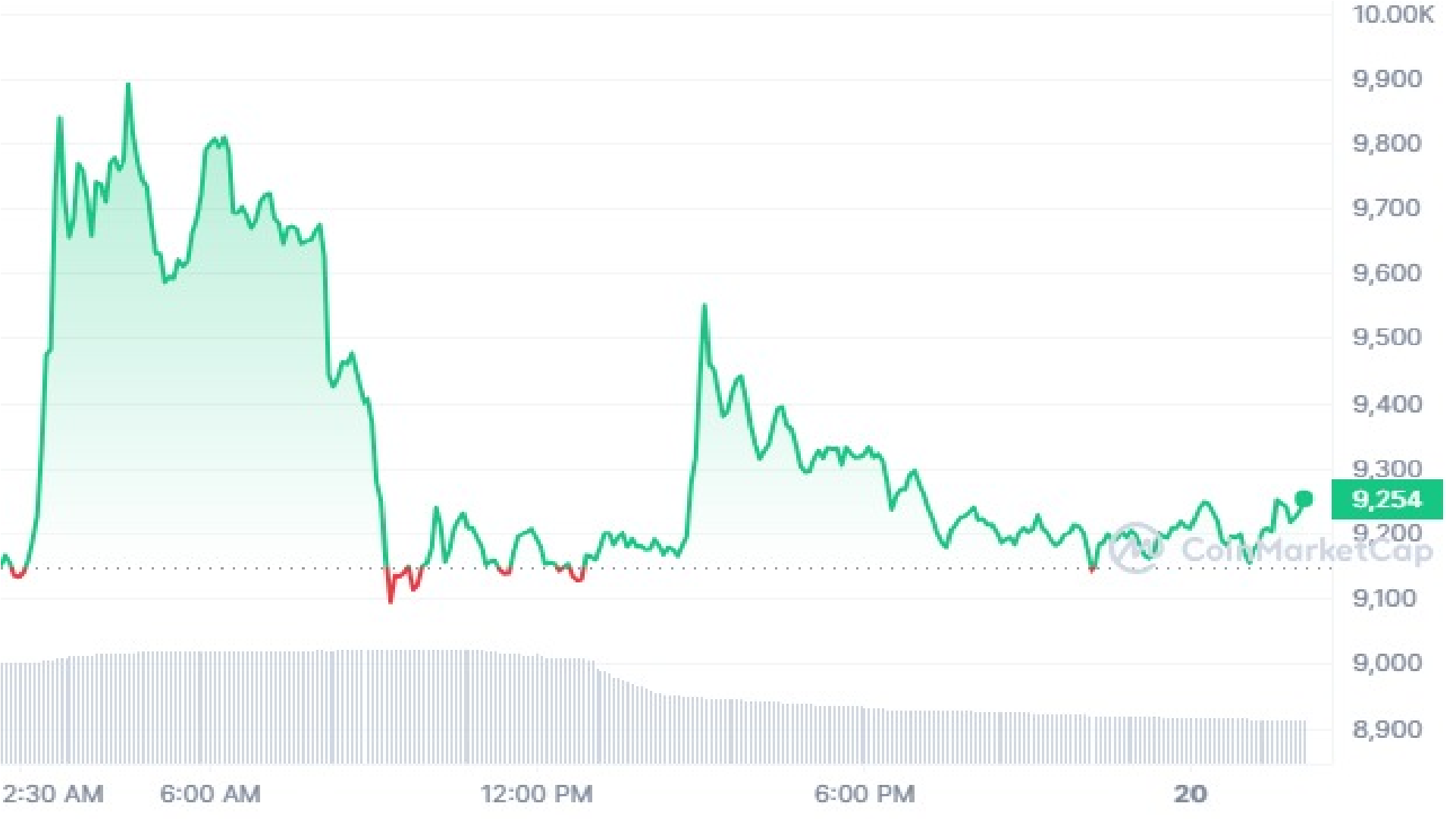 Whale engagement has reached levels not seen in the last 15 months, and the growth of new $YFI addresses have experienced exponential acceleration. Currently, yearn.finance is trading at $9,254 boasting a 24-hour trading volume of $747.61 million and a market cap of $305.56 million.
Over the last 24 hours, the $YFI price has increased by 0.98%. The Relative Strength Index (RSI) value stands at 56.88, signaling that the $YFI market is currently in a neutral position.
Bitcoin Minetrix (BTCMTX)
Bitcoin Minetrix stands out as one of the best crypto presales in the cloud mining sector, introducing a distinctive 'Stake-to-Mine' approach. The project's native cryptocurrency, $BTCMTX, recently launched its presale and quickly garnered significant investor interest, securing over $4 million in funding.
During the presale phase, $BTCMTX is available at a discounted rate of $0.0117, utilizing a tiered pricing model across its 39-phase presale. The token's cost will gradually rise, culminating at $0.0148 in the final presale stage.
Big news! 📢#BitcoinMinetrix proudly announces a colossal accomplishment, more than $4,000,000 raised! 🪙 pic.twitter.com/neW7VEgkjJ

— Bitcoinminetrix (@bitcoinminetrix) November 16, 2023
Bitcoin Minetrix revolutionizes online Bitcoin mining by offering an alternative to traditional cash contracts with mining companies. Utilizing $BTCMTX allows users to earn mining credits, non-tradable tokens used to acquire Bitcoin mining power.
This system ensures a secure and scam-free experience, enabling users to sell at their convenience. Additionally, cloud mining with Bitcoin Minetrix minimizes the environmental impact often associated with Bitcoin.
With a total token supply of 4 billion, Bitcoin Minetrix allocates 42.5% for mining, 7.5% for staking, and various other distributions. Early supporters also stand to benefit from a $30K minedrop on the platform. To take part in the $BTCMTX token presale visit bitcoinminetrix.com.
Related
New Crypto Mining Platform – Bitcoin Minetrix
Audited By Coinsult
Decentralized, Secure Cloud Mining
Earn Free Bitcoin Daily
Native Token On Presale Now – BTCMTX
Staking Rewards – Over 100% APY